Felix Hernandez on Perfect Game: 'Finally, I Did It'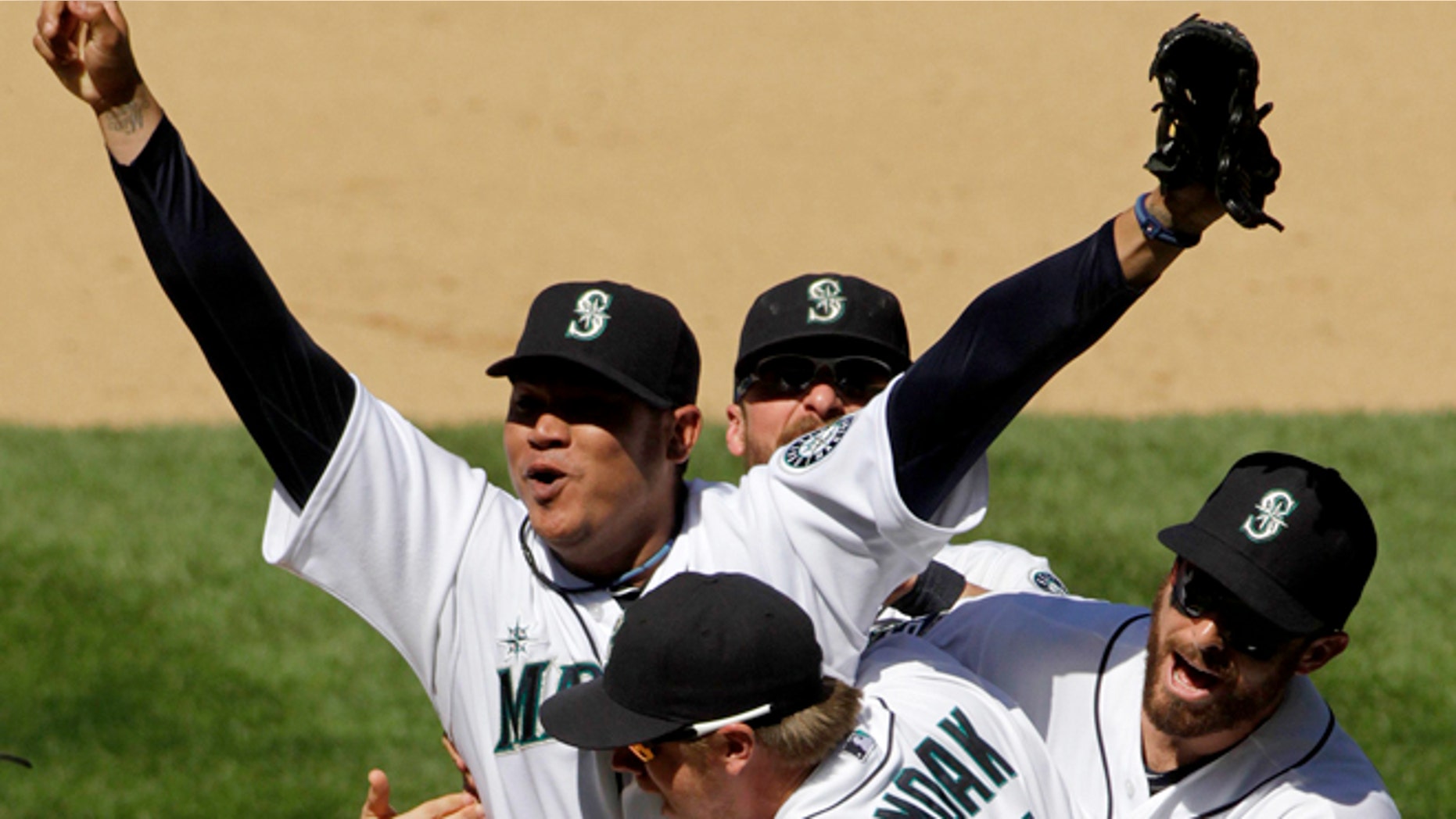 Forget throwing a no-hitter. Felix Hernández had envisioned himself throwing a perfect game right after the Seattle Mariners were at the receiving end of one back on April 21 when Philip Humber of the Chicago White Sox hurled one against them at Safeco Field.
On Wednesday afternoon, Hernández was finally able to live his dream, becoming the first Mariners pitcher after 34 years and 119 games to throw a perfect game against the Tampa Bay Rays.
Did You Know?
Felix Hernández joined Nicaragua's Dennis Martínez as the only Latin American pitcher to toss a perfect game.
King Felix retired 27 straight and struck out 12 at Safeco Field, which became the first ballpark in baseball history to have two perfect games in the same year.
He struck out Sean Rodriguez looking for the final out of the game and raised his arms to the sky before he was mobbed by his teammates.
It was a bittersweet ending to an afternoon in which a dark cloud shadowed the game after news broke that San Francisco's All-Star outfielder Melky Cabrera was suspended for 50 games for testing positive for testosterone. The 27-year-old Dominican leads baseball with 159 hits.
It was in my mind the whole game. Finally I did it.
It was the 23rd perfect game in baseball history and seventh since 2004. San Francisco's Matt Cain was also perfect against Houston back on June 13.
The 26-year-old Venezuelan joined Nicaragua's Dennis Martínez as the only Latin American pitcher to toss a perfect game. Martínez, known as 'El Presidente', threw his gem for the Montreal Expos on July 28, 1991 against the Los Angeles Dodgers.
Pedro Martínez pitched nine perfect innings on June 3, 1995 while with the Montreal Expos but lost it the 10th inning against the San Diego Padres.
Hernández has been nearly unstoppable as of late. Coming into yesterday's game, he had thrown three complete game shutouts since June 28.
"I don't have have any words to explain this. When (Philip Humber) throw the perfect game here, I said it before 'I got to throw one. I have to,'" Hernández told Root Sports, the team's television network after the game.
"I've been working so hard to throw one. And there it is for you guys- referring to the fans,".
Hernández almost tasted a no-no but lost that bid on April 11, 2007 at Boston, giving up a lead off hit in the eighth inning to J.D. Drew.
This time around he was just perfect.
Hernández retired Tampa Bay's Sam Fuld for the first out on a fly ball to the warning track that was caught in the shadows, backhanded by right fielder Eric Thames. Matt Joyce ended the inning with a grounder near the second base bag as shortstop Brendan Ryan's throw sailed a bit but was picked by first baseman Justin Smoak.
The Rays have been no-hit four times since 2009 and three were perfect games. Mark Buehrle threw a perfect game for the White Sox on July 23, 2009 and Dallas Braden was perfect for Oakland on May 10, 2010.
Hernández admitted thinking about it by the third inning and was confident that it could finally happen by the fifth.
"I was dreaming this for along time. This is unbelievable," Hernández said after the game. "It was in my mind the whole game. Finally, I did it."