Felice Herrig on Alexa Grasso: 'I'm nobody's stepping stone'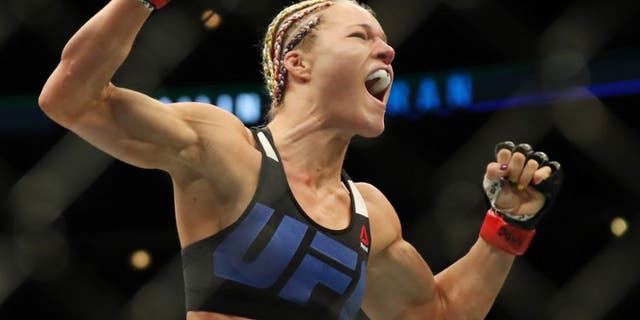 Felice Herrig has heard all about "the next big thing."
This weekend, Herrig faces 23-year-old rising star Alexa Grasso at UFC Fight Night in Houston in her second appearance in the Octagon after making a successful debut last year.
Grasso has been touted as the future of the strawweight division with an impressive string of wins to remain undefeated, including her victory over Heather Jo Clark to kick off her UFC campaign.
As much as Grasso has been bathed in the spotlight since arriving in the UFC, Herrig refuses to serve as a speed bump as she tries to cruise towards title contention one day. Instead, Herrig looks to build off her first-round submission over Kailin Curran last year while making her own push towards the top 10 in 2017.
"It's slow and steady wins the race. I still have a lot of fight left in me. I'm nobody's stepping stone," Herrig told FOX Sports. "I'm not going to be that girl who people think, 'we'll give the up and comers this veteran to make them look good.'
"No. I think people look past me and I'm going to show people they're wrong to do that."
While Herrig has faced a laundry list of elite fighters throughout her career, Grasso is still very much a work in progress.
On paper, the sky's the limit for Grasso, especially given her young age and immediate impact in the sport, but Herrig is anxious to find out if the young Mexican superstar is as good as advertised.
"She's done great things and I do think she's a great fighter but at the same time there is that question mark," Herrig explained. "Because she was in Invicta after the UFC already took the top strawweights to be in the UFC. She wasn't in that mix. She's never been in the mix with those top strawweights to really see where she really fits with all of those top girls."
Herrig made her transition to the UFC along with the other top 15 strawweights in the world, who formed the division during season 20 of "The Ultimate Fighter".
From her resume prior to the UFC, on the reality show, or since that time -- Herrig knows she's faced the best fighters in the world at 115-pounds. The same can't be said for Grasso just yet because she hasn't had that opportunity, but Herrig refuses to be the first truly tested UFC veteran tacked onto her win column after Saturday night is finished.
"I know I'm going to put pressure on her. I know she has heart and I know she's a great fighter, but she's going to be tested," Herrig said. "I don't give my opponents too much credit but I don't want to give them enough credit. I do think she's a good fighter but I've been there.
"I've fought the best of the best. I've been in wars. At this point, there's not going to be anything that I haven't already seen. Fighting Alexa, I know that I've already fought all the top girls in the UFC. She's a great opponent but she hasn't proven that she's a top girl in the UFC, at the UFC level."
Of course, none of the praise being heaped on Grasso is anything she asked for but rather earned by putting on some incredible performances through the first part of her young career.
Still, Herrig has seen it a thousand times before when a fighter is dubbed as a future contender or champion only to see them fumble and fall when the going gets tough.
"Hype is just that -- it can just be hype and fluff and none of it really matters," Herrig said. "I've been in this sport for a long time and there's something to be said for that. I almost feel like the veterans come into the UFC and people kind of get pushed aside."
That's why Herrig is determined to throw a gigantic monkey wrench into the hype machine barreling through the UFC to promote Grasso as a future contender in the strawweight division.
Rather than allow herself to be a building block for Grasso's career, Herrig wants to reclaim her spot in the UFC rankings and remind the world that she's still capable of being a threat to anyone in the division…including the next big thing.
"I want my ranking back. I had one bad performance and took a year off so I dropped out of the rankings like I'm nobody, that I'm somehow irrelevant. I'm not irrelevant," Herrig insisted. "I think that's what I will show. Because I had one bad performance, people were looking at me like I was washed up and I'm done and I'm on my way out of the sport.
"Alexa does have hype around her. People like her style. She's undefeated. If I can go out and make a statement against her I think that's just like wow, Felice is for real. If I do what I know I can do, it's going to be a good night for me."
Herrig faces Grasso in the co-main event at UFC Fight Night: Bermudez vs. The Korean Zombie with the main card kicking off on FS1 Saturday night at 10 p.m. ET.