Feels like the 1st time: Chris Bosh flourishing early in role as Heat's go-to scoring option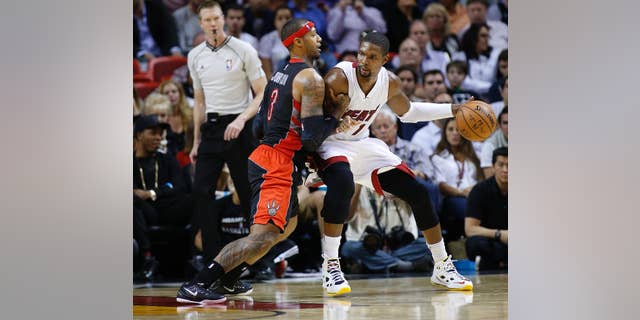 MIAMI – Chris Bosh was often referred to as the most important player for the Miami Heat over the last four seasons, something that probably not many people understood.
It needs no explaining now.
With LeBron James gone to Cleveland and Dwyane Wade — while arguably still the key to how far Miami goes — no longer the elite scorer he once was, the Heat are asking Bosh for more than ever. So far, he's delivering, with 77 points in Miami's first three games and flourishing again in the go-to-option role that he had for his seven seasons in Toronto.
"I feel like I am a much better player and a much better leader," Bosh said. "I try to really lead by example and lead by my voice every day."
His voice, that's one thing.
His productivity, that's another.
And he's delivering on both fronts. He has scored at least 21 points in all three game, and the Heat were the only team in the Eastern Conference to go unbeaten in the opening week.
"He is playing at a very high level right now," Toronto coach Dwane Casey said.
Wade isn't surprised.
"His pie chart is off the chain with how he can score the ball, where he's getting the ball, how we're looking for him," Wade said. "He's going to be able to put up those numbers. He's rebounding great. He looks good. Credit to him for getting himself ready."
___
Here's some of what to watch in the NBA this week:
LEBRON VS. VINCE
Cleveland's LeBron James moved into 25th on the NBA's career scoring list last week, overtaking Memphis' Vince Carter (who could pass him back Monday night, but it's almost certainly a matter of time before James pulls away). James has 23,223 points; Carter has 23,206. At his usual pace, James would be in the top 20 by season's end. On the combined NBA-ABA list, James is 30th and Carter 31st.
KOBE WATCH
It's 49 and counting for Kobe Bryant. He's 49 missed shots away from passing John Havlicek for the most unsuccessful field-goal attempts in NBA regular-season history. He missed 50 of his 85 shots in the Los Angeles Lakers' first four games this season — all losses. Also notable: Since the NBA started tracking plus-minus in 2002, the Lakers have been outscored by more than 25 points with Bryant on the floor only eight times. Two of those were last week. The Lakers are home against Phoenix on Tuesday night and Charlotte on Sunday night.
PLAYOFF REMATCHES
Wednesday night brings a pair of rematches from last season's epic opening playoff round. Miami visits Charlotte, which means Josh McRoberts goes back to the city he called home until this summer and Lance Stephenson squares off against the Heat again. Afterward, the Los Angeles Clippers play at Golden State; those clubs met 11 times last season with the Clippers going 6-5, winning by an average score of 110-107.
BIG APPLE SERIES
The Knicks visit the Nets on Friday night, and maybe fans in New York will finally get treated to a game that isn't decided in the third quarter. The Knicks went 3-1 against their city rivals last season, winning by 30, 29 and 11 points. Brooklyn's lone win also was an easy one, a 23-point rout.
PHILLY WOES
The 76ers started 3-0 last season. They're 0-3 this season and have Houston, Toronto and Chicago on this week's slate — along with Orlando, which is one of the three other teams still searching for their first win.
STAT LINE OF THE WEEK
DeMarcus Cousins, Sacramento: He had 34 points, 17 rebounds, five assists and three blocks in the Kings' 98-92 victory at the Clippers on Sunday. Such a stat line occurred only once last season, when Dwight Howard had 35 points, 19 rebounds, five assists and three blocks for Houston against Detroit.
___
Follow Tim Reynolds on Twitter at http://www.twitter.com/ByTimReynolds