Fantasy NASCAR: Duck Commander 500 at Texas Driver Picks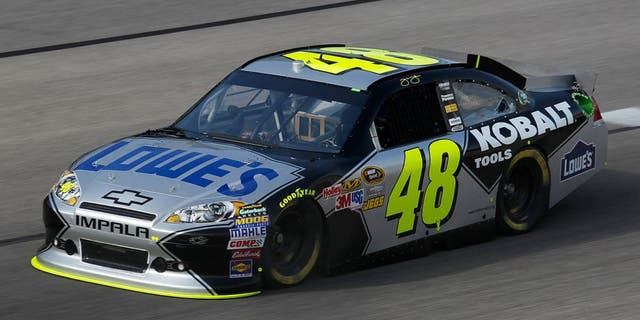 The NASCAR Sprint Cup Series travels to Fort Worth, Texas this week for the Duck Commander 500. The race can be seen Saturday at 7:30 p.m. ET on Fox. Be sure to test your knowledge of NASCAR by competing in Fox Sports Fantasy Auto Racing.
Texas Motor Speedway is one of the best intermediate tracks on the circuit. The surface is old with multiple groves which allow drivers to move around the track. Tire falloff will be the story of the race. The teams who can manage their tires will be the ones running up front Saturday night.
There have been three races this season on intermediate tracks (1.5-mile or 2-mile ovals) and six drivers have averaged a top-10 finish. Jimmie Johnson and Brad Keselowski are the only two drivers to win races at these tracks and Texas just happens to be one of places they run well at. Johnson and Keselowski should be strongly considered for all fantasy teams this week.
Average Finish Position in Intermediate Races
Driver
Atlanta
Las Vegas
Fontana
Avg
Jimmie Johnson
1
3
1
1.6
Kevin Harvick
6
7
2
5
Joey Logano
12
2
4
6
Brad Keselowski
9
1
9
6.3
Dale Earnhardt Jr.
2
8
11
7
Carl Edwards
5
18
7
10
Jimmie Johnson swept the races at Texas in 2015 and he will be the driver to beat in the first night race of the season. Kevin Harvick and Brad Keselowski were also able to finish both races in the top five last year. Here are the results from the two races at Texas Motor Speedway in 2015:
2015 Duck Commander 500 Results
Jimmie Johnson
Kevin Harvick
Dale Earnhardt Jr.
Joey Logano
Brad Keselowski
2015 AAA Texas 500 Results
Jimmie Johnson
Brad Keselowski
Kevin Harvick
Kyle Busch
Carl Edwards
The best strategy for the Duck Commander 500 is to select drivers who start towards the back with an opportunity to score bonus points for finish position. The scoring system for Fox Sports Fantasy Auto Racing rewards drivers who improve their position in the race more than the drivers who lead the most laps and finish up front. This is one of the longest races of the season on an intermediate track (Coke 600 at Charlotte is the longest), so there is plenty of time for drivers to make their way to the front.
Pick to Win
Jimmie Johnson ($14,200) has won the last three races at Texas and five of the last seven at the track. Johnson dominates many tracks, but Texas may be his best. He has led 1,023 laps in the Lone Star State and has finished 19 of his 25 starts in the top 10. The No. 48 car is almost a lock for a top-five finish Saturday night.
Contenders
Kyle Busch ($13,100) missed the spring race at Texas last year, but he ran well in the fall. Busch started third and finished fourth last November. He has a series-best average finishing position and fourth-best driver rating in the last four races at the track. Busch will have momentum after scoring his first win at Martinsville last week.
Brad Keselowski ($11,500) has a streak of three consecutive finishes in the top five at Texas. He has a series-best driver rating and the second-best average finishing position in the last four races at the track. Keselowski led 312 of the 334 laps in the last race at Texas and he should be one of the favorites to win the Duck Commander 500.
Kevin Harvick ($13,800) is at his best on the intermediate tracks and the No. 4 car has a history of running well at Texas. Harvick has finished the last three races at the track in the top three. Last year he led 107 laps and finished second in the spring race and third in the fall race. Harvick should be running up front Saturday night.
Dale Earnhardt Jr. ($13,100) has not always been one of the favorites at Texas, but he has run well at the track the last two seasons. Last year Earnhardt finished third in the spring race and sixth in the fall race. Earnhardt is unlikely to lead many laps, but he should make his way to the front at the end of the race.
Value Picks
Austin Dillon ($9,700) has been the biggest surprise this season. He has finished five of the six races this season in the top 11. Dillon ran very well at Atlanta and Las Vegas (He started both races in the top eight and finished both races in the top 11). The No. 3 car should easily finish in the top 11 again this week.
Brian Vickers ($5,000) will be filling in for Tony Stewart again this week. After a slow start to the season, Vickers is starting to perform well with the No. 14 team. Vickers finished 13th at Fontana and seventh at Martinsville. He has the sixth-best average finishing position at Texas, so I would expect another solid run from Vickers this week.
Ryan Blaney ($5,100) is not on this list because of his stats at Texas. He has competed in two races at the track and has finishes of 42nd and 43rd. Blaney was actually running in the top 20 when he had engine problems in the first race and an accident in the second. The rookie has been running well this year, so I would not hold his first two races against him this week.
Chase Elliott ($5,000) won at Texas in the Xfinity Series, so he knows his way to Victory Lane. Elliott has never competed in a Sprint Cup Series race at Texas, but the lack of track time has not stopped him from performing well at the other tracks he has raced on this season. The No. 24 car will be fast and Elliott will have a chance at another top-10 finish Saturday night.
Here are my picks for the Duck Commander 500 for Fox Sports Fantasy Auto Racing:
Driver 1: Jimmie Johnson $14,200
Driver 2: Brad Keselowski $11,500
Driver 3: Matt Kenseth $9,400
Driver 4: Austin Dillon $9,700
Driver 5: Brian Vickers $5,000
FOX Fantasy Auto Resources
And don't forget - prizes are on the line each race of the fantasy season! First, second and third place each win a prize. Plus, each race builds your point total for larger segment and season prizes.
*Stats from Driveraverages.com and career stats from Racing-Reference.Info...
If you need any further advice with your team or want to see my updated picks after Happy Hour practice, look for me on Twitter (@MrFantasyNASCAR) or LIKE my Fantasy NASCAR Tips Page on Facebook.