Explosions outside Stade de France force presidential evacuation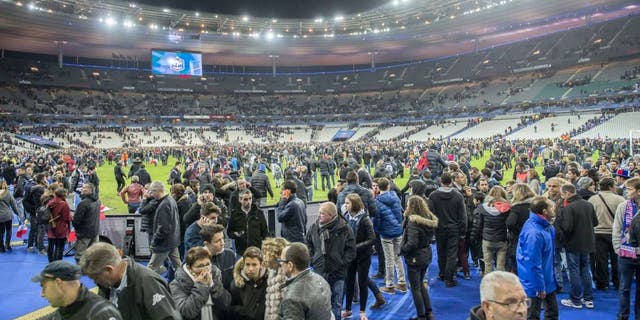 At least 100 people have been killed inside a Paris theatre where hostages were taken following a series of terror attacks across the French capital.
Security forces launched an assault on the Bataclan concert hall and killed at least two of the attackers.
One official described "carnage" inside the building, saying the attackers had tossed explosives at the hostages.
At least six attacks have been reported across Paris, including two suicide attacks and a bombing near the Stade de France stadium, where the national football side was playing a friendly match against Germany.
Officials said shots were also fired in at least two restaurants, with 11 people killed in the 10th arrondissement.
A Paris city hall spokesman said the latest death toll was at least 140 people, according to reports.
French president Francois Hollande said he was closing the country's borders and declaring a state of emergency.
Witnesses of the attack at the Bataclan described the scene as "carnage" with "blood everywhere".
Marc Coupris, 57, who had travelled to Paris to watch the concert, told the Guardian: "It was carnage. It looked like a battlefield, there was blood everywhere, there were bodies everywhere.
He added: "Eventually, when a few gendarmes came in slowly we began to look up and there was blood absolutely everywhere. The police told us to run."
Prime Minister David Cameron said he was "shocked" by the attacks and the UK "will do whatever we can to help."
The Foreign Office said it was in "close touch" with the French authorities and it was "urgently investigating" whether there were any British victims.
The attacks come after the Charlie Hebdo atrocity, which took place in January and saw 12 people killed after gunmen stormed the offices of the satirical magazine.
US president Barack Obama told a press conference that the violence in Paris "was an attack on all of humanity".
He said: "Those who think they can terrorise the people of France and the values they stand for are wrong."
Eyewitness Ben Grant said he was in a bar with his wife when the gunshots were fired and he had seen six or seven bodies on the ground.
He told the BBC: "I heard gunshots. People dropped to the ground. We put a table over our heads to protect us.
"We were held up in the bar because there was a pile of bodies in front of us."
Television cameraman Charles Pitt said he was outside a cafe in the city's 11th arrondissement where people were shot at around 9.10pm local time.
He told BBC News: "I had literally gone about 30 metres when, I thought it was a firecracker to start with, and then it went on and it got louder.
"It went on for a minute. Everybody dived for cover thinking it was gunfire. Then there was a pause for about 15 seconds and then it all started up again.
"Then it calmed down a bit and I walked back to the front of the cafe and there was a whole pile of bodies, probably about seven on the left-hand side and four that had been sitting on the tables outside on the right-hand side, and a lot of injured.
"I saw a woman who had obviously been shot in the leg."
Gregory Goupil of the Alliance Police Nationale said there were at least three dead in the attacks near the stadium. He said the explosions went off simultaneously.
Pictures on social media showed hundreds of football fans had spilled on to the pitch at the Stade de France after the game ended.
The Bataclan concert hall had been due to host a concert by US rock band Eagles Of Death Metal.
A statement on Eagles Of Death Metal's Facebook page said: "We are still currently trying to determine the safety and whereabouts of all our band and crew. Our thoughts are with all of the people involved in this tragic situation."
Mr Hollande has cancelled his trip to the G-20 meeting in Turkey and is due to visit the Bataclan site.
The Foreign Office advised Britons to "exercise caution in public places" following the attacks and people with concerns about British friends or relatives in Paris can 0207 0081500 for assistance.
Support and grief on social media poured in as soon as the story broke:
Information from FOXSoccer.com's newswire services and The Associated Press contributed to this report.