EXCLUSIVE: Greg Biffle says of retirement, 'I've got my own plan'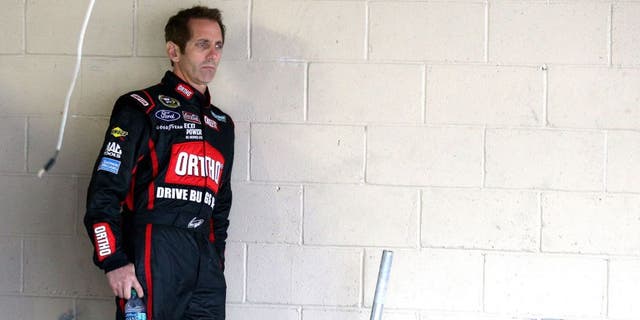 NEWYou can now listen to Fox News articles!
With both Jeff Gordon and Tony Stewart -- two of NASCAR's biggest stars and most accomplished drivers of all time -- set to call it quits from Sprint Cup competition by the end of 2016, it's only natural for folks to wonder who else among NASCAR's 40-and-over club might follow suit in the near future.
Greg Biffle, who turns 46 in December, is older than both Gordon and Stewart, and is the oldest active driver in NASCAR's top series.
So will he be the next one to hang it up?
While it's certainly possible, don't count on it.
In an exclusive interview with FOXSports.com on Saturday at Kansas Speedway, Biffle said his contract with Roush Fenway Racing runs through the end of the 2017 season and he has every intention to honor it.
"The Biff" admits he isn't sure what his future holds beyond '17, but at least for now, he's not ready or willing to put a timetable on how much longer he'll keep driving in the Sprint Cup Series.
And if you thought the imminent retirements of Gordon and Stewart from Cup might be influencing Biffle to move in a similar direction, think again. He insists that's simply not the case.
"I've got my own plan. I'm enjoying driving these cars and love what I do," said Biffle, who joined the Sprint Cup Series full time in 2003 and made his Cup debut in 2002. "I feel like we've got still something left to accomplish. I'm looking forward to the new body that we're going to get, and the downforce (with the 2016 rules package) and the changes we've made in the company.
"I want to see Roush Fenway winning races when I hang my helmet up for the last time, and I think we can do that. I know we can do that."
Mired in the longest drought of his career, Biffle, a 19-time Cup winner, hasn't been to Victory Lane since June 2013 -- and it really bothers him.
"It definitely does," he said.
Yet he can find some solace in the fact that he's hardly the first veteran driver to endure a lengthy drought.
"I think you look through the garage area and you see drivers that have struggled with that -- Matt (Kenseth), Carl (Edwards), Jeff Gordon, Kevin Harvick. You look at all of them, and there's been those rough patches, and this is one of them that we're in kind of as a company more than a team, as well," Biffle said. "It's been a dry spell. We've been close. What I feel good about is the few races that we've ran good at. We ran good at Charlotte in the spring and finished second, we ran good at Loudon and finished fourth, so those are races that we had a chance to win."
When the time comes for Biffle to decide if he wants to continue with Roush Fenway beyond 2017, the Vancouver, Wash., native plans to make an evaluation based on multiple factors.
"I'm going to wait until the end of '16 or mid-'17 or spring or something like that and see where we're at as a company, see how many wins I have between now and then. What's the fun meter like at that point? What's the health of the sport? What's going on with the rules and how the cars drive? I think all those things make an impact," Biffle said.
"And then what do you have going personally? Are you happy with what you're doing and are you ready to do something different? But, I've always said all along, that I don't want to race forever. I want to watch my daughter (4-year-old Emma) grow up and go to some of those soccer and softball and all those other sports activities that she might be involved in, so I look forward to being able to do that. That's important to me, as well. And I had her later in life than a lot of people (have children), so I'll have that luxury where a lot of these team guys and a lot of these drivers didn't have that opportunity."
What Biffle does know for sure is that he desperately wants to win a Sprint Cup Series championship before calling it quits. He's been close, finishing second to Tony Stewart in 2005 and third to Jimmie Johnson in 2008.
Biffle also has yet to capture the sport's two biggest races, but those pale in comparison to a Cup championship, in his mind.
"Let's face it: Winning a Sprint Cup title is it," said Biffle, who won a truck and XFINITY Series championship with Roush Fenway before moving up to the Sprint Cup Series with the organization based in Concord, N.C. "It doesn't matter if you ever win another race. Having a Sprint Cup trophy -- and then having all three of them -- is it.
"Now, everybody wants to win the Daytona 500. Everybody wants to win the Brickyard. Those are definitely iconic races I would love to win, but if I retired with a Sprint Cup trophy, I could care less about a Daytona 500 and a Brickyard trophy. But if I retire without a Sprint Cup trophy, those are very important to me."
Interestingly, Biffle suggested he has fewer aches and pains now than he did five or even 10 years ago -- another factor that makes retirement less appealing.
"I almost feel better now than I did then," he said. "I work out a bit more now than I did, and I think you always gain knowledge. You're always learning something, and if you can apply those things, you learn and the cars keep changing. I think if you can continue to apply those things and use your knowledge, you can be better. That's honestly the way I feel. I feel like I've been here lots of times, I know what happens in the race, I know where the groove goes, I know what happens when they slow down, but I've just got to get the car to drive right to start with, in order to be able to apply that stuff. I feel better now than I did five years ago, and I feel great inside the car driving it."
In addition to coveting a Sprint Cup championship, Biffle also has some other unfinished business. He wants to see Roush Fenway Racing -- the place where he began his career and vows to end it -- recapture the magic that made the organization a force to be reckoned with in NASCAR's premier series for the better part of 25 years.
This is the first season since the Chase for the Sprint Cup was formed in 2004 that RFR failed to put any of its drivers in NASCAR's playoff. The company hasn't won a Cup race since Carl Edwards, who has since moved on to Joe Gibbs Racing, took the checkered flag in June 2014 at Sonoma.
Biffle wants to help get RFR back to back to its front-running ways before handing over his seat to someone else.
And even when he is ready to retire from full-time driving, Biffle won't rule out competing on a limited basis.
"I would definitely entertain doing a 15- or 18-race deal," he said. "I would love that because then it makes it easier to step back because you still get to drive and you still get to come and race. If you can get in a good, competitive car and come and race for a team that wants to run 15 or 18 or 12 or 14 races, that's the perfect opportunity. Look at Mark Martin when he retired and went somewhere else and just drove for fun. But those are opportunities that are kind of unique because teams are set up for a year budget, and it's hard to balance that. But I would do that in a heartbeat."