Ex-rugby player Lasike brings physicality to Cardinals backfield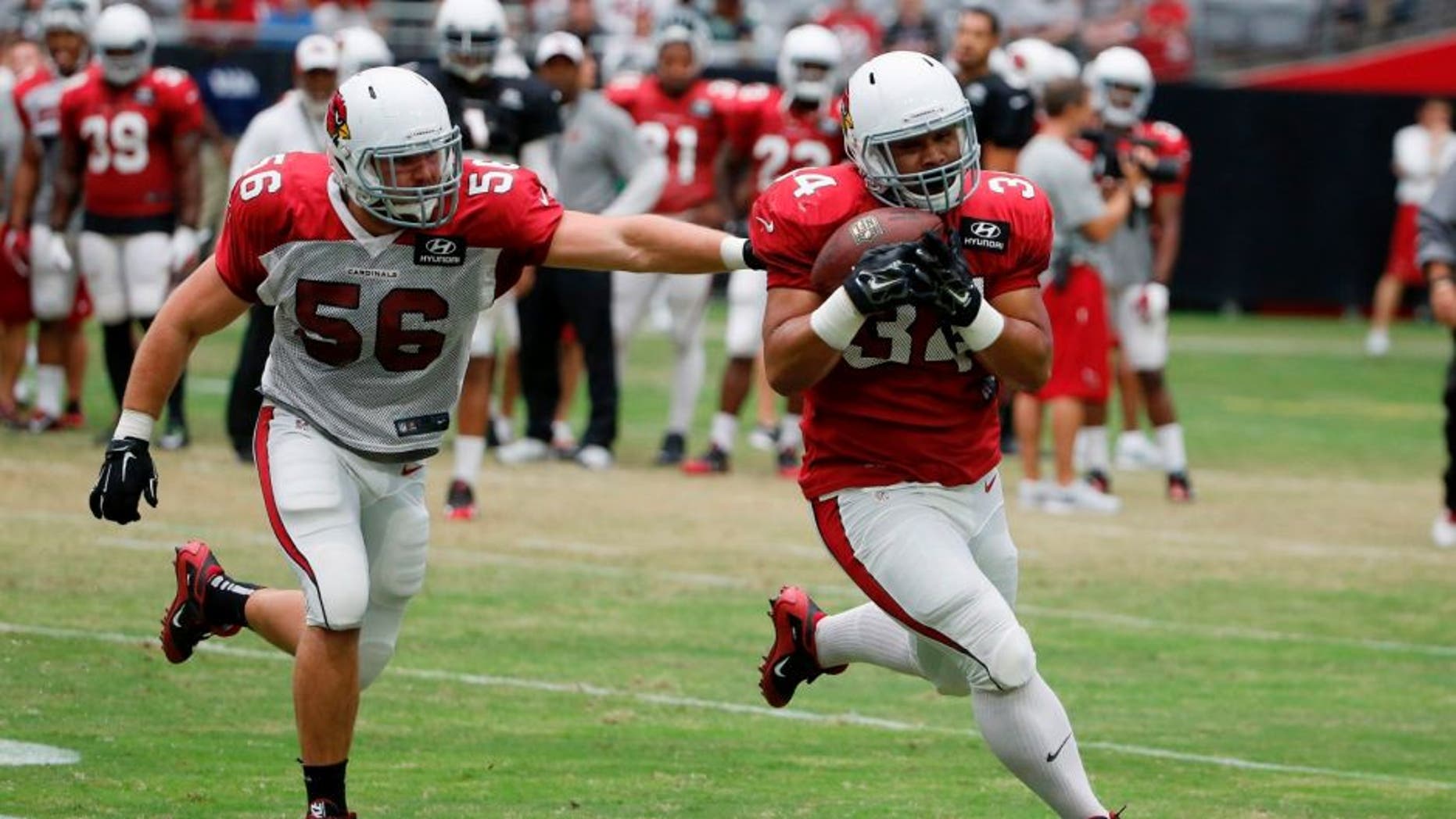 GLENDALE, Ariz. -- It may not help him make the Cardinals at the end of training camp, but running back Paul Lasike received a glowing recommendation from the team's radio analyst.
"He has the perfect brow for a fullback," Ron Wolfley said during Saturday's broadcast of the preseason opener against the Chiefs. "It's like a frying pan."
While that may not sound like a compliment, it is in the realm of both Lasike and Wolfley.
The Cardinals under coach Bruce Arians do not use fullbacks in title, even in two-back formations. Thus Lasike is a running back. But the way Lasike defines himself as a football is the very definition of a fullback.
"I'm a meathead blocker and I like physicality," Lasike said. "Lead blocking and pass protecting, those are really what I specialize in. I love the physicality of the game. I love the contact."
A native of New Zealand, Lasike developed this affinity for violent contact playing a different sport with an oblong ball: Rugby. It's what brought him to BYU in 2009, when he was named an All-American. After Lasike returned from a two-year Mormon mission in Alabama, a BYU strength and conditioning coach noticed him on the rugby pitch. He took part in spring football in 2012 and earned a football scholarship the following fall.
In three seasons with the Cougars, Lasike rushed for 843 yards and 10 touchdowns on 171 carries, caught 31 passes for 322 yards and two touchdowns and returned 15 kickoffs for 301 yards.
But paving the way for others is what Lasike enjoys most.
"One-on-ones, that's my thing. My only thing really," he said.
Lasike quickly showed as much when the Cardinals put on the pads two weeks ago.
"I'm terrible in shorts," Lasike, listed a 5-feet-11 and 232 pounds, said. "My speed is terrible. But when it comes to contact, I love it. As far as technique-wise, it is what it is. What I have to offer is my physicality and work ethic and I'll give everything I have every down."
Lasike's mindset on the football field naturally comes from his rugby background.
"You have to be a bit of a meathead to play that sport," he said. "As far as physicality they're about the same. You're not hitting as hard in rugby but you have no pads on. And then you're hitting harder in football but you have pads. At the end of the day you're just smashed. You have to love the sport otherwise you're going to be miserable."
Such words are music to the ears of Wolfley, a four-time Pro Bowl selection as a fullback and special teams player during his 10-year career.
"What I respect so much, as a former fullback myself, is just how willing he is to just stick his face right into the fire," Wolfley said Monday. "I like that. Paul Lasike does not struggle at all with sticking his face in there, which is good. It's like prerequisite No. 1 if you're going to play fullback."
Equally important if he is to make the team, Lasike can catch the ball out of the backfield and can run well enough to play in the open field on special teams. He showed his receiving ability early in camp when he caught a pass near the goal line while seated on the ground.
"I saw I was open and was licking my chops and then tripped over and (still) ended up catching the ball," Lasike said.
After Lasike got into the end zone, Larry Fitzgerald came running from nearly 20 yards away to celebrate the catch, while other teammates hollered from back near the line of scrimmage.
"I was star struck," Lasike said.
Lasike felt something similar Saturday. The hitting was the same as in practice and the speed didn't overwhelm him -- he said he is reading the playbook nearly every free moment. The atmosphere stuck with him.
"It was an overwhelming experience," he said. "I had to kind of step back and pinch myself and just absorb it in because it was crazy, looking around at all the fans and everything that was going on."
Lasike rushed two times for 10 yards and was on the field for 18 offensive plays and three on special teams. He admitted to a couple mental mistakes and vowed not to make the same ones again.
"I'm willing to work hard and learn; I'm teachable. Some of the nuances of the game come really hard to me because it's like learning a new language. (But) they saw what I did in college and think they can utilize me in some way, whether it's on special teams or as a lead blocker in situational plays. But I'm just grateful to be out here, that I actually get a shot. Whatever happens, I'm just enjoying it all I can."