Euro 2012: Cristiano Ronaldo vs. Spain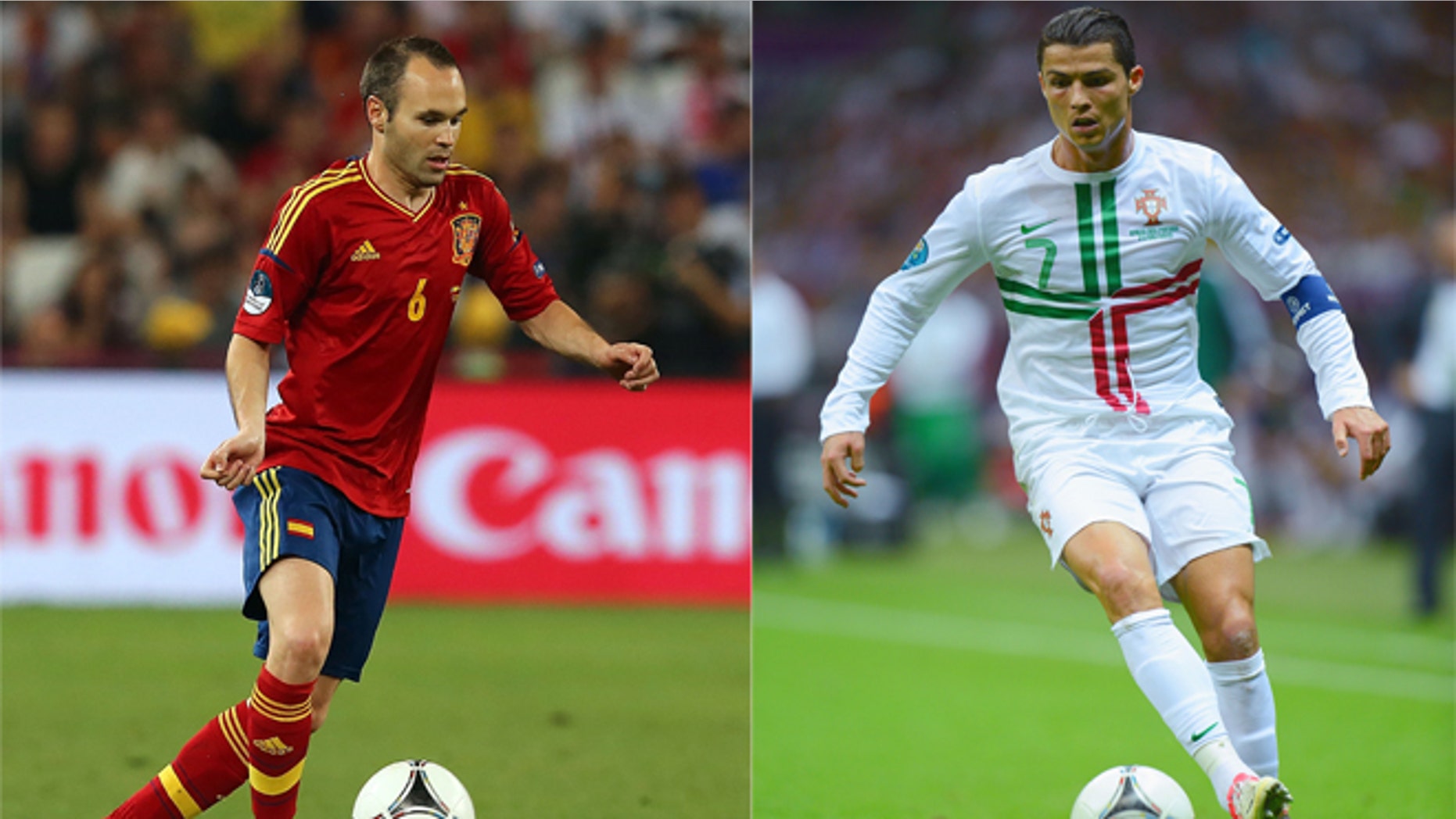 The question that begs to be answered in Wednesday's Euro 2012 semifinal is whether one man can upend a whole team -- and not just another team, but the defending World Cup and European champions.
The game will match-up Portugal's Cristiano Ronaldo against arguably the best team on the planet, Spain in the Iberian derby in Donetsk, Ukraine (ESPN, 2:30 p.m. ET).
After forging a reputation of a big-time underachiever in the biggest tournaments, Ronaldo put that to rest with a 79th-minute goal in a 1-0 quarterfinal victory over the Czech Republic last Thursday. He has scored three goals in his last two games.
"I knew the goals would come. It didn't start very well, but with the sacrifices of my teammates everything improved," he was quoted by Reuters.
As well as Ronaldo has performed, Portugal will need more than one man to put his best foot forward to stop the favorites when they meet in the semifinals. The confrontation happens to be a rematch of the 2010 second-round World Cup encounter in which the Spaniards prevailed, 1-0, on a David Villa tally in the 63rd minute.
You have to prepare for the match in the same way that we prepared for the others.
"You have to prepare for the match in the same way that we prepared for the others," Ronaldo said. "We don't have to do anything different. It will be a hard clash in which Portugal has to do very well to beat Spain. We are ready and we will do our best."
Ronaldo will be one of three Real Madrid players performing against four teammates on the Spanish side.
"We will be taking special care of Cristiano Ronaldo," Spain coach Vicente del Bosque told Cope radio, remembering how the Spaniards closed down the striker in South Africa two years ago.
"It won't be an individual thing, there will be permanent help as there was two years ago."
Added defender Alvaro Arbeola, who is expected to cover his Real teammate: "We all know how well he is playing at these Euros. It is very hard to play against him. He is very confident. He is playing very well, but we will try to stop him."
On the flip side, Portugal will have to devise a way to stop its neighbors -- all of them.
Spain, trying to become the first team to make a Euro/World Cup/Euro sandwich might not have looked like the same team that won it all in South Africa in 2012. Except for the 4-0 drilling of Ireland, a certain intensity has been lacking from the team.
To be fair, it is not easy for any team - club or national - to play at a such a high standard over three major competitions.
When someone mention that the team's play was boring, midfielder Xabi Alonso bristled.
"That is [the media's] opinion," said Alonso, who scored twice in the 2-0 quarterfinal win over France on Saturday. "We're confident in how we play and we're not going to change our style."
Midfielder Andres Iniesta, who scored the game-winner in extra time in Spain's World Cup final win over the Netherlands in 2010, agreed.
"We have our own style, our own game which has brought us success," he said. "We have won two trophies with this style but any opinions are valid and I respect them
The Portuguese, who started the same lineup for their first four matches, will be without injured midfielder Helder Postiga, who was ruled out for the remainder of the tournament with a hamstring injury. Hugo Almeida will take his place.
The keys to the game?
Well, when you get into these competitions, many times it comes down to who can score first. The other factor is Spain's possession game, however boring it might be to some people. When you hold the ball for two-thirds of the game, it is very difficult for the opposition to get many quality chances. And with a team like the Spaniards, it may be too late by then because they usually score first.
Besides, Spain has arguably the best goalkeeper on the planet in Iker Casillas if all else fails. Casillas, incidentally, will be trying to become the first player to win 100 international games -- a remarkable feat -- in his 136th appearance.
Some of the media might not respect Spain, but Portugal certainly does.
"They have an identity based around the ball possession they have," Portugal coach Paulo Bento told reporters. "They always play in last third and are very strong when they lose the ball, that's why they are a team of great quality, why they are European and world champions."
Michael Lewis, who has covered six Olympic soccer tournaments and who will cover the London Summer Games, can be reached at SoccerWriter516@aol.com.
Follow us on twitter.com/foxnewslatino
Like us at facebook.com/foxnewslatino