Emotional Pegula takes reins of Sabres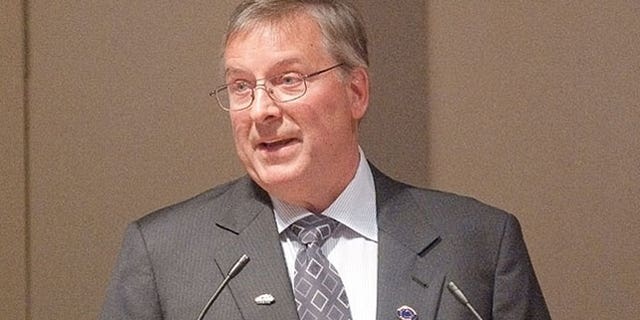 If there was any question about the passion and devotion of new owner Terry Pegula to the Buffalo Sabres, the answer was given emphatically during his press conference Tuesday.
"I'm the guy who lived in Houston, Texas in 1979 and listened to that horrible (playoff) overtime loss to the Penguins," said Pegula. "A friend of mine in Olean, N.Y., held his phone to the television and I listed to the game on the phone. I'm the guy who used to sit on an overpass in Pittsburgh in the early 80s to listen to Sabres radio broadcasts as they faded in and out."
He then turned to where Sabres alum and Hockey Hall of Famer Gilbert Perreault was sitting and began crying.
"You're my hero," he said. "That's my hockey genesis right there."
In a wide-ranging press conference, Pegula, who closed on his purchase of the team from former owner Tom Golisano on Monday, said his goal now is a very simple one.
"Starting today, the Buffalo Sabres' reason for existence will be to win the Stanley Cup," he said.
To do that, Pegula said he would spend whatever amount of money was necessary, from the player salaries to player development and scouting.
"Darcy (Regier, GM) will run a hockey department that I have previously said will have no financial mandates," said Pegula. "We're cutting the chains off and he's free to run with whatever he wants to do with scouting, player development, working with Lindy (Ruff, coach) and the coaches. We're going to pour some resources into that area of the team."
Under Golisano, the Sabres had slashed the budget for the scouting department, relying heavily on video scouting, but Pegula said that will change.
"There is no salary cap in the National Hockey League on scouting budgets and player-development budgets," said Pegula. "I plan on increasing, working with Darcy and the guys, increasing our scouting budget with bodies on the ground in areas we might not be hitting, and enhancing our video department. Starting today we will bring in more player development coaches to help these guys become better hockey players, work on their weaknesses or whatever the coaches think. We will aspire to be the best in the League at finding, developing and keeping our players in their new Buffalo Sabre family."
Pegula announced a new management structure that included himself as CEO and former Penguins executives Ken Sawyer and Ted Black taking executive management positions. However, Pegula said the changes would stop there, as he planned on sticking with Regier and Ruff in their positions.
"As part of my due diligence, I talked to many people that are still involved in management in the League, I talked to people who are out of the League now who had nothing to gain or lose by talking about Darcy," said Pegula. "I talked to agents, talked to a whole broad spectrum of people that know things and I have not heard one bad word uttered about Darcy Regier. I think that means he deserves to stay here."
Regier signed a two-year contract extension earlier this season. Ruff's contract, meanwhile, is due to expire at the end of the season. Pegula, though, said he expects Ruff to be staying in Buffalo for a while.
"I am a Lindy Ruff fan and will be for a while," said Pegula. "Lindy and I have talked and Lindy ain't going nowhere. I'm also talking about his coaching staff, too."
Pegula's ownership also means the Sabres aren't going anywhere.
While he and his family currently live in Florida due to his daughter's burgeoning tennis career, Pegula has deep roots in Western New York and said he will be a frequent viewer of games at HSBC Arena.
"This franchise was not for sale," said Commissioner Gary Bettman, who shared the dais with Pegula on Tuesday. "It was Terry's persistence that got Tom to sell it. Terry is passionate about the game of hockey. He's invested in our game at a number of levels, including the collegiate level.
"He was a long-time Sabres season-ticket holder. He believes in Buffalo and Western New York. He loves the game and this is a dream come true for him and it's also a dream come true for us at the League because we know this franchise is in great hands. The great work that has been done to date will be built upon and he's as committed as anyone ever to bringing the Stanley Cup to Buffalo. It's a great day for hockey in Buffalo."
Contact Adam Kimelman at akimelman@nhl.com and follow him on Twitter: @NHLAdamK