Emery issue makes Ducks' goalie situation murky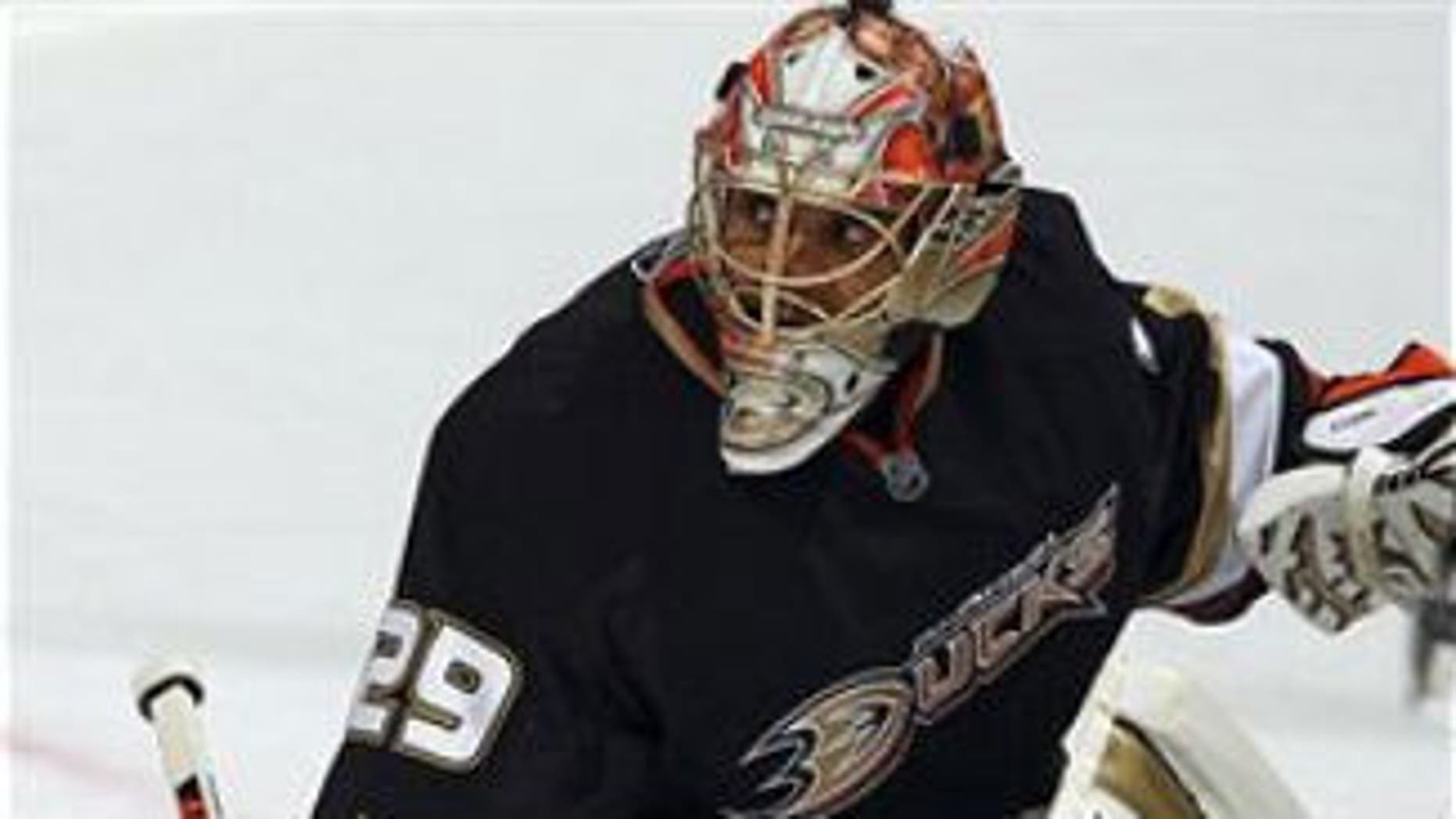 ANAHEIM, Calif. -- Anaheim Ducks coach Randy Carlyle feels comfortable with all three of his goaltenders.
It's a good thing, because he's got some hard decisions to make between the three of them.
Ray Emery is questionable for Friday's game against rival Los Angeles with a lower-body injury, Carlyle said. Emery was not on the ice at the morning skate but worked out and received treatment.
Carlyle said a decision will be made Friday afternoon on Emery. He also said Jonas Hiller and Dan Ellis are options for Anaheim's biggest game of the season.
If the Ducks win, they will clinch a postseason berth. They also can get in if Dallas loses to Colorado.
"It's just another hand that you get dealt," Carlyle said. "Obviously we feel comfortable that no matter who we put in the net has proven that they can play NHL-caliber goal for us and stop the puck and give us a chance."
The Ducks have ridden Emery, who has returned from a career-threatening hip injury to go 7-2-0 in 10 games, with a 2.28 goals-against average.
He came out of Wednesday's game against San Jose with tightness in his lower body. The team said it was precautionary, and Emery told reporters Thursday that he doesn't think it is related to his surgically-repaired hip.
Hiller hasn't played since he was pulled from a March 24 game against Nashville as he tries to fully recover from vertigo. He has been a scratch for the past five games and Carlyle sounded as if he would be the third option when he said Emery and Ellis "both have winning records" and are fully capable.
However, the Ducks would like to get Hiller game action before the regular season ends.
Ellis replaced Emery on Wednesday and stopped 14 of 15 shots in 29 minutes of action; however, he has not started since March 20.
Does it help that he played two days ago?
"I think it's always good," Ellis said. "Getting a few minutes before gives you a little bit more comfortability going back into a game. When you haven't had a start in three weeks sometimes you're not really going in there with much rhythm. You're more just battling out there. But getting a little bit of playing time, a half a game, that allows you to go in a little bit more comfortable."
Selanne's last home game? -- One of the few veteran players that participated in Anaheim's optional skate was 40-year-old Teemu Selanne, who could be playing his last home game Friday.
Selanne said it wasn't unusual for him to participate in an optional skate this late in the season, but he did allow himself to think it could be his final home morning skate.
"Obviously I was thinking about it, but it's not my focus right now," Selanne said. "We have a huge game (Friday) and (Saturday), so that's the only thing I'm thinking about. But in reality, it could be."
Selanne said in January that he felt this was his last season, but his 29 goals and 78 points suggest he could keep going.
"You can't have fun if you don't have success," he said. "That's one of the keys. That's why I've still been enjoying it."
Asked if making or missing the playoffs would influence his decision, Selanne said, "That's the one thing I haven't really thought about at all. There's only one focus right now -- just have to get in the playoffs and go from there."
Marchant questionable -- Ducks center Todd Marchant is questionable with the flu, Carlyle said.