Embracing your past: DW breaks down the throwback weekend at Darlington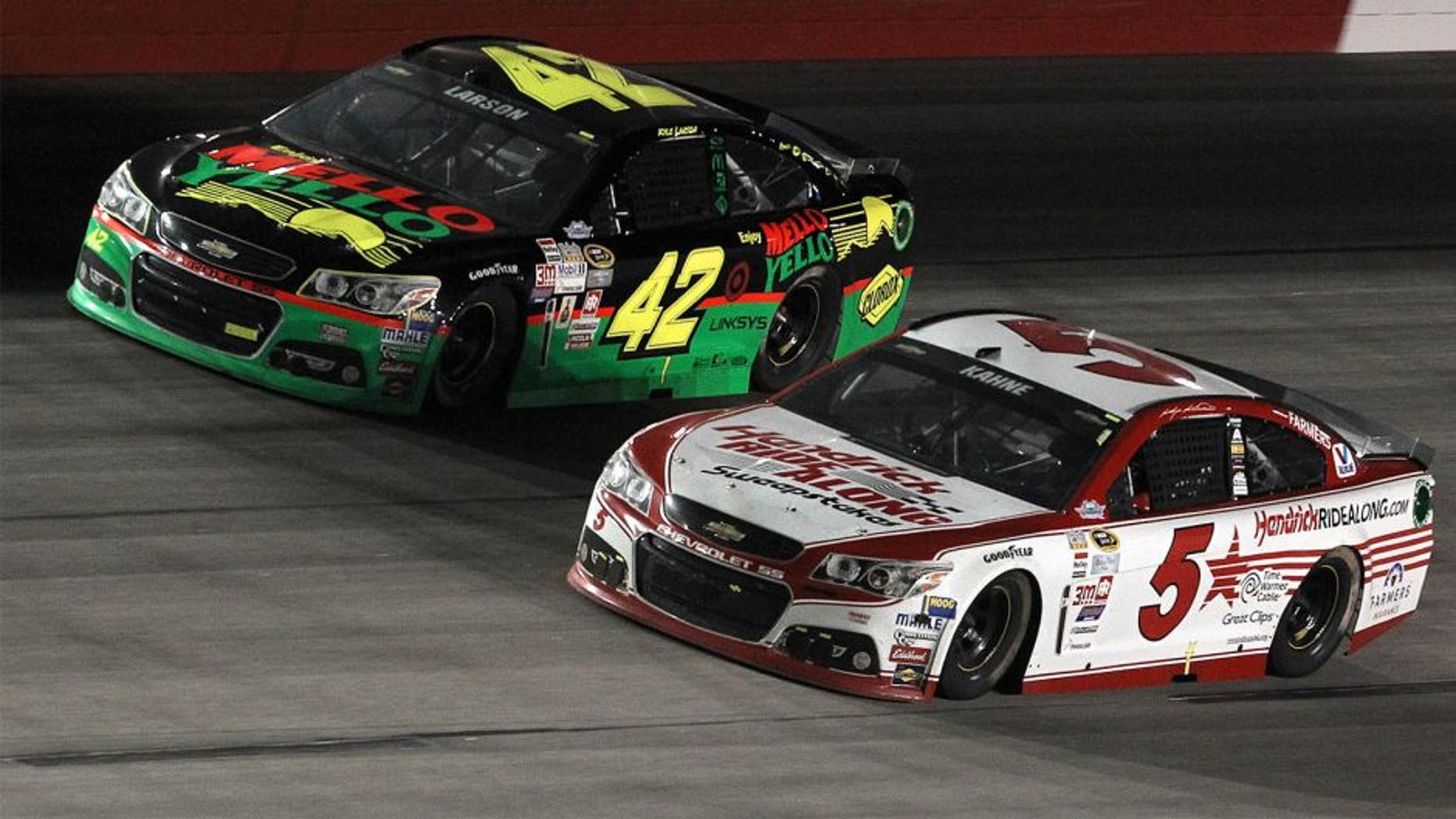 You all know that I am an old-school guy. I am a traditionalist. So, you can imagine how excited I was Sunday night for the return of the Bojangles' Southern 500 to Darlington Raceway. Just having the race back where it belongs sure made a lot of core fans happy. They put a lot of time and effort into making the Southern 500 special again.
These were all the things we did back in the day, so it was really neat to bring it back and let the new fans experience it. I think Sunday was a great example of why there is so much passion within our sport about Darlington. I think it was very important that they did that.
NASCAR has done a pretty good job of keeping the past alive. Having our own NASCAR Hall of Fame in uptown Charlotte has gone a long way in telling the NASCAR story and honoring the drivers from the past.
You have to remember that Darlington was our first-ever superspeedway race in the sport. Think about this for a second: Sunday night's race marked the 65th year we've run at Darlington Raceway. Yes, we ran our first 500-mile race there back in 1950. So it's a tradition and I've always been a big believer in tradition. Now sure, as a sport you have to grow and evolve. Sometimes that includes change but there are certain traditions like the Southern 500 that you simply don't touch. It's those traditions that you embrace and build on.
It was simply awesome to see all the old throwback paint schemes and uniforms. It brought back a lot of memories for me. I hated I couldn't have been there but I had already made promises to my family for the Labor Day weekend.
Sunday night's race was the longest race of the year. It was 4.5 hours long. It was 500 miles on that little narrow mile and three-eighths track where they were going 180 miles per hour. It takes a lot of skill and concentration to race that long. You have to be physically, emotionally and mentally in shape for a race like that.
I think that's why there near the end of the race you looked up on the leaderboard and saw who had a shot at winning; it's usually the drivers that dedicate themselves to being in the best physical condition and being ready for whatever Darlington would throw at them.
Congratulations to Carl Edwards. It was another win for Joe Gibbs Racing. It's pretty obvious that the Chase, which starts in two weeks, is going to run through JGR. They are going to face stiff competition from Team Penske and Kevin Harvick though. Those are the cars that are running up front and winning the races. Those are the organizations that are going to go into the Chase with the most wins and also even more importantly, with the most bonus points.
So Sunday evening was really special at Darlington for a number of reasons. What I don't want to see happen are other tracks now jumping on the bandwagon and try to replicate what Darlington just did. Our sport is known for finding something special but then copying it to the point where it's not special anymore.
I truly believe in this particular case that less is more. Keep the Darlington Southern 500 special. Keep that throwback tradition alive once a year. Trust me; there are plenty of throwback paint jobs that can be rolled out next year, the year after that and the year after that at Darlington. Again, remember we've been racing there 65 years now, so there are a ton of throwback looks we can bring back. My point is though, just do it at Darlington.
I just think one of the things we've lost in our sport is special events. For example, the Bristol night race in the August was a special event. Now there are a number of night races throughout the season. After a while they all start to look alike. I think it leads to the complaints from the fans about cookie-cutter tracks and cars that don't have any identity.
We need to separate ourselves when possible with a special event like we saw Sunday night at Darlington. I'm not saying other tracks shouldn't do special events. I encourage it. I'm just saying don't copy what Darlington or someone else is doing trying to make it your own. It's like the Camping World Truck series racing on dirt at Eldora. It's a once-a-year deal that is special and something to look forward to. I don't want to see it spread and become commonplace on the Truck Series.
I love what they did at Darlington. I just think it was so special. It was great to see the other NASCAR Hall of Famers like Cale Yarborough and Junior Johnson there. It was so cool to hear Ken Squire and Ned Jarrett call a little bit of the race. That brought back a flood of memories. I loved seeing all of it because I races in that era.
I know the race was long. Darlington is always tough. You race the track and not your competition but we still ended up with a record number of cautions. I think the aero package seems to be the way to go. It worked at Kentucky and it seemed to work Sunday night. These cars have a lot of downforce built into the body anyway, so we don't need that big huge spoiler on the back of the car.
I like the fact that NASCAR is going to run the 2015 Chase with the rules package that we started the year off with. I think with what we've learned this year with this package and a few tweaks in the offseason after the Homestead race in November, we could be dialed in for some even greater racing in 2016.
So now we are down to one race left in the regular season. After this Saturday night at Richmond International Raceway the 16-car 2015 Chase field will be set. I'm really not expecting a new winner to join the field after Saturday's race. I think you are going to see the guys that are already locked into the Chase going all out to win Saturday night because of the additional bonus points they will gain when the points are re-racked to start the Chase in Chicago on Sept. 20.
So Sunday night was special for me. It was fun to see some of those paint schemes I used to race against all those years ago. Like I said, I think it was a great idea for Darlington to do that. I think it will be a great idea for them next year as well. I just again say let's only do that are Darlington. Let's not over-do it I said it earlier and I'll say it again --€" less is more -- in this case.