Eddie Alvarez asks for an easier opponent like Conor McGregor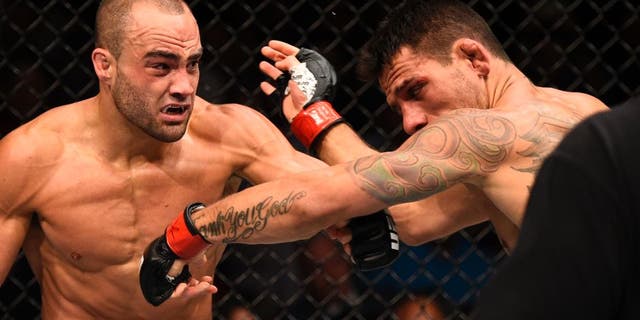 NEWYou can now listen to Fox News articles!
New lightweight champion Eddie Alvarez already has faced a murderer's row of opponents since joining the UFC roster and now he's looking for an easy fight for his first title defense.
Alvarez blasted through former champion Rafael dos Anjos with a vicious first-round TKO on Thursday night, which marked his third win in a row in the UFC.
So following his championship win, Alvarez politely asked for an easier night at the office against an overmatched foe -- like featherweight champion Conor McGregor.
"By far the best lightweight in this division is Rafael dos Anjos. I had the better night tonight for sure, but this can go either way," Alvarez said at the post-fight press conference. "There's great competitors and there's real small margin for error and if you mess up once, that could have been me on the end of that punch.
"This guy to the right of me is the best in the division. To be able to come out with a win over him ... and before him was (Anthony) Pettis and before him was Gilbert (Melendez). These are the best guys in the division. I'm not taking on top 15."
So I would ask Dana White please to give me an easier fight like Conor McGregor. I deserve that. I've been fighting the best guys so I would like a gimme fight. Conor, I more than welcome that. -- Eddie Alvarez
Alvarez didn't let up, either, as he continued to assault the 145-pound king, who is preparing for his welterweight rematch against Nate Diaz at UFC 202.
The new lightweight champion took aim at McGregor's perceived paved path to the title, and the fact that he's still never defended the featherweight belt.
"Look, there's a lot of guys in the UFC who are good at one thing and they get matched up stylistically well and they make their way to the top without ever going against the best guys, the true best guys like Rafael dos Anjos and the best guys in the division. They sneak their way around them. They live off perception, not what really is," Alvarez said.
"He's one of them. So I think he can get found out if he was ever to fight Rafael dos Anjos or fight myself, and he would get found out very quickly."
McGregor was matched up with dos Anjos before the Brazilian suffered an injury in March and was replaced by Diaz, who ended up winning the fight by second-round rear naked choke.
McGregor has teased that he might still pursue a second UFC title in the lightweight division in the future, but now that road goes directly to Alvarez's front door and the new champion isn't ready to concede his belt to the outspoken Irishman.