Eagles WR Miles Austin has uncertain role in the offense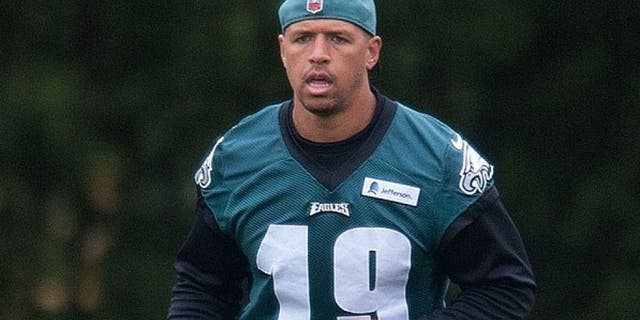 NEWYou can now listen to Fox News articles!
When the Philadelphia Eagles signed veteran wide receiver Miles Austin this offseason, the move raised some eyebrows. The Eagles had a young wide receiver corps in tact, and adding a veteran could threaten to slow down the progress of these younger players. With most of training camp in the book, it's not easy to pinpoint what Austin's role will be in 2015.
Austin has mixed in with the first, second and even third team offenses throughout training camp. The Eagles have talented sophomore receivers Jordan Matthews and Josh Huff, a dynamic rookie in Nelson Agholor and veteran Riley Cooper who started the past two seasons. Oh, and they're also using Darren Sproles as a slot receiver this season.
Eagles head coach Chip Kelly didn't elaborate on Austin's role, but he did confirm that the team views Austin's spot with the team secure.
"I think he's a really skilled route runner," Kelly said Thursday, per Jeff McLane of the Philadelphia Daily Inquirer. "That's the one thing that stuck out even when he was in Cleveland, whether it's press, whether it's off, I think he has a great understanding of concepts. I think he has a great understanding of techniques in terms of how to get himself in and out of breaks.
"He's unique in that way. I think he's helped a lot of our younger receivers in terms of that."
Those expecting an immediate breakout from rookie Agholor might want to reconsider. Austin, Huff, Cooper and Agholor are all competing for two spot in the Eagles' 11 personnel package that features three wide receivers. We could be staring at a true rotation when the regular season gets underway.
(h/t Philadelphia Inquirer)