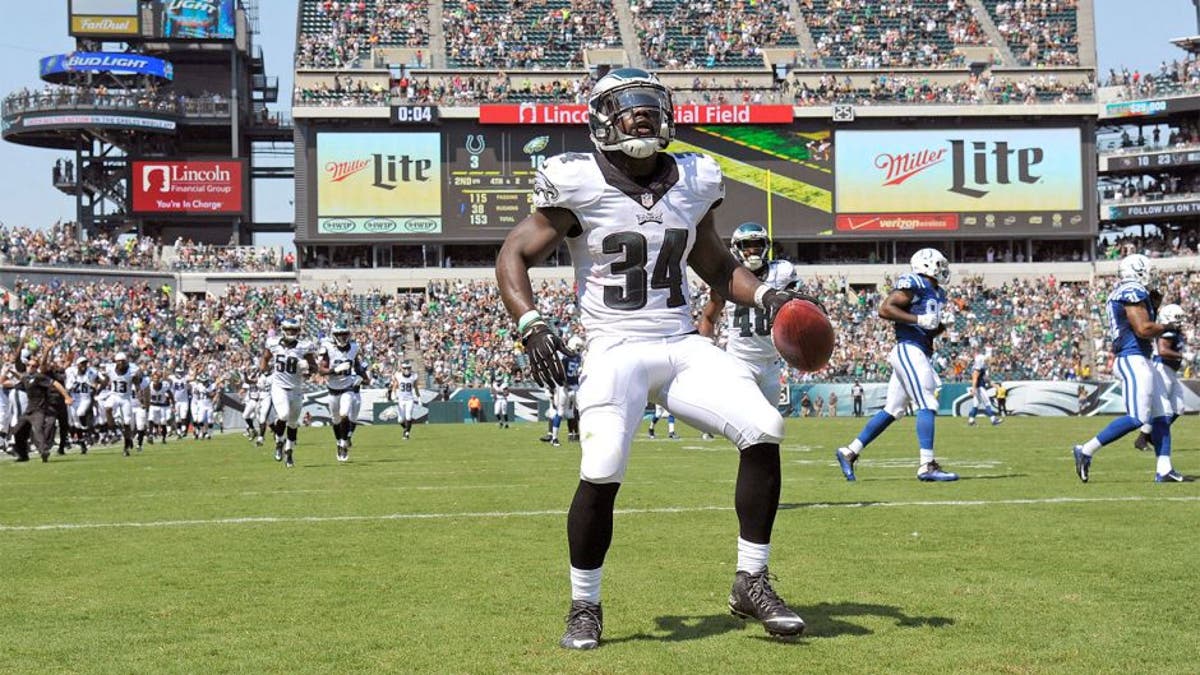 The difference between a victory and loss in several games during the 2014 season came down to the Philadelphia Eagles' special teams play. More often than not, the Eagles were on the right side of things. If Sunday's preseason opener was any indicator of things to come, Kenjon Barner is the next in line to make a major impact on special teams in 2015.
On Sunday in the preseason opener against the Colts, Barner took a 92-yard punt return to the house for the Eagles' first special teams touchdown of the preseason. He also scored two touchdowns on the offensive end, including a 9-yard touchdown run.
Barner admitted that he felt motivated by being relegated to the practice squad for a full year.
"It gives you drive, man," Barner said per Andy Schwartz of CSN Philly. "You want to play. You don't get to the NFL to sit down and watch other guys play, so it puts a chip on your shoulder. It also enabled me to learn under (Darren) Sproles, learn under (LeSean) McCoy, learn under those guys, and they taught me a lot. So it helped me develop much more as a football player and helped me take my game to another level."
The Eagles already have a pint-sized special teams and open space weapon in Darren Sproles. Barner credits his recent success to what he's learned from Sproles.
"I stay in his back pocket. Wherever you see Sproles, you're going to see me," Barner said. "Whatever Sproles is doing, I'm doing. I've been able to have conversations with him about punt returns, kick returns, all these different things -- and he's taught me a lot. So I credit a lot of where I am today to him because I've been able to sit under an 11-year vet and learn from him.
"I didn't understand that really as a rookie, getting with older guys and learning from them, but I understand that now. You have a guy who's been in this league 11 years -- he has a lot of knowledge, a lot of wisdom that he can pass on to you. So your job is to put yourself in position to receive that knowledge and go out and do what you can."
If Barner can continue to stand out on special teams, he could earn a role on the roster and eventually on special teams. The Eagles can never have too many dynamic players to contribute on specials.
(h/t CSN Philly)