DW: Why Kyle Busch has a bright future ahead of him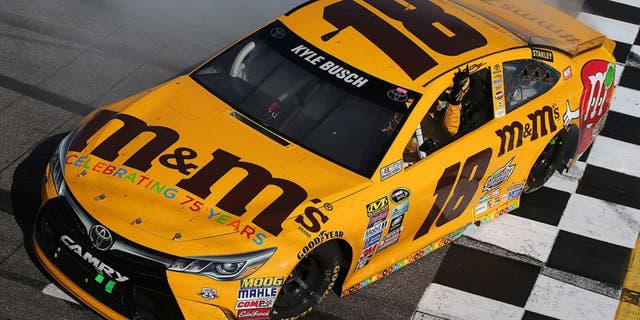 Kyle Busch's future is very bright, but let's not forget about Kyle in the present tense.
Just since he returned last May from that devastating wreck at Daytona in February 2015, the man has won something like 20 percent of the races his run. Those are phenomenal numbers.
His overall career in NASCAR is even more phenomenal. Kyle has already posted 35 NASCAR Sprint Cup wins. He's also won 79 times on the NASCAR Xfinity series plus add in another 45 Camping World Truck series victories. All told, Kyle has 169 wins across the three top NASCAR Touring series. Some folks try to discount the XFINITY and Camping World victories, but I just don't think that's fair.
Let me try and put that in perspective without trying to make one guy look good versus making another guy look bad. That's not my point at all. Back before the modern era of NASCAR guys were winning races that don't even come close to what an XFINITY or Truck Series race is today.
Some of the races back then were very short, like a 100-miler. Some were on dirt while others were on concrete. We're talking about little tracks all over the country at a time in our sport when you could run, no lie, 60 or 70 races a year.
While I don't want to say it's unfair to compare numbers to numbers, Richard Petty and David Pearson had quality wins, but what Kyle Busch is doing is all quality wins. There's a ton of great competition in the XFINITY and Truck series. These drivers simply don't roll over because Kyle Busch is in the race. From a Truck, to an XFINITY series car, to a NASCAR Sprint Cup race, Kyle might win all three races in a weekend.
We saw that at Martinsville last weekend when Kyle swept both events. He won the Camping World Truck series race on Saturday and then turned around to dominate the NASCAR Sprint Cup race for his first-ever Cup win at Martinsville Speedway.
I think that's the Kyle Busch that fans need to recognize and appreciate. Kyle if one of the few guys I have ever seen that once he puts his mind to something, he simply goes out and accomplish it.
We've seen guys brag about doing it, talk about doing it, think about doing it and even dream about doing it. Kyle simply goes out and does it.
Martinsville was a goal of his because he had never won there before. So now that one is checked off the list. His next goal is to win at every track the NASCAR Sprint Cup series races on and believe it or not, in his short career, Kyle actually only has two or three more places to win at and then that goal is accomplished. This is a man who is goal oriented and goal driven.
I just think it's important that we recognize Kyle for what he is doing in the sport of NASCAR. He's an incredibly talented and motivated driver.
We've watched him grow up and mature in our sport. Marrying Samantha and having their son has smoothed out some of the rough edges. Is he perfect? No. Does he hate to lose? Yes. The man is driven to win.
Now granted, if you are only happy when you win, well by golly, you are going to be an unhappy person in NASCAR because you are going to lose more races than you are ever going to win.
I think Samantha and the birth of their son, however, has helped Kyle find the balance in his life as we saw him come back from that horrible crash last year and still win his first NASCAR Sprint Cup championship.
As I mentioned, Kyle dominated Sunday leading 352 of 500 laps, but believe it or not, that really is misleading. All of us working the FOX NASCAR race saw a ton of racing all the way around that little half-mile paperclip of a track.
That's why I love short-track racing in our sport and continue to beat the drum that we need more of it, because there was something going on all day long despite Kyle's dominating performance.
What a great day for the No. 47 car and A.J. Allmendinger coming home second. They remind me a lot of what the No. 78 car did last year. They have shaken their team up, they have new folks in new places including Ernie Cope, who came over from Richard Childress Racing to help facilitate the alliance the No. 47 has with RCR and they are getting the job done.
We've seen A.J. win on the road course, but if they keep maximizing the assets they are getting through their Childress alliance, I wouldn't be surprised to see A.J. get his first oval win in 2016.
I was also very impressed with young Kyle Larson. In his very short career, Martinsville has been a pretty bad track for him. This year he ran the Truck Series race on Saturday and I think that did him a world of good. I think it did a world of good to build his confidence in himself at Martinsville because on Sunday he brought home a third-place finish.
The guy that continues each and every week to impress me is Austin Dillon in that No. 3 car. He and crew chief Slugger Labbe really have great chemistry and now they are getting the on-track results that everyone has been expecting.
Actually all three of the RCR car's finished in the top 10 Sunday plus as I mentioned, their alliance partner finished second. So that whole crowd has to be pumped full of confidence and momentum heading to Texas this weekend.
I have to admit, I am still scratching my head and disappointed with the front row on Sunday. We all expected pole-sitter Joey Logano to be a factor in the race. We weren't sure what outside pole sitter Kasey Kahne might have for the field.
Unfortunately it seemed once the green flag dropped, they both went one direction – backwards. Neither was a factor Sunday. The best Joey could do was 11th. The No. 5 car continues to struggle. I'm just not sure what the answer is over there because things just aren't working out well.
I was surprised to see Denny Hamlin get his car wheel hopping and crashed out. Denny's always a threat at Martinsville but it wasn't meant to be on Sunday.
Carl Edwards got a lap down early but fought hard all day long and got a great finish.
Teammate Matt Kenseth just has to be wondering, "what's going to happen next?" He just continues to struggle.
One of the other Sunday surprises has to be the No. 48 of Jimmie Johnson. He didn't lead a single lap and this is a man who has already won eight times there.
To make matters worse, I think this is the fourth consecutive race at Martinsville they haven't lead a lap. So whatever they had figured out at Martinsville has gone missing because they simply aren't anywhere near as dominate there as in the past.
Now, when I said the future is bright, I also was talking about the future of NASCAR. Our sport right now is setting at a crossroads. We go through this about every decade or so. Last year Jeff Gordon retired. This year Tony Stewart is retiring.
Drivers in their 40s are starting to slow down a bit. There's going to be a changing of the guard and we can all hear the footsteps of the future coming.
There's a bunch of 20-somethings that knocking on the door saying "it's our time." We've got Joey Logano who is only 25. We've got Kyle Larson. We've got the two rookies this year Chase Elliott and Ryan Blaney. In the wings are Erik Jones, Ty Dillon, Bubba Wallace, Ben Kennedy and the list goes on, so our sport's future is very, very bright. There are a bunch of kids with a ton of talent just waiting to shine.
Well it's time to get on down to Texas Motor Speedway. I love going there. I love Big Hoss – the huge big screen the track has for the fans. I love 500-mile races. The joint is fast. There will be high RPM's all race long so it will be interesting to see if we have any engine failures Saturday night.
This new low downforce package has been putting on some pretty good shows this year and I'm expecting another one Saturday night. Jimmie Johnson has three wins in a row. Will he get No. 4? Racing is the best it has been in a long, long time. The competition is awesome so yes, the future is very bright for all of us!