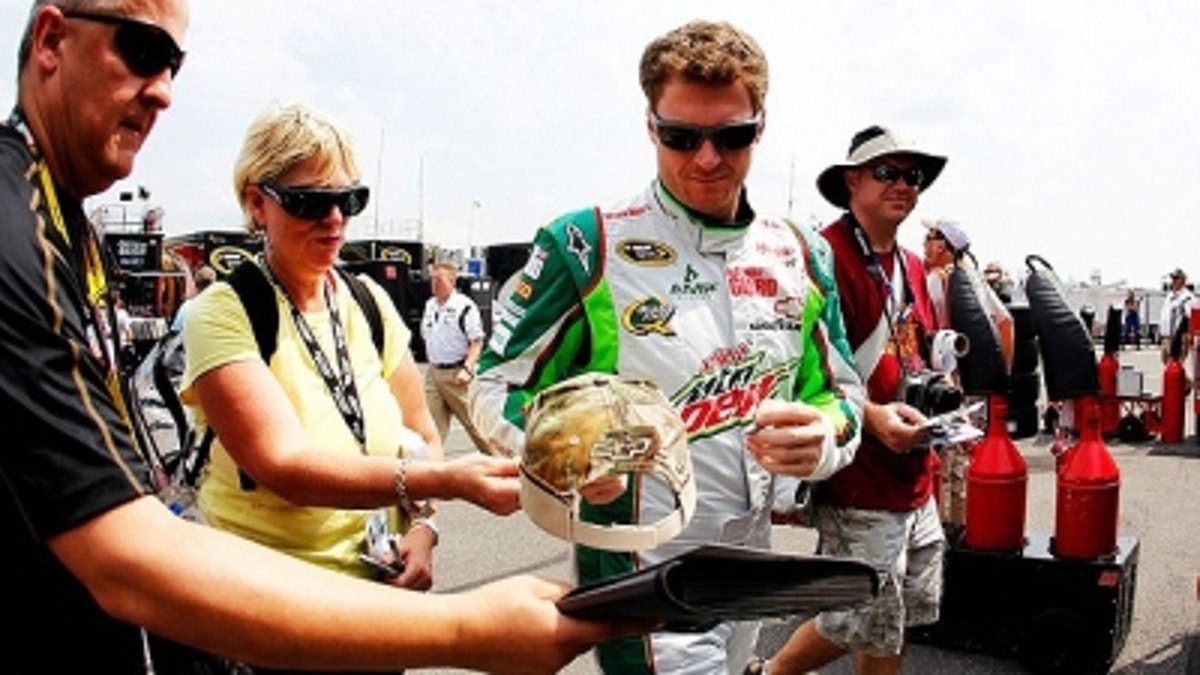 Sunday at Pocono Raceway was one of those days when our sport enjoys the highest of highs followed by the lowest of lows.
For all his struggles in 2012, Jeff Gordon put himself in position to win, took advantage of a situation on a late restart and then Mother Nature stepped in to help him secure the win.
Jeff has now won six times at Pocono, which moved him into first place on the all-time Pocono win list. It was also his ninth top-10 finish of the season, and it shook up the wild-card picture. It moved Jeff into the second of two wild-card spots. The other one is currently held by Hendrick Motorsports teammate Kasey Kahne, who finished second Sunday.
This was the 86th Sprint Cup win of Jeff's career, plus it was his first win since last September, when he won at Atlanta Motor Speedway. Earlier in the weekend, it was announced that Jeff had won the Heisman Humanitarian Award. The Heisman Humanitarian Award was created in 2006 to recognize those in the sporting world who give significantly of themselves to serve their communities and improve the lives of others. Jeff will receive his award Dec. 10 in New York at the 78th Heisman Memorial Trophy dinner, where the top college football player of 2012 also will be honored.
Jeff started his Foundation clear back in 1992, and it has raised more than $11 million for children's charities.
The cherry on top for Jeff this past weekend had to have been having both his kids in Victory Lane. I think he said that's the first time that has happened. Trust me, there is no greater feeling in the world than your kids celebrating in Victory Lane with dear ol' dad.
Right now, with five races remaining in the regular season, it's looking as if all four Hendrick Motorsports cars will qualify for the 2012 NASCAR Chase for the Sprint Cup. That would be a phenomenal accomplishment.
Unfortunately, all of this has been overshadowed by what happened after the race. Brian Zimmerman, a 41-year-old Pennsylvania resident, was killed and nine others injured by lightning strikes in the parking lot behind the grandstands. This is just so incredibly sad to me.
As we always say, NASCAR fans are the most passionate fans in all of professional sports. The fans come to the race to be entertained and to root for their favorite driver. They are there for the experience, and when a tragedy like this happens, it shakes up all of us.
As a competitor, I want the fans to come to a race and get hooked on our sport, like I am. I want them to be excited to come see a great race and be entertained. The key is for them to be so excited when they leave that they can't wait to come back. I just don't know of another professional sport that is more connected to its fans than we are. From the sanctioning body, to the owners, drivers, teams and sponsors, we all know the fans are the lifeblood of our sport.
Fans have a special bond with us, as we do with them. When a race fan chooses you as his or her favorite driver, you are theirs for life. Through thick or thin, they are always on your side. When it seems like everyone else is against you and even your dog doesn't like you, race fans can pick a driver up and give he or she the confidence to go after that checkered flag next time.
These are folks who will drive hundreds of miles just to watch us race. They buy our souvenirs. They buy our sponsors' products just to show their support. They'll camp in the infield or stay in a local hotel, which also helps the local economy. They'll sit in the boiling sun or, in the case of Sunday, the pouring rain simply because they are that passionate about our sport.
What happened Sunday after the race to those fans affects our whole racing community. Yes, Jeff Gordon won the race, but that's not what our sport is worried about. We are worried about the family of the person who lost his life and about those who were injured. That shows you the heart of our sport and makes me so proud of the sport I have dedicated my life to.
Just like when something happens to a driver inside the race car, we have to try to look at ways to possibly do things better. The sanctioning body and all the tracks will review their policies to see if there are things that can be done differently next time to avoid what happened Sunday in Pocono.
Obviously, there is no way to control Mother Nature. At best, we struggle at times to simply predict what she'll do. All we can do is look at what has happened, learn from it and hopefully be more prepared for next time. I am just so sorry for everyone directly affected by this. Our thoughts and prayers go out to all of you.
As for the race, well it was obviously affected by the weather in the beginning and then at the end. The race start was delayed 90 minutes.
Once the race got under way, you saw that Jeff Gordon had a very fast race car. He started clear back in the 27th spot, but by Lap 65, I think it was, he was already in the top 10.
His two teammates, Jimmie Johnson and Dale Earnhardt Jr., dominated the race. Junior went into the race as our series points leader, but transmission troubles ruined his day. At the time I didn't think it was possible, but Junior actually left Pocono with the points lead. He is five points ahead of second-place Matt Kenseth.
Jimmie Johnson on that last wild restart had a tire going down. After the race, he said that when he was going through the Tunnel Turn coming to the green that something didn't feel right. At first he thought it was just buildup on his tires, but he said when he went down into Turn 1, he realized it was a right rear tire going down.
Jimmie is a stand-up guy who doesn't pull punches or make excuses, but when you have something like what happened on the restart happen to as dominant of a car as he had, something must have been going on with his car.
It was unfortunate for him and particularly Matt Kenseth, who got involved in the wreck, but it sure opened the door for Jeff Gordon to dive to the bottom and take control. So this is a case where someone's bad luck, Jimmie's, is good luck for someone else; in this case, it was Jeff. And coincidentally, in this case, they are teammates.
The other thing I noticed is that the Pocono track lost a ton of grip from when we were there roughly six weeks ago. Speeds were way down. It seemed you really had to stay in the groove Sunday and if you got out of it you were going to be in trouble. I don't know that any of us were expecting there to be that great of a change from the first race. Think about this: In the first Pocono race this year, Joey Logano sat on the pole and won the race. Sunday, he and his team struggled, so that should be a clear indication of how the track had changed.
Most tracks with new pavement don't change that quickly. In fact, some places actually gain grip as opposed to losing it. So it will be interesting to see how things are in a couple of weeks when we return to Michigan the second time this year after its offseason repaving.
While Richard Childress Racing continues to struggle in the Sprint Cup Series, it is enjoying success in NASCAR's other top touring series. Elliott Sadler won in his RCR Nationwide car at Iowa Speedway this past weekend. That's a great rebound after his disappointing penalty at Indianapolis. That's championship material right there. Elliott is doing an outstanding job this year in that Nationwide car. It possibly will open some doors for him to return to the Sprint Cup Series down the road. I am sure that is something Elliott would love to do.
Joey Coulter got his first-ever NASCAR Camping World Truck series win in his No. 22 RCR truck. Joey is the ninth different winner this season in the Truck series and joins three others who have gotten their very first Truck series win this season. So it was an exciting weekend at Pocono for that young man.
Now, if the RCR camp could just figure a way to translate that success over to the Cup series side of its business. Kevin Harvick is ninth in points but only has three top-five finishes. Then you have to drop down all the way to 16th to find his first teammate, Paul Menard, who only has four top 10s all year. Then in 20th spot is the organization's third driver, Jeff Burton, who has had an up-and-down year. Jeff has only two top fives and four top 10s in 21 races.
So they have some work to do over there. I know Kevin would like to get a win or two before the Chase starts in late September, not only for the positive momentum but for the three bonus points per win he would receive. So the three teams just aren't firing on all eight cylinders on the Cup side of things while at the same time they are enjoying success elsewhere.
Watching the Olympics has fired me up again. Why can't our sport have podium finishes? For the life of me I don't understand why NASCAR resists having podium finishes featuring the top-three finishing drivers. Other series do it, and I have maintained for years that we should, too.
Sure the winning team gets the big trophy, bigger check and bonus points, but what's wrong with sharing the spotlight with the guy or girl who finished second and third? I think it would add a special touch to the postrace activities. They could take all three drivers together to the media center and get all three reactions to what just happened on the track.
I think it would mean a lot to our sport to put more emphasis on our top-three finishers. I know it would mean a lot to these owners, drivers and teams. In a time when these owners are trying to find and keep sponsors, how nice would it be to call your sponsor on a Monday after the race and, even though your car might not have won, you can at least say you got a podium finish. You might not have won, but you were still able to deliver exposure for your sponsor.
If you agree, let NASCAR know about it. In this day and age of social media, you, the fans, have NASCAR's ear, and officials are listening to you more than ever. You've probably noticed over the past couple of years that if your voice is loud enough, NASCAR will hear you and make changes. I would like to see what you fans think about featuring our top-three finishers with a podium finish.
Finally, it's on to Watkins Glen this weekend. Marcos Ambrose is the defending race winner. It will be 90 laps covering the nearly 2-1/2-mile road course. The joint features 11 turns with a variety in degrees of banking.
We all know who is pretty good at turning left. This weekend, the winner will be the driver who is pretty good at going left and right.