DW: Kurt Busch In Trouble - Again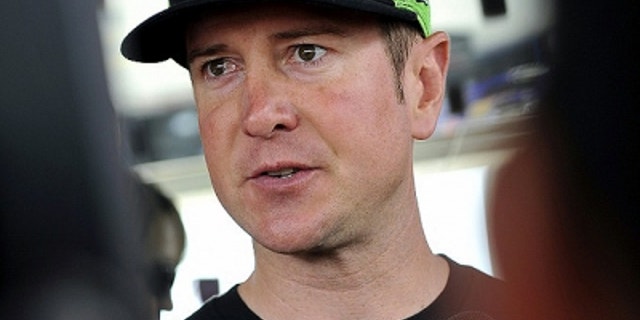 In 1965, the English rock band The Animals had a transatlantic hit in called "Don't Let Me Be Misunderstood." Quite honestly, in some ways the lyrics of this song still apply in 2012 especially when it comes to what has now happened to Kurt Busch.
By now everyone probably knows that NASCAR has parked Kurt and he won't be racing this weekend at Pocono. In addition to that, they have extended his probation until Dec. 31. All this arose from a confrontation with a media member following this past Saturday's Nationwide race in Dover.
Let's be clear, Kurt was driving Saturday for his little brother, Kyle, but NASCAR has told Kurt he can't race in the NASCAR Sprint Cup race at Pocono for car owner James Finch. Sometimes I wonder if the poor guy is just misunderstood, or maybe he needs to find a better way to express himself.
Now in the song, the lyrics go:
Baby, do you understand me now?
Sometimes I feel a little mad
But don't you know that no one alive can always be an angel
When things go wrong I feel real bad
Now as a driver, I have been in these spots myself. I've flown off the handle, I've overreacted, I've said things I've regretted, and I've made a lot people mad at times. The difference with me is it wasn't on such a regular basis as with Kurt.
Sadly he keeps adding bad chapters to an already-bad novel. He just can't seem to get past the things that have happened to him. Kurt's a very reasonable and smart man. Unfortunately he just can't seem to stop the downward spiral.
It really is the sum of a lot of parts. He lost his ride with Roush-Fenway Racing in 2005. Then at the end of last year he lost his ride with Penske Racing following, yes, a confrontation with media members at Homestead.
This is a NASCAR Sprint Cup champion that has lost two high-profile rides. That's traumatic for a race car driver — especially the one with the God-given ability behind the wheel that Kurt has. So when he began the 2012 season without a top-tier ride, he was already viewed as damaged goods.
But let's look at what has happened to him on the track recently. The man has had great runs in both the Nationwide and Sprint Cup series that have ended with blown tires, blown engines and wrecked race cars. Places like Iowa, Darlington and Talladega all saw him having great runs but with really nothing to show for them at the end of the day.
For a volatile guy like Kurt, who is already under probation by NASCAR, it's hard to keep the lid on the pressure cooker. Then when you stick a microphone or a camera in his face in the wrong situation or right after a tough race, well, you kind of have to expect the unexpected.
Remember, our sport is one where you get to hear from the athlete mere minutes after something good or something bad happens. Everyone wants to complain about drivers being too vanilla, too predictable and too politically correct these days.
Then when a guy steps outside that box, everyone is ready to pounce and come down on him like a ton of bricks. It's the blind obvious everyone: You simply can't have it both ways. A lot of today's drivers have told me they don't speak out and avoid controversy for that very reason. Look what it has done to Kurt.
I'll be the first to tell these drivers that they can't be loose cannons on and off the track. You can't simply run around blowing up all the time at everyone. We all understand that. But you also can't target Kurt hoping to get some kind of reaction. I haven't heard Kurt say anything any other driver hasn't said in the heat of battle in the past. I haven't heard Kurt say anything that other drivers haven't felt.
I've seen guys like Kurt be put in situations where they are set up to lose. Kurt knows he blew it again. He said as much in his statement following the penalty announcement by NASCAR.
Kurt's response was, "I accept NASCAR's decision. I put them in a box. They had to take action and it's my fault for putting them in this position."
"I put them in a box" — see, he realizes that. I sure can empathize with him. Like the lyrics in The Animals song says:
I'm just a soul whose intentions are good
Oh Lord, please don't let me be misunderstood
I kinda think that's where the guy is. Sometimes I think guys with personalities and attitudes like Kurt are misunderstood. One thing I do know for certain, people would be surprised how much Kurt does for our military and for charity where there aren't cameras and media folks around. He does a lot of good stuff.
I don't know. It's just frustrating when you look at this from every angle. Our sport can't be all vanilla. Our sport can't have someone with the talent Kurt possesses behind the wheel on the sidelines. At the same time, there has to a balance because you can't have drivers constantly blowing a fuse every time you turn around and taking their frustrations out on you.
Again, the lyrics from "Don't Let Me Be Misunderstood" come into play:
If I seem edgy, I want you to know,
That I never mean to take it out on you
Life has its problems, and I get my share,
And that's one thing I never mean to do
I really believe that. I don't really believe Kurt means to offend or hurt anybody. I know what good work he does away from the track. It's just the way he is wired up but he has to get control of it. Again, I have yet to hear him say anything that other drivers haven't said or probably wanted to say but can't.
One of the other lyrics in the song goes:
Oh, oh, oh, baby — don't you know I'm human
I have thoughts like any other one
Sometimes I find myself, Lord, regretting
Some foolish thing, some little simple thing I've done
Drivers are high-strung athletes with a lot of emotions. You don't get to watch a reporter run up to a wide receiver in an NFL game after he's dropped the winning touchdown pass and ask him what happened and how he's feeling. Guess what: You do in our sport. That's the kind of access and responsibility that comes with the territory when you are a NASCAR Sprint Cup driver.
I don't condone being rude to someone. I don't condone threatening someone. I don't condone cussing someone out who is simply doing their job. Kurt's right, he put NASCAR in a box. I don't blame them one bit for what they had to do. A driver's livelihood is sitting behind the wheel of a stock car and trying to beat the other forty-two competitors on Sundays. The quickest way to get a driver's attention is to take away that livelihood.
I just hate it for Kurt. I hate the fact he keeps finding himself in this position. Many times high-strung athletes can control their emotions. Then there are those that need help at times controlling theirs. We're all going to find out pretty quickly if being forced to sit out of the thing he loves doing the most and is also really good at, that being racing on Sunday at Pocono, will finally help Kurt learn to control his emotions.