Dustin Brown, Mike Green, Daniel and Henrik Sedin nominated for NHL Foundation Award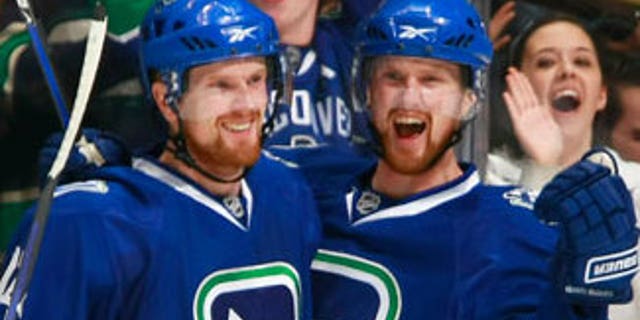 The NHL's annual award gala is a night when the finest achievements over the previous season are honored and many stars of the game walk away with freshly burnished credentials. But in addition to scoring leaders and top goaltenders, the NHL Foundation Award is also awarded to players who have applied "the core values of hockey—commitment, perseverance and teamwork—to enrich the lives of people in his community".
This season the NHL has nominated L.A.'s Dustin Brown, Washington's Mike Green and Vancouver's Daniel and Henrik Sedin for its Foundation Award. While they are not fresh names to the list of nominees for League awards, and this award in particular, none of them have ever taken home the NHL Foundation Award.
This is the third consecutive season that Brown, the youngest captain in Kings history, has been nominated for the honor. Brown has been a major fixture in several charitable initiatives with the franchise, including Kings Community Corner, a program that helps bring tickets to underprivileged kids. As well, for three seasons Brown and his wife Nicole have run KaBOOM!, a program that helps to develop parks for children and is in part funded by Brown himself, who donates $50 for each hit he delivers during the season. Brown is also involved in several other initiatives ranging from efforts to help with children's hospitals, children's cancer research and youth hockey camps.
Green, who was nominated for this award in 2010, has also been involved in efforts to bring underpriveleged children to hockey games through Most Valuable Kids. In addition to that, Green works with a number of other youth-based charity organizations, including So Kids Can, which he helped found during the 2008-09 season and which raises money based on his statistics. To date, the organization has raised nearly $100,000 for a number of children's-related causes such as refurbishing children's playrooms at hospitals and raising funds for prosthetic limbs for children. Among several other charities that Green has worked with, he has also worked with Brown's KaBOOM! organization this season to help bring more green space to D.C.-area youths.
The Sedin twins have done their fair share to rule the scoring ranks in the NHL over the past two seasons, but in addition to their prodigious point totals, the two have been large fixtures in the Vancouver community. Last year, the two pledged $1.5 million to the Campaign for B.C. Children to help fund a Pediatric Intensive Care Unit at the B.C. Children's Hospital. Initially, the Sedins had hoped to make the donation private, but publicized the gift at the behest of the hospital which hoped it would raise awareness. The Sedins have also been major participants in the Canucks For Kids Fund Telethon, which has helped to raise more than $1 million.
The winner of the award is given $25,000 towards causes that he supports. The winner will be announced at the NHL Awards in Las Vegas on June 22.