Dudley promises to bring veteran leadership in return to Suns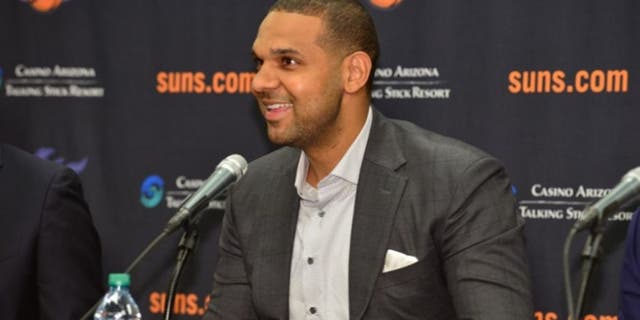 NEWYou can now listen to Fox News articles!
PHOENIX -- The Phoenix Suns have made the signing of Jared Dudley official, and the nine-year NBA veteran pronounced himself the "perfect" person to bring veteran leadership to the young team.
Dudley signed a three-year, $30 million contract and was introduced at a news conference on Friday, although he really didn't need an introduction. He spent 5 1/2 seasons with the Suns, and was part of the latter stages of the franchise's high-energy Steve Nash era.
"He knows how to wear this jersey with pride," Suns coach Earl Watson said.
The Suns have also agreed to terms on a two-year deal with another ex-Sun, guard Leandro Barbosa, but that signing won't become official for several weeks because he is in Brazil with the national team that will host the Rio Olympics.
Dudley said he's "secretly been wanting to come back here for years."
Although he's only 6-foot-7, Dudley will play the "stretch" power forward role with Phoenix, a position he played last season with the Washington Wizards and on occasion with Milwaukee the season before.
"We wanted somebody to lead our group," general manager Ryan McDonough said, "somebody with high-level experience in the NBA, Somebody who's been playoff tested, battle tested and somebody with leadership characteristics to teach our young players how to play, how to be professionals as well on and off the court."
Dudley fit all those requirements.
"I don't think there's a more perfect person for this job at this time with this young team than me," he said.
The Suns' two first-round draft picks -- Dragan Bender and Marquease Chriss -- are just 18 years old. Nineteen-year-old Devin Booker, who made the NBA all-rookie team last season, was the youngest player in the league.
Dudley said he has no problem knowing he is grooming Bender and Chriss to replace him.
"A lot of vets kind of fear that," Dudley said. "I embrace it in the sense that they're going to take over eventually. For me ... it's an everyday process to help them get better and I'm excited about that."
Dudley, who turns 31 on Sunday, has averaged 8.4 points in his career. Last season, he averaged 7.9 points for the Wizards, shooting 42 percent from 3-point range. He is a career 40 percent shooter on 3s.
Dudley arrived in Phoenix as, as he described it, "a throw-in" in a trade with Charlotte midway through the 2008-09 season. But he worked his way onto the court and was part of the Suns team that lost to the Los Angeles Lakers in 2009-10 Western Conference finals. Statistically, his best NBA season was 2011-12, when he averaged 12.7 points with Phoenix.