Dolphins offensive line struggling to handle Suh, defensive front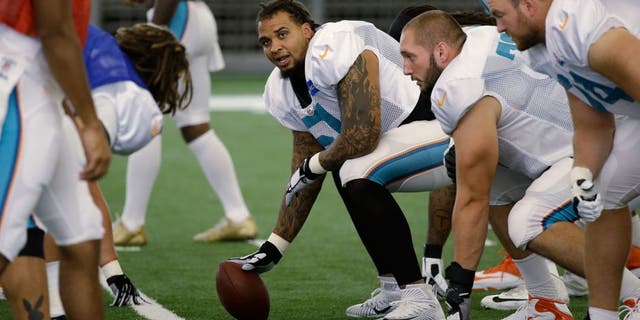 DAVIE, Fla. (AP) -- Miami Dolphins quarterback Ryan Tannehill says he feels "safe" behind his offensive line.
His head coach, Joe Philbin, worries, even this early in training camp, when the defense usually gets the better of the battles. So much so that after the second day of pads, Philbin noted, "We have to be a little firmer (with the) pocket."
He added of the pass protection, which has been porous in practices against a fierce front led by free-agent addition Ndamukong Suh: "You want the quarterback to feel confident and comfortable back there. You want him to be able to follow through on his throwing motion, so the ball doesn't hang in the air."
Despite the pressure he's faced so far in camp, specifically up the middle, Tannehill has been extremely accurate -- more than he was last preseason, Philbin said Wednesday. Tannehill attributed that to his improved footwork and ability to make quicker decisions due to his increased comfort in the second year of coordinator Bill Lazor's offense.
Still, there are concerns about the offensive line, which has practiced without Pro Bowl left tackle Branden Albert as he continues to rehab from major knee surgery performed late last season. Albert, who has participated in walkthroughs with the team, hopes to be ready by the regular-season opener Sept. 13.
Anchored by Pro Bowl center Mike Pouncey, the first-team unit in camp has featured Jason Fox at left tackle, Dallas Thomas at left guard, Billy Turner at right guard and Ja'Wuan James at right tackle.
"I'm not sure who's going to end up being in those spots, but those guys are competing and they're facing one of the best, if not the best, D-tackles in the league," said Tannehill, referring to Suh. "So it's not always going to be pretty no matter who's up there. You could have an All-Pro guy going against Suh and it's going to be a battle."
Lazor said third-year pro Thomas is "a much-improved player" from last season, Turner "has come a long, long way" from his play as a rookie in 2014, and rookie guard Jamil Douglas has "impressed" while getting some first-team reps.
"I'm always going to feel better with Branden," Lazor said, adding that the offense needs blitz drills daily to improve.
Offensive line coach John Benton said he's confident, and he expects the Dolphins will have "a very good offensive line" to protect Tannehill this season. So far, Suh and his linemates have manhandled the group.
"I haven't really sat back and identified or justified anybody saying they're horrible," Suh said. "We've got a Pro Bowl center in Pouncey. The guards are playing well. The tackles are doing their job as well."
Of his domination in practices, Suh added, "I want to dominate Dallas. I want to dominate Billy. That's my job. That's what I was brought here for, and that's my goal. Hopefully, I can get them better and they can make me better by pushing me as well."
The Dolphins haven't ruled out signing another guard; veteran Evan Mathis, released by Philadelphia, is the player most often mentioned. Asked if Mathis' addition would improve the line, Lazor noted, "I don't think it's ever right to compare players."
He added, "I'm excited about the competition we have going as we go forward."
Said Tannehill: "I don't expect those guys to be able to lock Suh down each and every play, but they're competing and getting better. That's what you want to see."
NOTES: Thomas didn't practice Wednesday because of a shoulder injury. Douglas worked with the starters most of the day. Linebacker Derrick Shelby (knee) and receiver LaRon Byrd (knee) also sat out. ... Linebacker Koa Misi left midway through practice with an undisclosed injury and didn't return. ... Receiver Kenny Stills (calf) practiced in full pads after sitting out Tuesday's workout.