Dolphins CB Brice McCain doesn't want to be 'labeled a slot corner'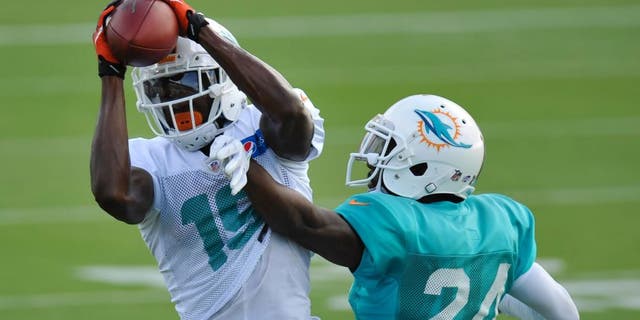 NEWYou can now listen to Fox News articles!
Jamar Taylor's injury at cornerback for the Miami Dolphins has forced the team to experiment with different players on the outside. Nickel corner Brice McCain has primarily played the slot in his career, but after getting the start outside on Saturday, he doesn't want to move. He wants to remain a boundary cornerback and and gain the respect he believes he deserves.
"As a corner you always want to start on the outside, in the base defense," McCain said via Andrew Abramson of Palm Beach Post. "They play so much nickel that you're really on the field all the time. But no corner wants to be labeled a slot corner their whole career. They want to go out and play and be respected in this league."
At 5-foot-9, McCain fits better in the slot covering smaller, quicker receivers. He's sustained a long NFL career as a nickel cornerback and will likely remain there once Taylor returns. However, Taylor has been injured frequently and hasn't proven himself as a reliable starter. If nothing else, that has to give McCain confidence that he can make an impact for the Dolphins.
"I feel good," McCain said. "I can get better. But looking back at it I think I had a good preseason and I'm looking forward to the regular season now."
McCain and the rest of the starters aren't likely to play in the team's final preseason game, meaning he'll enter the regular season as the team's No. 3 cornerback as long as Taylor is healthy. He'll continue to pester slot receivers with his scrappy, tough play, but he's always prepared to play outside when his name is called.
(h/t Palm Beach Post)