Does Mexico Need Chicharito?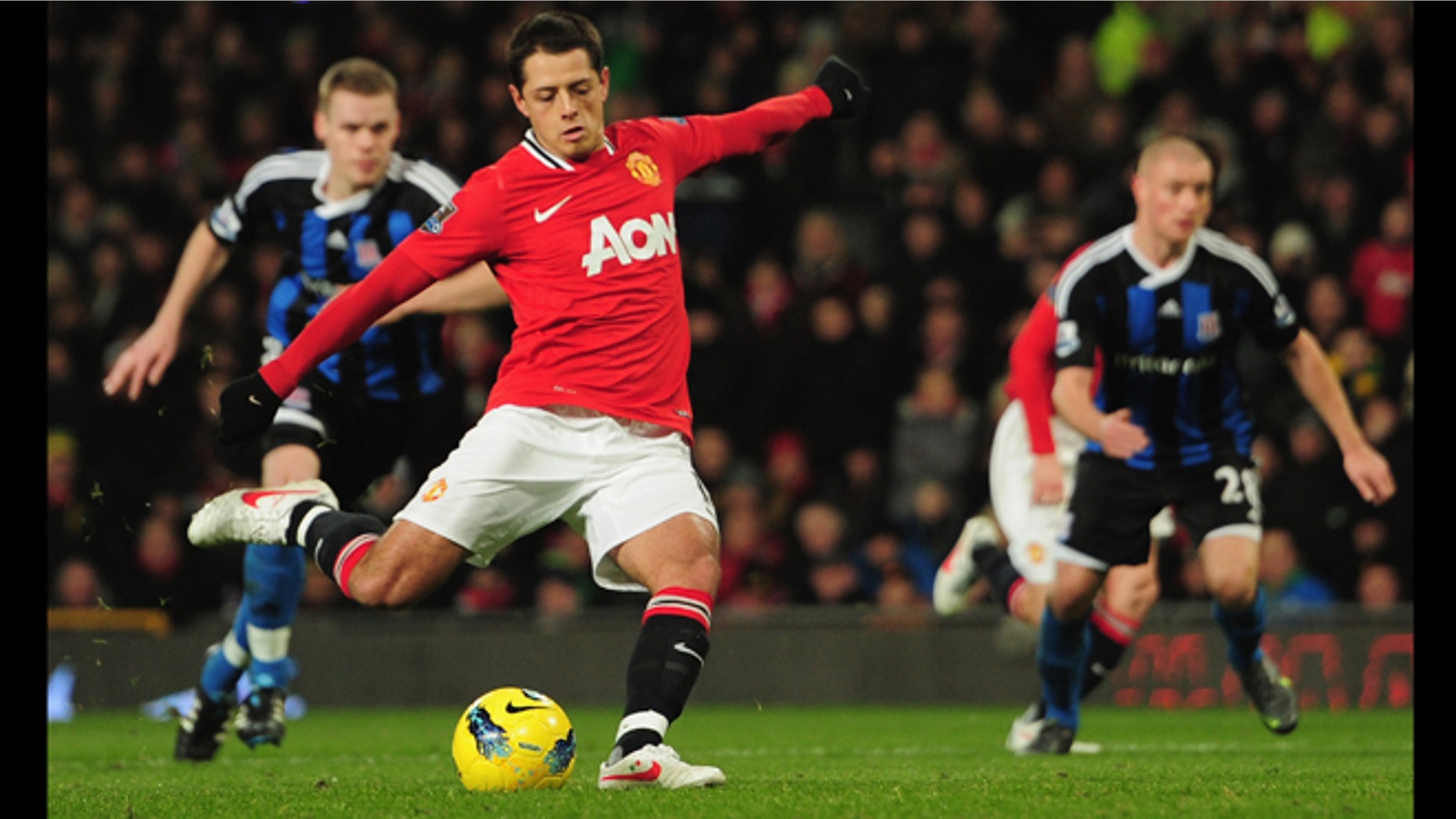 EAST RUTHERFORD, N.J. – What to make of Mexico's 2-0 win over Wales?
On one hand, it was quite encouraging to see how the Mexicans dominated and created chance after chance against the Welsh at Met Life Stadium on a hot and humid Sunday.
On the other hand, it was quite disappointing how they squandered one opportunity after another in the international friendly.
One thing was certain: El Tri missed Chicharito. Their most lethal weapon was taking time off after completing his season with Manchester United.
Given what transpired on the field, there was no doubt Javier Hernandez's presence would have been good for even two more goals and opened up scoring lanes and chances for teammates because the opposition just about quakes in its collective boots when he is in the lineup.
Chicharito is expected to return to the team prior to Thursday's second game of its pre-World Cup tour of the United States against Bosnia-Herzegovina in Chicago (the third match is set for Arlington, Texas against Brazil on Sunday).
Also missing from the starting 11 were goalkeeper Guillermo Ochoa (on the bench), team captain and central defender Rafa Marquez (substitute in the 77th minute) and playmaking midfielder Andres Guardado (helped his club team, Deportivo Coruna, gain promotion to Spain's First Division, La Liga).
Sunday was quite boring because it was a mismatch, pitting the best team in all of CONCACAF against an also-ran side from Europe, a team will never be confused with Brazil, a team that has not reached the World Cup in the past 13 times, or since 1958.
The game also was boring because history repeated itself occurred again and again -- the Mexicans possessing the ball for huge chunks of time and taking an average of a shot every three minutes. El Tri attempted 29 shots -- seven of which were on goal and two found their way into the net past goalkeeper Jason Brown.
Striker Aldo de Nigris, one of Monterrey's heroes in its second straight CONCACAF Champions League title run, was the recipient of Mexico's persistence and domination, striking once at the end of each half. When you have a team that boasts the attacking power of Giovani dos Santos, who did everything but score on Sunday, Carlos (who opted not to play with Mexico during World Cup qualifying) and the incomparable Chicharito, a player has to make the most of his opportunities to play and the 28-year-old de Nigris certainly did. He has found the back of the net nine times in 15 international appearances.
Like pitching in baseball, a soccer team can never have enough goal-scorers and depth at the attacking positions because of so many factors that can keep a vital player on the sidelines, whether it is injuries, falling out of form or a yellow- or red-card suspension.
International friendlies are a funny thing because they really don't count, unless a player gets injured. They are the appetizer and prelude to much more important competitions such as qualifying tournament, a confederation tournament or the World Cup.
Those exhibition games, however, are important to give previously uncapped players a chance to get their feet wet on the international level.
So on Sunday, the game certainly counted for two relative newcomers to the Mexican squad -- defender Severo Meza and midfielder Edgar Andrade -- who made their positive impressions on coach Jose Manuel de la Torres, the fans and media.
The players had vital roles in both of de Nigris' goals, Meza on the first in the 43rd minute, Andrade on the second in the 89th minute.
Meza, 25, who also performs for Monterrey, acquitted himself well, as did 24-year-old Andrade, who plays for Chiapas. Andrade took over for Guadardo on the left wing.
"He's done it well, just as what he has done with his club, playing on the side," de la Torre said of Andrade. "His physical condition is very good. He adapts very well to the system with the national team. And Severo, he's a very good player. His physical condition helps us. Both of their responses were very good.
"It is a good opportunity to look at other players. I like what I saw because we execuited what we were preparing during the week. Obviously, the result is a positive one."
What de la Torres sees and says during qualifying will matter much, much more.
Regardless how El Tri fares against Bosnia and Brazil, they ultimately will be judged on its competitive results as it kicks off its road to Brazil on June 8 with a home game against Guyana. That will be followed by a visit to El Salvador. Anything less than wins in both those encounters will be disappointing and considered a disaster for such an imposing CONCACAF side as Mexico.