Dodgers top Cubs in Game 1 of NL title series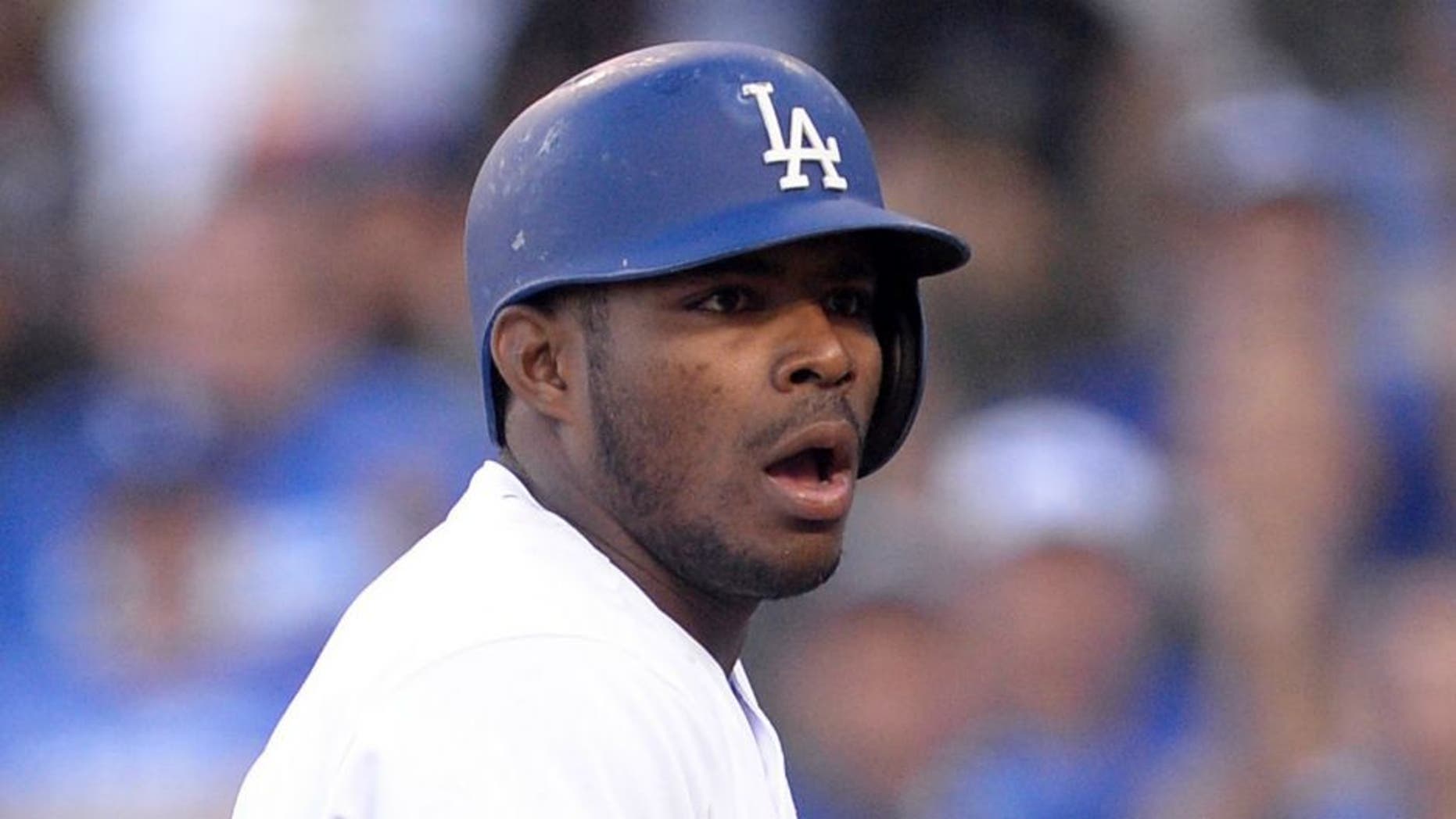 LOS ANGELES – Although Clayton Kershaw once again failed to dominate in a postseason start, these Los Angeles Dodgers don't need one guy to carry them.
With a relentless lineup, flawless relief pitching and a collective charisma epitomized by the bat-flipping Yasiel Puig, the Dodgers are still unbeaten in the postseason and off to a strong start in the NL Championship Series.
Chris Taylor hit a tiebreaking homer in the sixth inning, Puig added a homer and an RBI double to his dynamite postseason, and the Dodgers overcame a short start by Kershaw for a 5-2 victory over the Chicago Cubs on Saturday night in the NLCS opener.

"We just tried to set the tone early against the Cubs," closer Kenley Jansen said. "We understand they're the defending champions, so they're a really good team. We understand that we won 104 games, but right now it doesn't matter."

Charlie Culberson doubled, drove in the tying run and scored another while replacing injured All-Star shortstop Corey Seager for the resourceful Dodgers, who improved to 4-0 in this postseason."
With another collective offensive effort and four innings of perfect relief for Kershaw, the Dodgers calmly overcame an early two-run deficit and took the first game of this rematch of the 2016 NLCS, won in six games by the Cubs on the way to their first World Series championship in 108 years.

"It's two different ballclubs," Dodgers manager Dave Roberts said.
"There are some similar players, but I think that the season we had versus the season they had last year, I think that you could parallel those two, and the confidence we have in our group, and they had in their group last year. I just know that this year we're a very focused group, very confident group."
The Dodgers hadn't won the opening game of an NLCS since 1985. Game 2 is Sunday, with Rich Hill starting at home against Chicago's Jon Lester.

Kershaw pitched five innings of four-hit ball, but the Los Angeles ace fell behind 2-0 before getting pulled for a pinch-hitter during the Dodgers' tying rally.

After winning 104 games in the regular season and sweeping Arizona in the Division Series, the Dodgers have a lineup and bullpen equipped to handle almost anything. They made Kershaw's latest laborious postseason start virtually irrelevant, just as they did after he gave up four homers in his 2017 playoff opener against the Diamondbacks last week.

Albert Almora Jr. hit a two-run homer in the fourth, but the final 18 batters failed to reach base for the weary Cubs, still bouncing back from a 10-hour cross-country flight after finishing off Washington in an epic Game 5 late Thursday night.

"Their bullpen is pretty firm, and we have to really get our feet back on the ground," Cubs manager Joe Maddon said.

Puig added another huge offensive game to his recent surge with his first career postseason homer -- though in a postgame interview on TBS, he was convinced he had hit one before.

The Cuban slugger also included his usual array of creative bat discards and portentous pauses at the plate.

Los Angeles finally got rolling in the fifth when Logan Forsythe and Austin Barnes drew one-out walks before Puig hammered a double to left-center. The ebullient Cuban slugger headed to second only after flipping his bat and spreading his arms wide at the plate.

Puig's sky-high homer off Mike Montgomery in the sixth barely got over the fence in left. Puig is 7 for 15 with six RBIs in the Dodgers' first four playoff games.

"I grew up a little bit," Puig said. "(I'm) going to home plate having fun, because I know (if) I hit nothing, (if) I do nothing in the game, my teammates are going to have my back."

Kenta Maeda got three outs and the victory in his latest standout relief effort, and Jansen struck out all four batters he faced for his third save this postseason.

Kershaw's inability to match his sublime regular-season performances in the playoffs is a central theme of his career. The three-time NL Cy Young Award winner won the NLDS series opener last week despite giving up four homers at Dodger Stadium, and Almora's shot made him the first Dodgers pitcher to yield five homers in a single postseason.