Dodgers' Andre Ethier laments losing Zack Greinke: 'It hurts big'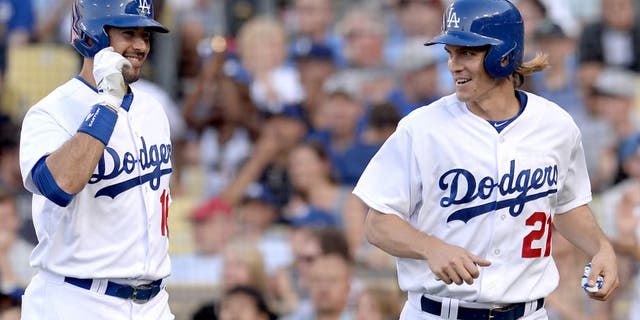 While the Los Angeles Dodgers have filled out their pitching rotation this offseason, there will be a noticeable difference without talented right-hander Zack Greinke, a void one of the Dodgers' veteran players couldn't help but acknowledge on Wednesday.
Outfielder Andre Ethier, who has played 10 seasons with the Dodgers, values just how substantial Greinke's impact was on LA's rotation, and now bemoans his loss to the Arizona Diamondbacks in free agency this offseason.
"It hurts big losing Zack," Ethier said, via the Los Angeles Times, at an event in San Bernardino on Wednesday during which the Dodgers met with victims and first-responders of the December terrorist attack. "I don't care what you say. It hurts losing Zack."
Greinke assembled a sensational stretch during his three-year stint with the Dodgers, posting a 51-15 record with a 2.30 ERA and 1.03 WHIP. The right-hander finished runner-up for the NL Cy Young Award behind Chicago Cubs ace Jake Arrieta in 2015.
While he has left Los Angeles, Greinke hasn't strayed far from the Dodgers, geographically or baseball-wise, as the Dodgers will have to face him quite a few times with the D-backs in the same division.
"Statistically, if you look at some of the stuff he did, it was some of the best numbers in quite a few years," Ethier said. "So I can say it now: I hope he doesn't have the same performance. Because I don't want to be facing that."
In lieu of signing a top-tier starter to replace Greinke, the Dodgers signed two mid-level starters in left-hander Scott Kazmir and Japanese righty Kenta Maeda.
While LA no longer has a starter to serve as the latter end of a one-two punch with ace Clayton Kershaw, Ethier still believes the club has the rotation and overall talent to defend its NL West title once again in 2016.
"I think we have the depth, and the players we need," Ethier said. "It might not be as splashy as it was on paper in the past, but good teams are not always the ones you think about or expect."