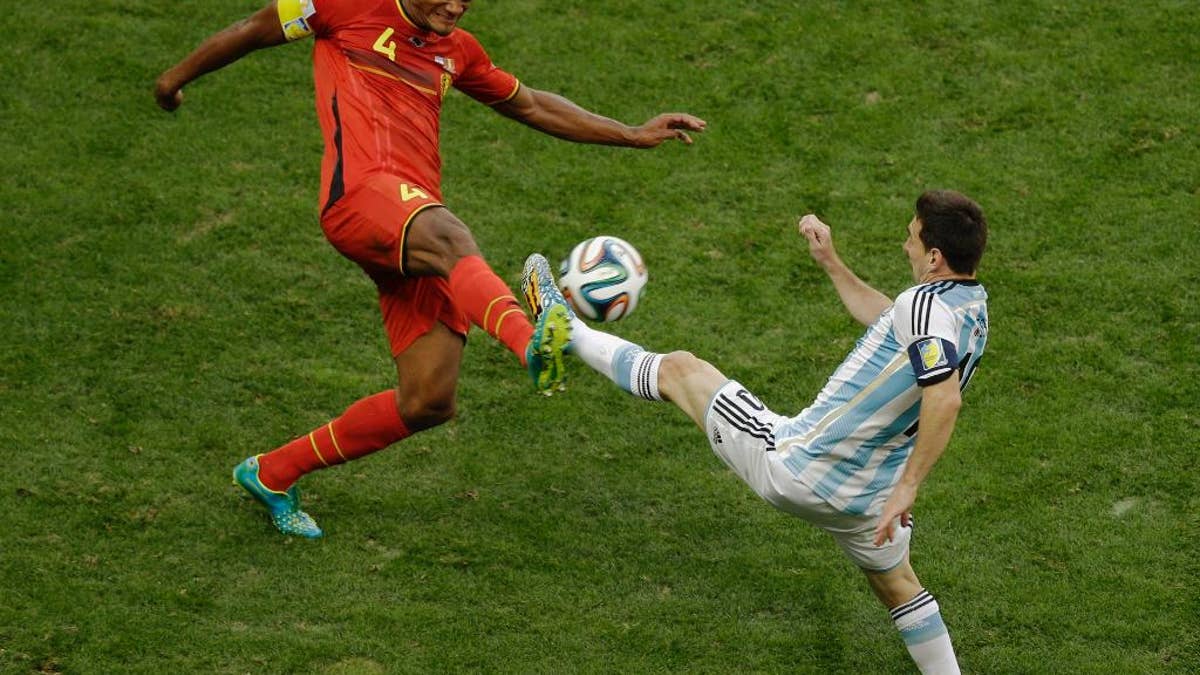 BRASILIA, Brazil – Belgium may have reached the quarterfinals of its first World Cup for a dozen years, but coach Marc Wilmots and his players will return home from Brazil with a sense of unfulfilled promise.
The expectation was always that Belgium's creative talent could dazzle the world. Instead, Wilmots made it a coldly calculating campaign that earned his side four straight victories until it reached the last eight on Saturday against Argentina.
And when it finally met a great team at the World Cup, Belgium was exposed as being not good enough, not yet at least.
Saturday's 1-0 defeat in Brasilia put an end to the hopes — and a rare frenzy of patriotism — of a small nation of 11 million people. A campaign that promised so much with the individual talent at Wilmots' disposal ended up as a case of what might have been.
"We could have and should have done much more," said left back Jan Vertonghen, probably Belgium's best player of the World Cup.
It's a view shared by Wilmots.
"We felt we were on the verge of something big," the coach and former Belgium midfielder said.
The fact that Vertonghen flourished on the world stage was only one of several surprises — both good and bad — in the squad.
While many expected Romelu Lukaku to shine as a high-scoring center forward, teenager Divock Origi made just as much of an impact — despite only being picked because top striker Christian Benteke missed the tournament through injury.
When everyone was looking for Vincent Kompany to be the rock in defense, Belgium's progress was just as much down to the ability of 36-year-old Daniel van Buyten to close the gaps, even though most thought he was destined for a World Cup on the bench.
And most importantly of all, the world was waiting for Eden Hazard to shine and to become Belgium's answer to the likes of Argentina's Lionel Messi and Brazil's Neymar.
Instead, the Chelsea playmaker was one of the biggest disappointments of the World Cup, with his creative talents even being outshone by those of a teammate, winger Kevin De Bruyne.
As the players head home, there will be some consolation that the one-goal victories they achieved over Algeria, Russia, South Korea and the United States which will at least move Belgium's FIFA ranking deeper into the top 10.
None of those teams, though, can be compared to Argentina — not only in history and tradition, but also in their World Cup records.
Against the other teams, Wilmots' strategy of wearing down the defense before bringing on late substitutes to score decisive goals worked to perfection. However, it's a tactic that can't be relied on to work every time.
As it moved into the latter stages of the tournament, Argentina simply stepped up a gear, without even having to rely on Messi. Other players like Gonzalo Higuain, and Angel Di Maria before him, also performed at a level that the Belgians could only aspire to.
Though Wilmots criticized Argentina's players for wasting time on Saturday, claiming that "they feared Belgium," the South Americans showed their maturity with an ability to control the game which Belgium's squad still doesn't have.
But then again, it is the third youngest at the tournament.
For Belgium, the hopes now turn to 2016, when France hosts the European Championship, and a promise that this time might be fulfilled.
___
Follow Raf Casert on Twitter at http://www.twitter.com/rcasert