Demetrious Johnson on how his coaches, preparation & pressure made the difference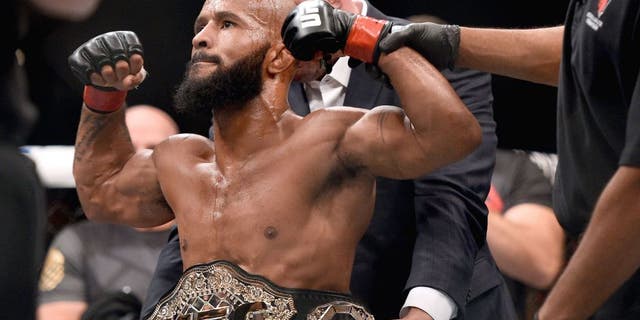 Flyweight world champion Demetrious Johnson had lots to focus on in his title rematch against John Dodson, Saturday at UFC 191. At the core of the champ's game plan, however, was making his opponent work harder than he wanted to.
"I just wanted John Dodson to work very hard, tonight," he told the UFC's Megan Olivi, afterwards.
"Eventually, you're going to get tired. My pressure is what gets people tired. No matter if you have a new conditioning coach, you train at altitude, my fighting style is to press the pace. His style is not to do that. His style is to look back, wait for the counter and that's what he was trying to do in this fight."
Johnson certainly worked on other, technical components during training camp and in the fight. For one, making sure to stay low was a big focus for him and his coaches.
"One of the things we worked extremely hard on in this camp [was] staying low, not getting high, popping up right into his wheelhouse," revealed.
However, he knew that Dodson was too good to make mistakes and give him openings unless he was first tired out. So, in order to push "The Magician" to extremes in their five-round main event, Johnson first pushed himself to the edge during training camp.
"The conditioning for this fight was extreme. Each time I would hit pads in the morning, extremely hard, coach Brad would say, 'stay focused. Stay focused.' And, that's what I had to do, even in between rounds. They told me, 'stay focused, stay low, and get in on him,'" he said.
In the end, having coaches who themselves are fighters, like his head coach Matt Hume, gave Johnson the edge he needed to stay champion. "This is how I train," he ended.
"My coach Matt Hume is always on me. Coach Brad is always on me. They're always pushing the pace. So, I try to emulate my coaches because when I spar them, they're always on me. And, when I'm fighting, I want to be all over my opponents, too."