DeMarco Murray gave Ezekiel Elliott advice that helped him become a star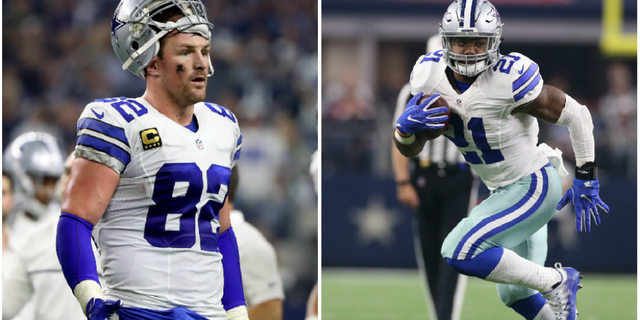 Tennessee Titans running back DeMarco Murray is two years removed from his campaign as the NFL's rushing leader in Dallas, but it turns out he still had a hand in steering the 2016 rushing leader in the right direction.
Of course that would be Cowboys Pro Bowl rookie running back Ezekiel Elliott, drafted by Dallas No. 4 overall in April 2016. After Zeke's selection, Murray texted him and told him to stay close to Jason Witten and watch his every move. What did Murray suggest he should watch for?
"Every and anything," Murray said on Thursday, per the Dallas Morning News' SportsDay. "Anything he's doing, working-wise, working out-wise, film-wise, using the bathroom, whatever it takes, watch 82. He'll lead the way and show you how to do things the right way."
Elliott, who only turned 21 years old around the time training camp broke, took the advice. "Witten was my guy," Elliott said of the widely respected veteran tight end. "I stayed in Wit's hip pocket and did everything I could to learn from him, learn how to be a pro."
Elliott rushed 322 times this season for 1,631 yards (5.1 yards per carry) and is a heavy favorite to be named the NFL's Offensive Rookie of the Year. The rookie may or may not have followed Witten to the bathroom but it sounds like the longtime Cowboy didn't hover over Zeke.
"With Zeke, we've had some good conversations," Witten told ESPN's Jean-Jacques Taylor. "Obviously there's high expectations, but I've been impressed. He works hard and he wants to be good. I don't just sit around giving him advice. You have to build a relationship where guys feel like they can talk to you and you don't judge them."
Murray, a Pro Bowler for the AFC, isn't only impressed with Elliott's running ability.
"He's a tough guy. A tough guy," Murray said of the rookie. "As running backs we're supposed to run the ball but I'm really impressed with his catching ability and blocking. Those are two things for me, where I got a lot of respect for him."
Meanwhile, Elliott is hungry for more after a disappointing playoffs exit, and enjoying some down time in Florida with his offensive lineman, who can't always keep up.