Del Rio 'confident' Latavius Murray will bounce back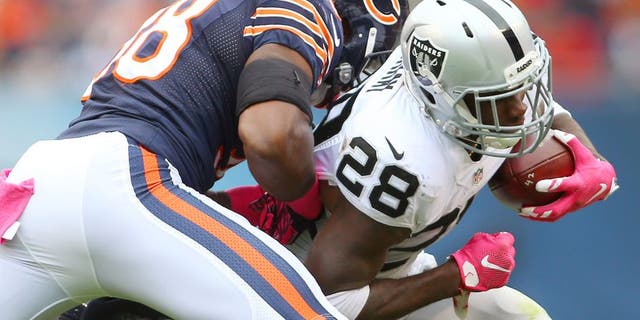 NEWYou can now listen to Fox News articles!
Latavius Murray has the unbridled support of his head coach.
How could he not? Jack Del Rio built a sizable chunk of the Raiders offense around his young running back -- and two costly fumbles won't change that.
I remain confident," Del Rio told reporters. "None of us are perfect. We all are capable of making mistakes."
But the ones Murray made could've cost his team a third win. He basically handed the ball to the Chicago Bears twice in a game decided by a last-second field goal.
Del Rio thinks Murray is more the player we saw in Week 3 (26 carries, 139 yards, no turnovers) and less the one who suited up at Soldier Field, though.
"We're going to put them in situations, expecting them to play well," Del Rio said. "If they don't, they'll learn from it, we'll move forward."
MORE NEWS: Want stories delivered to you? Sign up for our NFL newsletters.