De la Hoya was inspired by Muhammad Ali: He 'had such an impact on me'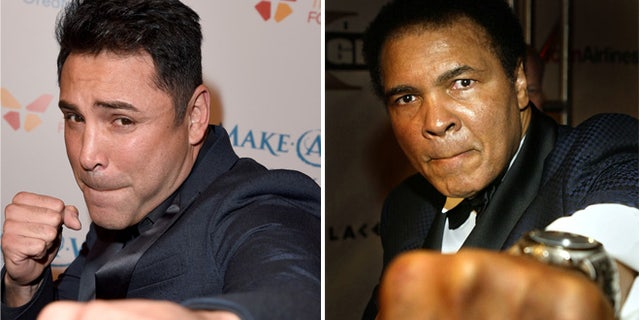 NEWYou can now listen to Fox News articles!
Oscar de la Hoya remembers the first time he ever met Muhammad Ali and the words of advice the champ offered that changed his life.
De la Hoya, one of the greatest boxers to get into the ring, recalled in a piece published on Time.com that he was only 6 years old when his parents decided that he should visit a local gym to "keep me out of trouble and off the streets."
"The gym wasn't even really a gym but rather an old church with the pews removed," the now 47-year-old wrote. "The boxing ring was positioned in the same place where the altar for worship once stood."
This was 1979. Ali was already well past his prime and thinking of retiring from the sport when De la Hoya and other local East Los Angeles kids entered the gym. The former boxer said Ali, who passed away over the weekend, was training by himself.
"We watched in awe as this towering man went from shadow boxing, to the speed bag, to the heavy bag. Suddenly, he stopped and called out to us," De la Hoya remembered. "We crowded around him and listened intently. (He said) 'Kids, listen to me. It's good to want to be a champion. I know that's why you are here and why you work hard. But, never forget: It doesn't matter what happens inside the ring; what matters is what you do outside the ring.'"
De la Hoya wrote that those words revolutionized his way of thinking and became his mantra that guided how he lives in life.
"These few words from Ali had such an impact on me," he wrote. "This became my mantra and has guided how I live my life, how I run my business and what I teach my own kids."