Daytona 500 Pushed To Primetime: Edwards, Montoya, Stewart & Patrick Await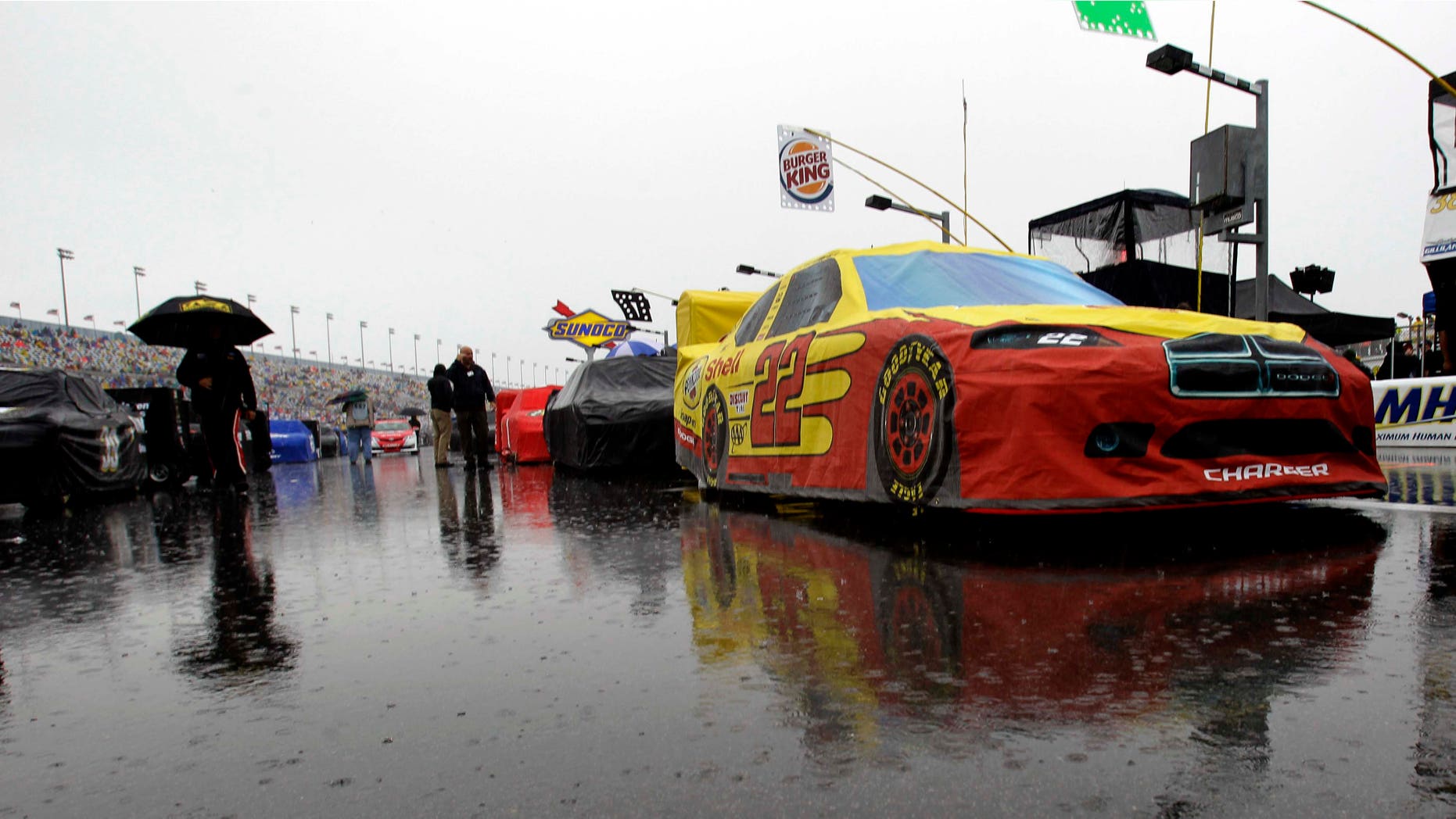 Daytona Beach, FL – NASCAR pushed the start of its season-opening Daytona 500 to Monday night, under the lights and in primetime for the first time in its history.
"We hope to have 'Lady and gentlemen, start your engines,' at 7:02 and then warm up and go to green flag," NASCAR President Mike Helton said. "We believe this is a reasonable expectation."
Helton made the announcement Monday morning when it became clear that steady rain at Daytona International Speedway made an evening start the best option for NASCAR's marquee event. Helton also said Tuesday has not been ruled out.
Heavy rain all day Sunday forced NASCAR to postpone the event for the first time in its 54-year history.
Carl Edwards, runner-up to Tony Stewart in last year's championship race, will start from the pole. Former IndyCar star Danica Patrick will make her Daytona 500 debut.
Columbian racing star Juan Pablo Montoya is currently positioned at number 35.
If NASCAR gets the race in Monday night, aired on Fox, it could produce record ratings for a series that's coming off one of its most compelling seasons. NASCAR also had a strong SpeedWeeks, marked by the return of pack racing, two new winners in the lower series, Patrick winning the pole for the Nationwide Series race and many multi-car accidents.
Dakar: Pix from the World Most Dangerous and Spectacular Off Road Race
"Certainly we'd like to think that when we do run the Daytona 500 and the trophy is handed to the winner and there is a Daytona 500 champion for 2012," said Helton, "that that sustains and then launches us into the 2012 season with all the right effort and promotions."
NASCAR officials spent more than four hours Sunday waiting for a window to dry the famed track, but it never came. When the latest storm cell passed over the speedway around 5 p.m., they had little choice but to call it a day.
The Sunday postponement was a huge disappointment.
With several intriguing story lines on tap, NASCAR is hoping to capitalize on the success of last season's down-to-the-wire championship race between Edwards and Stewart.
The most significant of them all could be Patrick. The Daytona 500 is the first of 10 scheduled Sprint Cup Series events for Patrick, who left IndyCar behind for a full-time move to NASCAR. She will race for the Nationwide Series championship driving for JR Motorsports.
Expedition's Quest for Mayan Gold Stirs Outrage
Stewart, the three-time and defending champion, is trying to snap a 0-for-13 losing streak in the Daytona 500. His 17 victories at Daytona include everything but the 500, ranking him second on the all-time list behind Dale Earnhardt's 34 wins. Stewart will start third when the green flag drops.
And there's Earnhardt Jr., the 2004 Daytona 500 champion. He takes a 129-race losing streak into the event. His last victory was in 2008, his first season with powerhouse Hendrick Motorsports.
Eight previous Daytona 500s have endured rain delays, the latest in 2009. But never before had storms forced NASCAR's premier event to be moved.
Based on reporting by the Associated Press.