Dayan Viciedo Shows Off, Bruce Chen Stellar Again & Ivan Nova on a Roll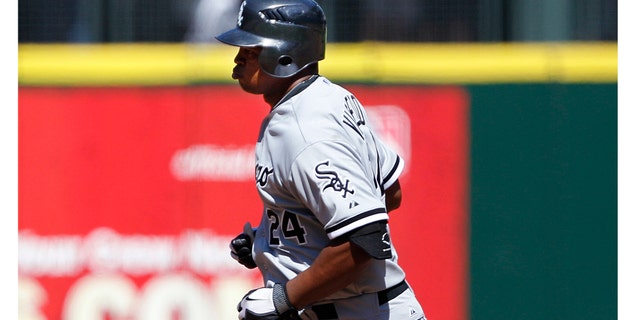 White Sox fans had been waiting all season long for Dayan Viciedo to get the call to the big club.
Viciedo played a big role in Chicago's 9-3 victory over Seattle on Sunday to pull within six games of the Detroit Tigers in the AL Central race.
The 22-year-old Cuban right fielder singled in his first at-bat and then hit a three-run shot in his next turn. He later drew a walk as the White Sox scored six runs in the sixth inning and struck out in the seventh.
Through an interpreter, Viciedo said that "it really feels good. All the conditioning, all the work I've been doing, to get three RBIs today and a home run, that felt really good."
Viciedo's numbers at Triple-A Charlotte were worthy of a promotion but White Sox waited and waited. He was batting .297 with 20 home runs and drove in 78 runs. Last season with the White Sox, he batted .308 in 38 games with five homers and 13 RBIs.
Chicago placed outfielder Carlos Quentín on the 15-day disabled list and called up Viciedo.
In typical Ozzie Guillén fashion, the manager didn't care what people had to say about whether the prized prospect should have been up or not with the team, even as Adam Dunn has been a major disappointment this season.
"I don't give a (darn) what people say. I only give a (darn) what Jerry Reinsdorf and Kenny Williams say," Guillén told reporters. "People out there can have their own opinion. That their job (to) talk.
"There's nothing I can do about it," he added. "I got paid to manage the team. In the time they wanted that kid here, I didn't have any place for him. We would've had to make a trade or release somebody. I wasn't in the position today, 'Bring him up.' I couldn't play with 26 players. I don't play him because it's not my decision who's coming and who's not."
The second-place White Sox will meet the Tigers this weekend for a three-game set in Detroit.
Chen Wins Career-High Fifth Straight
With his team practically out of the baseball playoff race, journeyman pitcher Bruce Chen went out and won his career-high fifth straight start Sunday afternoon. Chen allowed just one run over 7 1/3 innings, leading Kansas City to a 2-1 victory over the Cleveland Indians, who are now 6 ½ games behind the first-place Detroit Tigers in the AL Central.
Chen, who has pitched for Atlanta, Philadelphia, the New York Mets, Montreal Expos, Cincinnati, Houston, Boston, Baltimore and Texas in over his 13-year career, was shaky in the first inning and got out of a bases loaded jam by only allowing one run. He allowed the first four batters to reach base and walked Cleveland's Carlos Santana on four pitches with the bases loaded for the first run. He then got Shelley Duncan to pop out on the first pitch and Kosuke Fukudome hit into an inning ending double play.
Chen is now 10-5 in 19 starts for the Royals this season. He has only won more the 10 games twice in his career. He was 12-7 for Kansas City last season and in 2005, he went 13-10 for the Baltimore Orioles.
Rest When the Season Ends
Ervin Santana made his first career start on three days rest and did not look rusty on Saturday night against the AL West-leading Texas Rangers.
Santana gave up four runs in seven innings as the Los Angeles Angels won 8-4. Texas rallied to beat the Angels on Sunday night, 9-5 and hold a three-game lead. Both teams will meet again in September for the final three games on the season.
Rookie Stops Skid
After losing the first two games of their series against the Baltimore Orioles, the second coming in the first game of a day-night doubleheader, the Yankees turned to rookie starter Ivan Nova in the nightcap in their 9-3 victory Sunday night.
Nova improved to 14-5, tops amongst AL rookie pitchers this season, further solidifying his case as the league's Rookie of the Year. It was his seventh straight win. Nova has not lost in his last 11 starts, going 10-0 with a 3.52 ERA in that stretch.
Nova did struggle in the first three innings, giving up a run in each of the frames but then settled down and was backed by a pair of homers from Curtis Granderson and back-to-back-to-back home runs by Robinson Cano, Nick Swisher and Andruw Jones.
Adry Torres, who has covered MLB, NFL, NBA and NCAA basketball games and related events, is a regular contributor to Fox News Latino. He can be reached at elpiloto137@gmail.com or follow him on Twitter: @adrytorresnyc.
Follow us on twitter.com/foxnewslatino
Like us at facebook.com/foxnewslatino