Darrell Waltrip tells you what he learned during NASCAR's West Coast Swing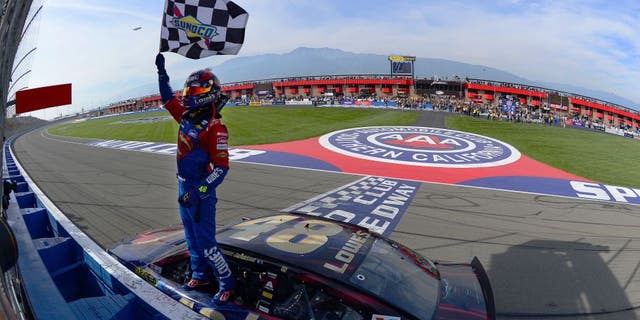 I hope everyone had an enjoyable and safe Easter. I know the teams, especially the road crews, were really looking forward to the Easter break. Remember too, they don't get another off-weekend in the NASCAR Sprint Cup series until Father's Day weekend in June.
I was looking at all the notes I had taken over the last three races and found some interesting things I learned on the West Coast Swing.
One thing I learned is that Jimmie Johnson might be Superman, but not even Superman can drive a stock car when the steering wheel comes off in his hands during qualifying. This is a six-time champion with 77 wins, but he still made a big mistake at Phoenix. Thankfully Jimmie was okay, but as I said a week ago, it was a huge wake-up call to all the drivers in the garage to make sure the steering wheel is snapped into place before they leave the pits. If it could happen to Jimmie, it could happen to anyone.
Now with that said, I learned that Jimmie is still Superman. He bounces back from the Phoenix problem, goes to Fontana with the Superman paint scheme and gave a Superman performance. He started 19th, led 25 laps and out-ran Kevin Harvick yet again at Auto Club Speedway for his second win in five races. And that was the other thing I learned, as mentioned last week, poor Kevin simply didn't have enough kryptonite to bring down Jimmie.
But, you can bet the farm that if he doesn't win the race, Kevin will finish second. The other part you can bet on that Kevin will lead the most laps in a race. We've seen both of those time and time again these last 2+ years since he joined Stewart-Haas Racing.
I also learned at Auto Club Speedway that if you are on the last lap and a wreck happen, you probably aren't going to get a caution, but if a wreck happens with a couple laps to go, you probably will get a caution. Ironically, Kyle Busch was involved in both scenarios at Fontana. Now we all know that NASCAR tries really hard to finish every race under green to give the fans their money's worth. Two weeks ago in the XFINITY race, the cars had taken the white flag and they finished the race under green.
Now Kyle was none too happy that NASCAR didn't throw the caution. He stormed off and that cost him a cool $10,000, as NASCAR slapped him with a fine for failing to fulfill post-race media obligations. Now, ironically as I mentioned, the very next day in the Cup race, Kyle slapped the wall with about three laps to go and NASCAR naturally did throw a caution. So if it's the last lap, you might not get a caution but if it isn't the last lap, odds are you will get a caution.
Now with all that said, I also learned that Kyle can almost win a race on only three wheels. In that same XFINITY race at Fontana on the white-flag lap, he blew a tire going into Turn 1 and he just kept digging. He never let up and almost won that race, as Austin Dillon edged him at the line by only .714 seconds.
I also learned something I didn't know before -- your engine control unit (ECU) can blow up your engine in a Cup car. No seriously, it happened to Kasey Kahne at Phoenix during qualifying. Something happened to his engine, his ECU unit didn't know how to handle it and his engine literally went up in smoke. I honestly had never seen that before until then.
Speaking of Kasey, I'm not sure what the issue is between he and Danica Patrick at Auto Club Speedway. His No. 5 car made contact with Danica for no apparent reason, sending her sharply into the outside wall. He and his crew chief were ordered to the NASCAR hauler after the race.
Kasey apologized on the radio and on social media. Poor Danica, in addition to a wrecked racecar, she got hot under the collar and went out onto the race track to voice her displeasure at Kasey as he drove by under caution. You just can't do that, so NASCAR then slapped her with a $20,000 fine in addition to her wadded up racecar. Again, I still don't understand why Kasey did what he did but it happened. It was just weird.
I also learned on the West Coast Swing that Las Vegas simply has weird weather. We literally went through hot and cold temperatures. We had rain and we even had a dust storm like nothing we had ever seen out there before in a race. It was an incredibly weird day of weather at Las Vegas Motor Speedway.
Truth be told though; we've been very blessed so far this season that Mother Nature has been on our side. From Daytona to Fontana and everything in between, yes even with the dust storm in Las Vegas, we've been able to get all these races in. I know this Friday looks a little iffy to get qualifying in at Martinsville, but come Sunday there we're looking at sunny skies and racing in the mid-60's.
I've learned in five races that cars can spin out all by themselves. It's just amazed me how many times we've seen that happen so far this season. Common sense would tell us that it's a by-product of this low downforce package that removed some of the height of the 2015 spoilers.
Another thing I've learned is that if Chase Elliott and Ryan Blaney didn't have yellow stripes on their bumpers, we'd never know they are running for Rookie of the Year honors.
I've also learned we can break the track record every year at Las Vegas and that 400 miles at Auto Club Speedway is absolutely perfect.
Also, thank the Lord for SAFER barriers. What happened to Danica, as I mentioned earlier, what happened to Kyle Larson, Jimmie Johnson and others this season once again show the true importance of the SAFER barriers. Like I always tell you, safety in NASCAR is a moving target, but the SAFER barriers have made a huge difference in keeping our drivers safe.
On the West Coast Swing we had slot machines in Las Vegas, cactus in Phoenix and mountains in Fontana. In addition, there is nothing better in NASCAR than a close finish in overtime.
Not only that, but I learned that the Manhattan Beach Post restaurant over by the LAX airport has the best cheese and bacon biscuits that I've ever eaten.
So I learned a lot on the West Coast Swing. I can't wait to see what it brings us in 2017. For now, though, we're headed to a place I actually do know a lot about -- Martinsville Speedway.
This low downforce package won't have much effect, but hot brakes and even hotter driver anger will. Be sure to tune in because there is nothing better than short track racing when it comes to feuds being continued, scores being settled and even newer feuds being started. If you don't believe me, just go re-watch the last time the NASCAR Sprint Cup series raced at Martinsville.