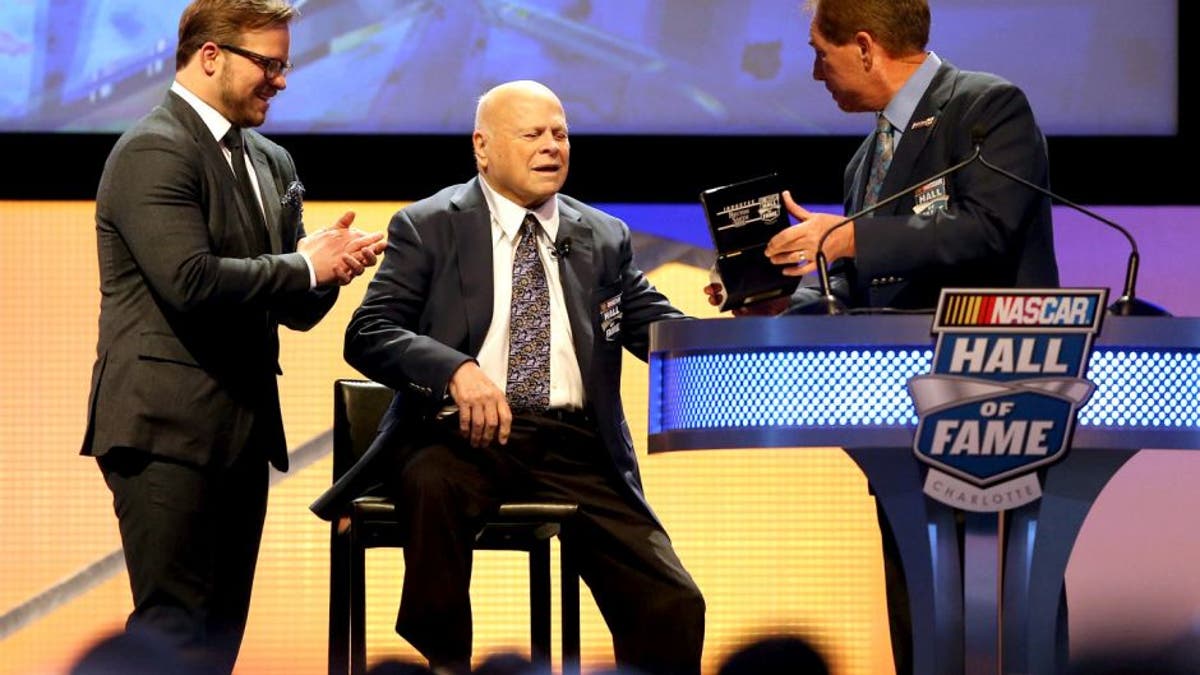 Now sure, Charlotte, North Carolina, got hit by snow and ice Thursday and Friday forcing the postponement of the NASCAR Hall of Fame Induction to Saturday afternoon but it didn't dampen the excitement one bit.
We had an enthusiastic crowd and I love the irony that Terry Labonte -- nicknamed "The Ice Man" -- was inducted on a snowy, icy weekend in Charlotte.
One of the most fun traditions we do happens on Thursday evening of the NASCAR Hall of Fame festivities. It's a private welcoming dinner of the current members of the Hall along with the incoming Hall class. Now I've known Bruton Smith ever since I entered the sport. He's been a dear friend and I felt extremely blessed that he and the family asked me to present him his NASCAR Hall of Fame ring on Saturday.
Anyway, I sat with him and Marcus, his son, who is the CEO of Speedway Motorsports Thursday evening for the welcoming dinner. Bruton told some amazing and entertaining stories that evening. One of the funniest stories he told that night was about one of the earliest races he promoted in his career.
Now this race was on dirt and about halfway through the race it began to rain and never stopped, so the remainder of the race was postponed until a later date. Curtis Turner, who also was inducted with Bruton on Saturday afternoon, was leading the race when it was stopped due to the rain.
The problem was Curtis was upset that the race was stopped, so he went to Bruton and wanted half the money since he was leading at the halfway point. Bruton said no. Curtis was so very upset but Bruton wouldn't back down.
Then he had an idea. He took the winner's trophy to a machine shop and had them cut the trophy in half. He then went to Curtis, gave him half of the trophy and half of the purse. He then told Curtis if he came back when the race was re-scheduled and won the second half of the race, he would then give him the other half of the trophy and the purse. Well guess what? A couple weeks later when they ran the rest of the race, Curtis did win and got the other halves!
That's just how creative Bruton Smith's mind was. He was a promoter's promoter. Many people don't realize that he actually wanted to be a race-car driver and ran a few races, but his mother begged and prayed that he wouldn't do that, so he became a promoter instead. I honestly think that had he not gotten drafted into the Army for two years when he did, that he and Bill France Sr. might have been partners in the creation of NASCAR.
That's one of those "what ifs" in life. Bruton has had an incredible career as a promotor and track owner, which by the way, includes eight tracks on the NASCAR circuit. I don't know if you got a chance to watch his Induction speech Saturday afternoon or not. If you didn't, you need to find it online and watch it. He was hilarious especially talking about his love of Coca-Cola.
As I mentioned, five new members joined us in the NASCAR Hall of Fame. There was Bruton, Terry Labonte, Bobby Isaac and Jerry Cook. So now our NASCAR Hall of Fame has 35 members and I am humbled to be among those greats of our sport. It was another great induction ceremony. Winston Kelly and his gang at the NASCAR Hall of Fame did a great job being forced to call an audible on Friday and move everything to Saturday.
Speaking of audible, the FOX NFL gang was in Charlotte, not only on the same weekend but also at the same hotel we all stayed at. It was great to have dinner and attend their NFL meetings. Jeff Gordon was with me as we spent some great time with my buddies Terry Bradshaw, Howie Long and the gang.
By the way, both the AFC and NFC championship games were very exciting. I'm so happy for Peyton Manning. It reminded me of Jeff Gordon making the Final Four of the Chase last year with a chance to win another title. Peyton now has that opportunity in two weeks in the Super Bowl, which by all accounts will be his final game in his NFL Hall of Fame career. How fitting would it be for him to win another Super Bowl and go out on top?
To be fair though, after watching the Carolina Panthers absolutely destroy the Phoenix Cardinals, Peyton and his Broncos are going to have their work cut out for them. Cam Newton and his Carolina Panthers just seem invincible to me. When you have Superman at the helm, that's going to be a hard one for Denver to overcome but that Denver defense certainly beat Tom Brady and his Patriots around Sunday.
It was a fun week I spent in Charlotte. We had the annual Charlotte Motor Speedway/ NASCAR Sprint Cup Media Tour earlier in the week that I participated in, and then as mentioned earlier, we had the NASCAR Hall of Fame induction plus some fun with the NFL folks. We all dealt with the lousy weather but had fun doing it.
We are roaring towards the two greatest events in sports, in my book. Sunday February 7th is the 50th Super Bowl and then Sunday February 21st is the Daytona 500 on FOX. I'm looking forward to getting down to Daytona and seeing the new facility. I hear it's unbelievable. I'm ready to get the 2016 season underway with our crowd calling the races and Jeff Gordon joining Mike Joy and I in the booth.
There are a lot of storylines to follow. There is something like a dozen new driver/crew chief combinations to watch to see if they click. Some teams have switched manufacturers plus this is the final year of Tony Stewart's career. I expect this to be a banner year for NASCAR and thrilled to continue to be a part of it!