Daniel Cormier, Kenny Florian agree Al Iaquinta deserved post fight bonus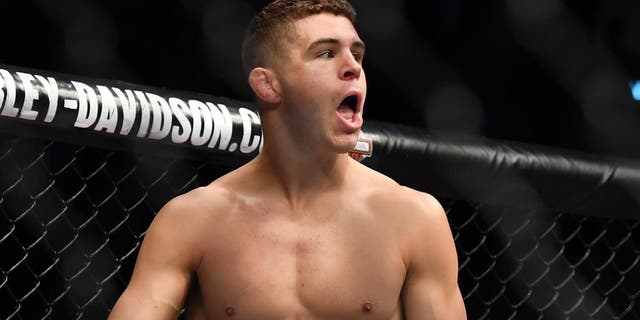 Following a two-year layoff from the sport, Al Iaquinta returned to action last weekend with a stunning first round knockout over Diego Sanchez in the co-main event from Nashville.
When the fight was over, Iaquinta was enraged after the UFC announced that he didn't win one of the $50,000 post fight bonuses despite becoming the first fighter in history to finish Sanchez by knockout (he was previously finished by TKO by Joe Lauzon and via cut when facing B.J. Penn).
Iaquinta took to Twitter to express his frustration with a pair of expletives fired off at the UFC while also later stating that he wasn't sure if the strain on his body was worth the money he was being paid to fight again.
UFC light heavyweight champion Daniel Cormier sympathized with Iaquinta's frustration over the post fight bonuses because he believes the former "Ultimate Fighter" competitor should have cashed in after his knockout over Sanchez.
"Honestly, he did [deserve the bonus]," Cormier said on "UFC Tonight" on Wednesday. "He came back after two years off, he went out there and not only did he beat Diego Sanchez, he smashed him. That first right hand where he measured him and just threw the right hand over the top and hurt him. Then he finished him with that straight right that put him out. Who puts Diego Sanchez out like that with one punch?
"If you think Al Iaquinta's mad of course he's mad! If he got that $50, 000 bonus, he would have doubled his pay. He got $26 [k] and $26 [k], yes he deserved the bonus. He should have gotten it. They should have taken one of those 'Fight of the Night' bonuses from Cub [Swanson] and Artem [Lobov] and just given another performance bonus."
While there may be criticisms about how Iaquinta went about venting his anger over missing out on the bonus, former title contender Kenny Florian also agrees that he should have walked away from his fight with an additional $50,000 bonus.
Florian knows from personal experience how tough Sanchez can be in a fight and he believes Iaquinta finishing him inside of one round should have been rewarded.
"I think Al deserves it as well," Florian said. "Being away for that long and coming back and fighting a legend in Diego Sanchez and getting it done early like he did. He looked calm, he looked composed.
"This is a guy I really think could be a star at 155 pounds. Very outspoken, very unfortunate what went down, how he had to insult the UFC and all that but hopefully they can get this thing worked out. Al Iaquinta, we need guys like him and he think he did deserve the bonus."
Zuffa LLC via Getty Images | Jeff Bottari/Zuffa LLC