Daniel Cormier: Jon Jones needs to face hostile crowd, rematch won't be in New York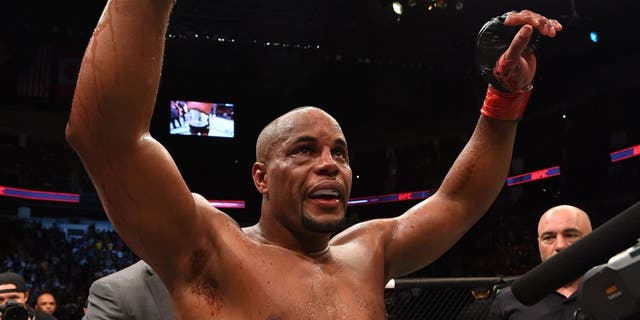 NEWYou can now listen to Fox News articles!
UFC light heavyweight champion Daniel Cormier successfully defended his title for the first time on Saturday night with a split-decision win over Alexander Gustafsson, and it didn't take long after the fight was over for Jon Jones' name to come up.
As soon as Cormier was announced the winner, Jones took to Instagram.
"I think I miss it," a smiling Jones said, though whether he meant the competition or the light-heavyweight belt was unclear.
Cormier was asked about Jones' video in his post-fight interview and he didn't have much to say about the former champion, who was stripped of his title and suspended in April after being arrested for a hit-and-run accident he later plead guilty to in court.
"I'm not thinking about it. I'm here. He's not. Our time will come," Cormier said. "I didn't leave this organization high and dry. He's playing around on Instagram right now."
While Cormier might deserve a break after fighting in three championship bouts in 2015 -- including losing to Jones in January -- he knows Jones likely is coming back and will get the next shot at the belt as long as the UFC reinstates him as expected.
Cormier is ready to face the challenge whenever it happens, but he says he won't fight on Jones' home turf.
"Jon Jones is Jon Jones. I think he's the greatest fighter of all time and when he gets cleared to fight, then we'll fight, but I'm not going to fight him in New York so you guys can write that," Cormier said.
When asked to expand on that statement by FOX Sports, Cormier explained that Jones is going to be under a lot of pressure when he returns and the last thing he deserves after his arrest and suspension is to have a hometown crowd on his side.
Jones hails from upstate New York and the UFC recently made its strongest push yet to get its first fight card in the state, announcing a show at Madison Square Garden in April 2016 while suing to overturn New York's ban on MMA events.
"When Jones gets reinstated, New York is probably the only place that he'll be welcomed without just, like, venomous anger," Cormier said. "This is where he's from so they will actually care for him, they will cheer him. Just like if you take me to Lafayette, Louisiana, no matter what I do, they will cheer me. Why should I allow this guy to go and fight where he's comfortable?
"No, he needs to go somewhere he has to look at people in the eyes and hear the anger they have towards him for the actions that he did."
Jones is not out of the woods just yet, after he was sentenced to 18 months' probation earlier this week in a New Mexico courtroom. UFC officials have opened a secondary investigation into the Jones incident and will wait for those findings before ruling on his eligibility to return to action.
Cormier, meanwhile, likely needs to take some time off after a hard-fought battle on Saturday night, in which he may have suffered a broken foot.