Danica: Recognize all Nationwide drivers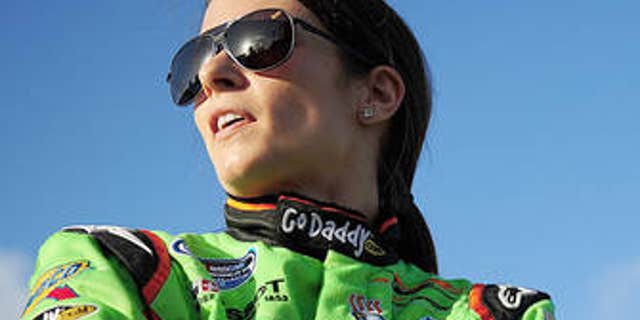 Danica Patrick certainly doesn't mind the attention she gets for her activities on and off the racetrack, but the last thing she wants is to be the sole focus of attention in the NASCAR Nationwide Series this year.
At a Nationwide dinner during the late-January NASCAR Sprint Media Tour hosted by Charlotte Motor Speedway, Patrick and four other drivers squared off against five reporters in a mock game of Family Feud for charity. After the media members slyly stole Patrick's preferred team name of "Honey Badgers," driver captain Ricky Stenhouse Jr. opted for "Danica and the Other Guys" for the team name.
Why? "Because that's what it is," quipped Stenhouse, the defending series champion.
Stenhouse's jest is couched in more than a little truth. When Patrick raced in the Nationwide Series last season, as she did 12 times, race promotions invariably featured her above all other drivers.
As she races full time in the series this season, Patrick would rather see the attention spread around, as she feels it deserves to be.
"Ricky said something about 'That's what it is,' " Patrick said after the Family Feud game. "That's not true. There's tons of great racing out there, and if I was out there by myself, trust me, no one would be watching.
"So I don't agree. I do get a little uncomfortable with that, but only because I don't agree with that, if that makes sense. There's a lot of great personalities and drivers, and they all make the series -- that's for darn sure."
Patrick has drawn criticism in some quarters for the suggestive ads that feature her primary sponsor, GoDaddy.com. The 2012 Super Bowl broadcast provided more of the same -- a scantily clad Patrick in "GoDaddy Heaven" encouraging viewers to get a domain name "and make your business and personal internet dreams come true."
Patrick, however, brushes off the naysayers.
"It does not get to me," she said. "I do what feels comfortable to me, and then I'm good with it. I've always been lucky enough in my career and in my life to be able to be an honest person, to be able to be authentic, whatever good and bad may come from that. With the GoDaddy commercials, we have a lot of fun with them. And not just GoDaddy -- I look pretty in different ads for other people, too.
"I'm a girl, and to say I can't use being a girl doesn't make any sense. In this world, there's so much competition out there that you have to use everything that you have to make sponsors happy, to attract them, to be unique, be different.
"But, more than anything, I'm just glad that I get to show different sides of my personality. I'm really fortunate. I don't have a cookie-cutter sponsor, and that's kind of cool."