Danica Patrick 'Wonder Woman' car from Kansas added to Dale Jr. graveyard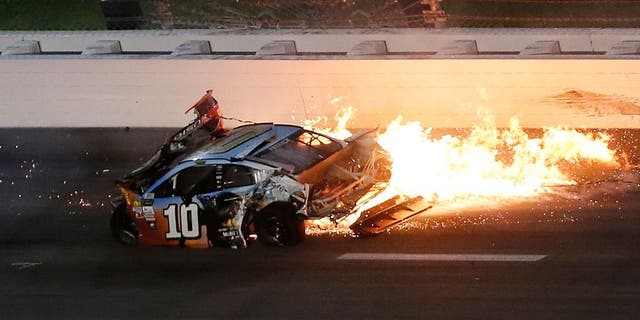 Dale Earnhardt Jr. has a new addition to his "race car graveyard" on his North Carolina farm.
It's Wonder Woman -- or at least what's left of her paint scheme on the No. 10 Stewart-Haas Racing Ford driven by Danica Patrick recently at Kansas Speedway, where it was the unfortunate centerpiece of a fiery, violent wreck.
Patrick's car was destroyed in the accident that also took out the cars of fellow Monster Energy NASCAR Cup Series drivers Joey Logano and Aric Almirola, leaving Almirola with a compression fracture in his back.
Earnhardt long ago started collecting wrecked race cars that he places in his "graveyard" on his expansive property. He said he was contacted by a member of Patrick's team who offered to contribute the Wonder Woman car.
Meanwhile, it also led to a brief but humorous Twitter exchange between Earnhardt and former Cup driver Mark Martin, who questioned if perhaps it was time for Earnhardt to consider retiring his "farm truck" to said graveyard.