Dana White: Ronda Rousey 'really did have that Mike Tyson aura'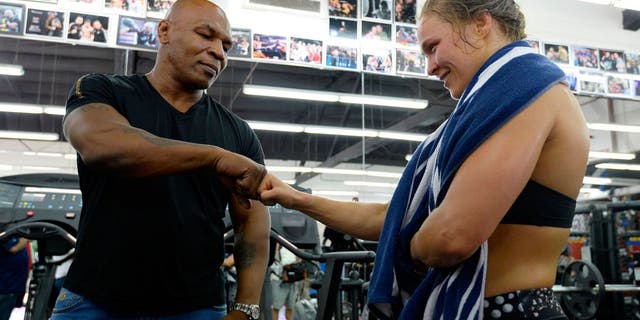 Ronda Rousey doesn't live in a vacuum, so more than likely she's seen the venomous reaction she's received since losing to Holly Holm on Saturday night at UFC 193.
Everybody from Donald Trump to Lady Gaga have been taking shots at Rousey after getting knocked out with a vicious head kick in the second round, which saw the former Olympian lose her first MMA fight and the UFC women's bantamweight title.
UFC president Dana White spoke to TMZ this week and explained that the negativity Rousey is seeing right now is par for the course because everybody has an opinion, and when it comes to social media that opinion is almost always negative.
"The stuff on social media and the things that I've seen, they're just dirty, horrible people that just love to come out and be nasty and be negative and with social media even idiots can have an opinion, too," White said.
"At the end of the day, Laila Ali and Ronda had talked some stuff back and forth and Ronda had that personality. She was the champ and that's what made her so bad ass is that she didn't care what people thought and hopefully that's the way it's going to remain when she comes back from Australia. You've just got to block all that negativity out."
White pointed out for all the negativity that's been thrown Rousey's way, there's also been more than a few positive messages as well. Former boxing champions Mike Tyson and George Foreman both sent words of encouragement to Rousey following the loss, and the fact that she's garnering so much attention just speaks to her overall appeal with fans.
"It just shows what a polarizing figure and a polarizing champion she was," White said. "I was just saying this morning we used to call her, she was our version of Mike Tyson, she had that Mike Tyson aura about her and now losing you see that she really did. She really did have that Mike Tyson aura.
"She's a fierce competitor. Losing is not even in her vocabulary. Never crosses her mind in any way, shape or form did she think she was going to lose that fight, so now she has to overcome this, get back in the gym, and come back."
Part of competing in sports is eventually facing a loss. Some of the greatest fighters of all time dealt with defeat and that's exactly what Rousey is doing right now. White just wants to see how Rousey bounces back and then that will tell the next chapter of her UFC career.
"At the end of the day, we found out Muhammad Ali was human, Mike Tyson was human, Ronda Rousey is human," White said. "Everybody's human and in every sport people win and lose. I think the story now is how will Ronda come back from this?"