Dana White expects Mayweather vs. McGregor to exceed typical UFC pay-per-view price point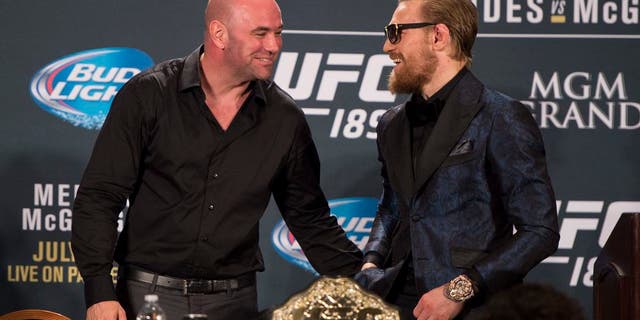 NEWYou can now listen to Fox News articles!
UFC fans who were expecting to watch Conor McGregor take on Floyd Mayweather on pay-per-view are going to have to shell out a few more dollars than they normally would.
The superfight headed to the T-Mobile arena in Las Vegas will be handled by Mayweather Promotions and Showtime, not the UFC, so fans will have to pay far more than the $60 they would for a high-definition UFC PPV.
How much more? Almost double if UFC president Dana Whites assumptions are correct.
I would have to assume it would be like the Pacquiao prices, White told the media on Wednesday. Think about when you talk about a superfight. We always talk, superfight, superfight this is a superfight. This is a superfight.
While an average UFC PPV is $50 and $60 for HD, the Mayweather-Pacquiao bout sold for approximately $90 on the platform and an extra $10 for HD.
Its likely that Mayweather vs. McGregor will approach those numbers, if not pass them given the global popularity of both fighters.
Mayweather Promotions CEO Leonard Ellerbe agreed with White, saying that a fight of this caliber, which is sure to put butts in the seats -- mainly celebrity butts -- deserves a premium price.
This is the fight where all the Hollywood stars come out, The Jay-zs, the Puffys, the Beyonces, all the Hollywood actors, all the NBA stars -- this is it. It gets no bigger than this. It will be a star-studded affair. This will be the biggest event ever. Everyone will be talking about this for years to come.
The higher PPV price didnt stop Mayweather and Pacquiao from selling 4.4 million pay-per-views, but well see if it deters fans from doing the same for Mayweather vs. McGregor.