Dallas Cowboys preview (No. 11): Who will step up in the backfield?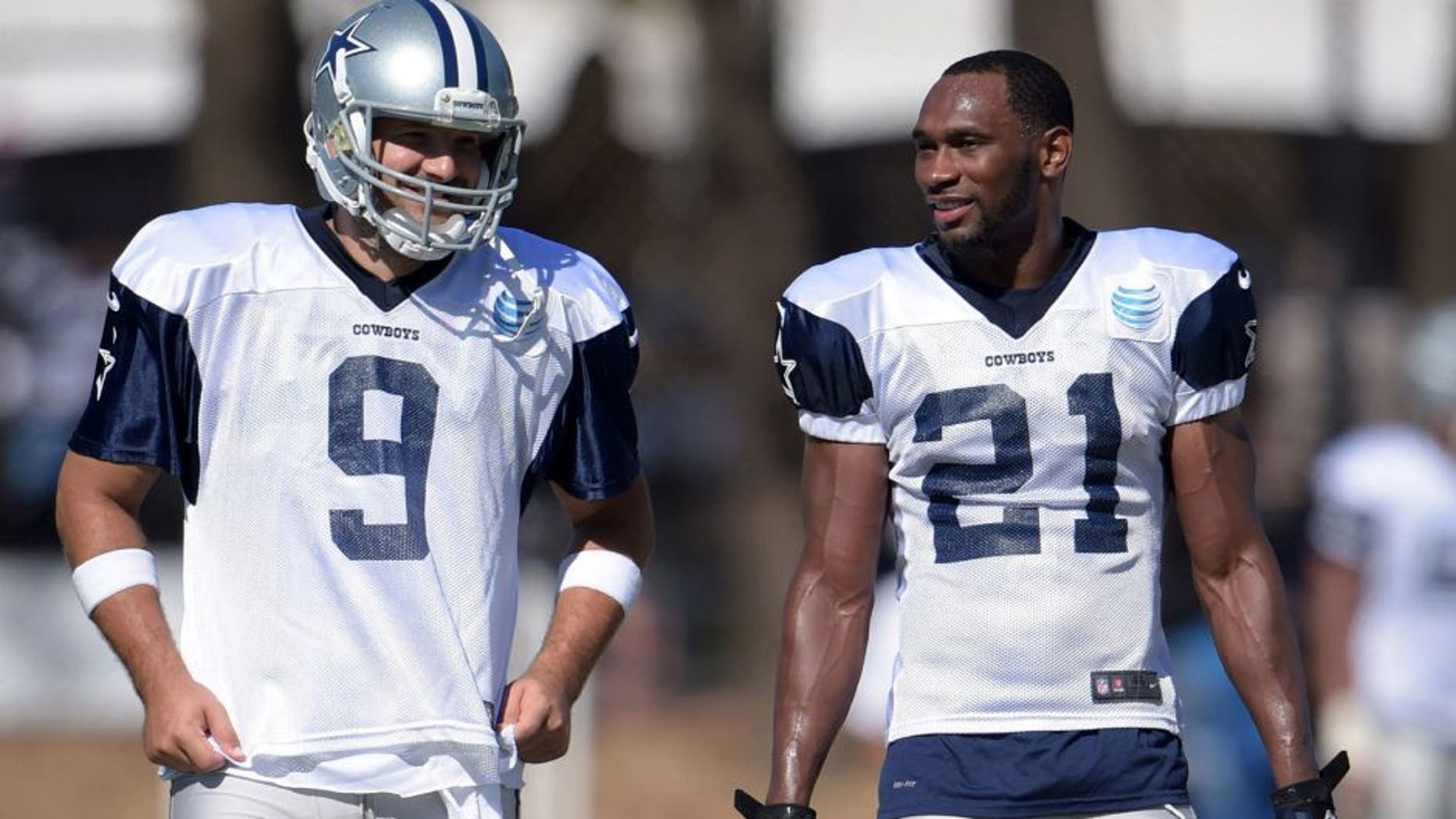 Our 2015 NFL preview series ranks every team, from worst to first. Today: the No. 11 Cowboys.
2014 Record: 12-4 (lost in divisional playoff to Packers)
Head coach: Jason Garrett (sixth season, 41-31, 1-1 in playoffs)
Key arrivals: Darren McFadden (running back), *La'el Collins (offensive tackle), Greg Hardy (defensive end), *Byron Jones (cornerback)
(Note: *- denotes rookie)
Key departures: DeMarco Murray (running back), Harry Melton (defensive tackle), Anthony Spencer (defensive end)
2015 Schedule (ET):
Sept. 13: New York Giants, 8:30 p.m.
Sept. 20: at Philadelphia, 4:25 p.m.
Sept. 27: Atlanta, 1 p.m.
Oct. 4: at New Orleans, 8:30 p.m.
Oct 11: New England, 4:25 p.m.
Oct. 18: BYE
Oct. 25: at New York Giants, 4:25 p.m.
Nov. 1: Seattle, 4:25 p.m.
Nov. 8: Philadelphia, 8:30 p.m.
Nov. 15: at Tampa Bay, 1 p.m.
Nov. 22: at Miami, 1 p.m.
Nov. 26: Carolina, 4:30 p.m.
Dec. 7: at Washington, 8:30 p.m.
Dec. 13: at Green Bay, 4:25 p.m.
Dec. 19: New York Jets, 8:25 p.m.
Dec. 27: at Buffalo, 1 p.m.
Jan. 3: Washington, 1 p.m.
TRAINING CAMP QUESTION: Who will win the starting running back job?
Unless there is a late push by oft-injured veteran pickup Darren McFadden, the position previously held by departed NFL rushing leader DeMarco Murray is Joseph Randle's to lose. Randle averaged 6.7 yards on his 51 carries last season as a backup, but whether he can continue producing at such a high level with more rushes over the course of a season is unknown. So is how Randle will handle the pressure of replacing Murray now that he will be squarely in the spotlight. Randle's maturity -- or lack thereof -- is a concern after two off-field incidents in the past year and documented comments that reflect poor self-awareness. The Cowboys are set to use a running back-by-committee approach if necessary.
IF EVERYTHING GOES RIGHT:
Tony Romo will start all 16 games and the Cowboys will repeat as NFC East champs. The 36-year-old quarterback won't miss his backfield mate, DeMarco Murray, either because Joseph Randle and Darren McFadden will carry the load behind an offensive line that was one of, if not the best, in the league last season. Dez Bryant, who caught a team record 16 touchdowns last season, will have a repeat performance and play in every game, as well. If all that happens, and the defense can bottle up opponents and create a pass rush (Greg Hardy's suspension looms large) the Cowboys may be able to contend for the NFC crown.
IF EVERYTHING GOES WRONG:
Romo gets hurt, possibly reinjuring his surgically repaired back, or is just not effective. The running game falls flat on its face without Murray. Greg Hardy is never effective after his four-game suspension and the Cowboys' pass-rush falters in his absence. The secondary gets exposed by quarterbacks who have too much time to throw. The Cowboys revert back to their 8-8 form from 2011-2013 -- or worse. There's a lot that could go wrong for Dallas this season after gambling on letting Murray walk, and it isn't a stretch to think they could finish last in a worst-case scenario.
BREAKOUT PLAYER: Running back Joseph Randle
The Cowboys felt confident enough in their ability to produce a strong running game without DeMarco Murray that the NFL's reigning rushing leader was allowed to leave via free agency to Philadelphia. Dallas' confidence stems from the belief that Randle is ready to lead a committee approach after averaging 6.7 yards on his 51 carries as a backup in 2014.
CIRCLE THIS DATE ON THE CALENDAR GAME: at Green Bay in Week 14 (4:25 pm ET/December 13):
Was it a catch or not? The Dez Bryant debate from last season's playoff game between Dallas and Green Bay will dominate pregame conversation as the Cowboys return to Lambeau Field for the first time since their controversial 26-21 loss.
ALEX MARVEZ'S PREDICTION: 9-7, first place
A slew of good personnel decisions by the front office last season helped the Cowboys reach the playoffs and win the NFC East for the first time since 2009. Even so, there is understandable skepticism about whether Dallas will be able to field a formidable ground attack after DeMarco Murray, the NFL's reigning rushing leader, was allowed to leave in free agency to Philadelphia. Joseph Randle, who was promising as a backup last season, is the frontrunner to start with newcomer Darren McFadden (Oakland) serving as his backup. While not ideal, the Cowboys believe a running back-by-committee approach can be successful behind the NFL's best offensive line. If the Cowboys are wrong, the pressure will fall back on quarterback Tony Romo once again to carry the offense with the passing game. At least Dallas doesn't have to worry about a Dez Bryant holdout after the elite wide receiver signed a contract extension. Rather than invest in a running back, the Cowboys allocated their salary cap space toward improving defensive depth and adding a top-flight pass rusher in Greg Hardy, who will have to miss the first four games while serving an NFL personal-conduct suspension for domestic violence. One of the most underappreciated aspects of the 2014 Cowboys was the improvement in players blocking out off-field distractions and avoiding the week-to-week consistency issues that affected previous teams. Such maturity speaks well of head coach Jason Garrett and should serve as a positive foundation for this year's club.