Dale Earnhardt Jr gives Hendrick emotional victory at Martinsville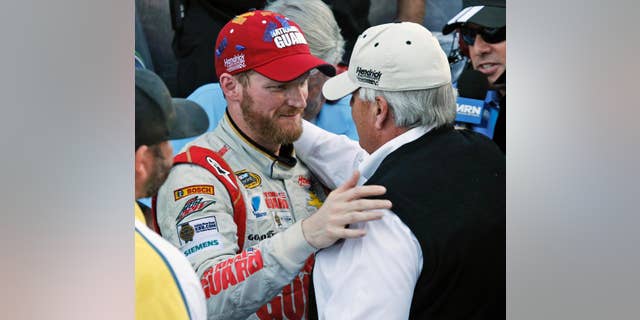 MARTINSVILLE, Va. – Dale Earnhardt Jr. roamed around Martinsville Speedway as a child, soaking in the sights and the sounds and the smells while his dad collected six of the treasured grandfather clocks awarded to the winner.
Earnhardt desperately wanted to win at the historic short track, to bring one of those big 'ol clocks home to his house.
In his 30th try, he finally got his clock.
Earnhardt raced to his first Martinsville victory Sunday, a week after he was eliminated from the Chase for the Sprint Cup championship. It was his fourth win of the season, but perhaps the one he treasured most
"This place has a special meaning and a special place in the series and the sport," he said. "I've been coming here since the early '80s, watching races here. Dad won several races here, brought home several clocks. I remember one in particular that set at the front door, in the hall by the stairs. Had this little round rug right in that hallway that I'd run my Matchbox cars on, listening to the race. That clock would ring on the hour.
"I always wanted one. The clock seems so hard to get. This is very personal and very special to me to be able to win here."
It was 10 years ago this weekend that a Hendrick Motorsports plane on its way to the race crashed, killing all 10 on board. Lost on that day were team owner Rick Hendrick's son, brother, twin nieces, the team general manger, head engine builder, a key sponsor representative, two Hendrick pilots and a pilot for Tony Stewart.
So his four drivers try desperately to win at Martinsville for Hendrick, for the organization, for those who died that October day.
It was Earnhardt who pulled it off, with teammate Jeff Gordon right behind him in a 1-2 finish for Hendrick.
Hendrick, who often doesn't decide until race day if he's emotionally able to travel to Martinsville, was present for the win.
"This is an extraordinary man that when all that went down, two days later he was at Hendrick Motorsports speaking to all the employees," Gordon said. "It's just the kind of person that he is. I know it's not easy on him. I really do. I know that it puts extra pressure on us at Hendrick Motorsports when he's here to get that win because it's a way to really pay tribute. It's the ultimate way you can do it."
OTHER THINGS THAT HAPPENED AT MARTINSVILLE:
EARNHARDT'S CLOCK: Now that Earnhardt has his clock, he's got to figure out where to put it.
He said placement will largely depend on where longtime girlfriend, Amy, wants the clock, but he was relieved in Victory Lane when he heard her say the timepiece was "beautiful."
Although he's hopeful it ends up in the living room, Earnhardt said he'd be willing to make the clock a display for all to see.
"I want to put it just inside the front door where you got to walk around the damn thing when you come in the house," he said. "But she probably won't let me set it there."
HARVICK-KENSETH: Kevin Harvick's championship chances took a huge hit when Matt Kenseth spun him just past the midway point.
Although Kenseth felt terrible about the incident, Harvick didn't care.
"He won't win this championship," Harvick said about Kenseth. "If we don't, he won't."
The accident caused Harvick to finish 33rd, and dropped him to last in the eight-driver Chase field. He's 33 points behind leader Gordon and 28 points behind Kenseth, who is fourth and the current transfer spot to the Nov. 16 championship round at Homestead.
"I don't blame him for feeling like that," Kenseth said. "It was a mistake. He was an innocent bystander. He was at the wrong place at the wrong time."
STEWART'S STRONG RUN: Stewart tied his best finish of the season Sunday and had his highest finish he was fifth at Fontana in March. But he's still winless on the season, and has just three races remaining to avoid the first winless year of his 16-year career.
Still, running up front, even for one race, was an encouraging sign for Stewart-Haas Racing.
"Tony did a good job," said competition director Greg Zipadelli. "Let's hope we can build some momentum here. Him running better will help everybody else in our organization, so that's the main focus."
KESELOWSKI'S CRASH: Brad Keselowski pulled himself out of a huge championship hole when he won at Talladega to stave off elimination in the Chase. A week later, he's right back in trouble.
A mechanical problem caused him to slow on the track late in the race and it triggered a chain-reaction crash that collected several drivers — including title contender Carl Edwards.
Keselowski, who has a series-best six wins, finished 31st. He's now seventh in the eight-driver Chase field.
"It's been tough, but it builds character and makes us stronger," Keselowski said. "With this format, we're by no means out."
NEWMAN'S FINISH: Ryan Newman continued to quietly put up big finishes in the Chase with a third-place finish at Martinsville.
He now has five consecutive top-10 finishes in the Chase, and goes into next week's race at Texas ranked second in the standings.
Few expected Newman, in his first year with Richard Childress Racing, to still be competing in the Chase in the third round. Yet his numbers have been strong and consistency may get him into the final round.
"We were the 16th seed coming in without a win. We've not won yet," he said. "We were tied for the lead in the points with four races to go. Mathematically it has played to my advantage, as others, but probably mine mostly.
EDWARDS NEARS THE END: Carl Edwards felt he had as good a shot as anyone to advance out of the third round of the Chase. But his Roush Fenway Racing team was off all day Sunday as he ran near the back of the pack.
Then he was caught in Keselowski's incident and felt lucky to leave Martinsville with a 20th-place finish. He's sixth in the Chase standings.
"We planned on running a lot better than that, but at the end of the day, we still came home 20th and we could have lost our minds there," he said.