D-backs' Hoover, wife learning on the fly as they work toward philanthrophic farming venture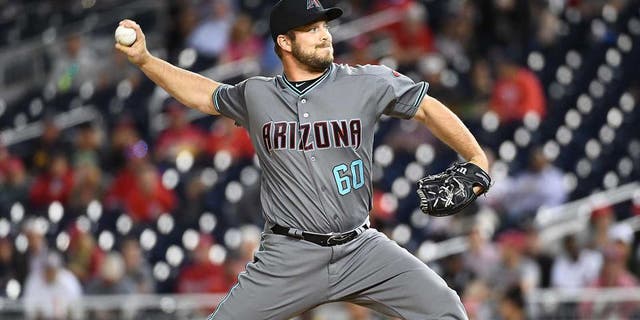 NEWYou can now listen to Fox News articles!
PHOENIX -- For Diamondbacks relief pitcher J.J. Hoover, signing with the team in January marked the beginning of a new chapter. Off the field, another experience has given birth and is in the early stages for the hard-throwing right-hander.
Owning a farm.
"I want to try and be as self-sustaining as possible," he said.
Last spring, near the end of five seasons with Cincinnati, he and his wife, Megan, purchased 65 acres in Ohio.
While J.J. is on the mound helping the Diamondbacks win games, Megan is in the Midwest putting in long, grueling days to get the farm up and running.
"It can certainly be overwhelming. We have no idea what we're doing," she said, laughing.
On the field, Hoover has a strong understanding of his role. After signing a minor-league deal with the Diamondbacks and receiving an invitation to spring training, he allowed no earned runs in 10 innings and earned a spot in the bullpen. He is 1-0 with a 4.57 ERA and 35 strikeouts this season in 21 2/3 innings.
He is in his first season in Arizona after five seasons in Cincinnati. Near the end of his time there, he and his wife, Megan, decided to move forward with a decision they had always wanted to make: purchasing a large piece of land.
"My dream is to have over 640 acres," Hoover said.
His goal for the farm is self-sustainment.
Through research and being around sports most of his life, Hoover said he found that much of the food at grocery stores simply isn't as nutritious as it should be.
"Processed foods . . . they're just not healthy to eat," he said. "It's not real food."
He recently finished a book, The Omnivore's Dilemma, about a rancher in North Dakota who has talked openly about soil health and no tilling, which is simply turning over and breaking up soil.
"There's a lot of evidence to support no tilling, even though it goes against probably 95 percent of farmers," Hoover said. "Between soil health and the carbon footprint that we're leaving on the environment, the evidence is there."
Hoover doesn't want to take part in sustainable agriculture as much as he wants to regenerate the land. He wants to build it up as much as possible instead of just supplementing it with chemical fertilizers and pesticides.
Looking to the near future, he hopes to use the farm as much more than just his sanctuary.
Once he and Megan are able to become self-sustainable, he wants to "begin building the nonprofit and ministry side of things," he said. "I'd really like to be able to connect with families who might be going through a tough time . . . maybe a season where they're struggling and to just help ease the burden off of them."
"For me, it's just being able to share the gospel while doing that," Hoover said. "It's all in my heart."
On Megan being the main caretaker of the farm during the season, he called her "an absolute stud."
Megan has an extensive background with animal training and also spends time mentoring children. Her own dreams for the farm are nothing short of philanthropic.
"I really see the farm as a way to help at-risk youth and children in need," Megan said. "The farm could be used as a catalyst to make a program like that possible."
While playing for the Reds, Hoover and his wife lived in northern Kentucky. Even though they were only 15 minutes from the ballpark in Cincinnati, they were eager to expand to their property so they could enjoy the horses they owned rather than have to board them.
A curiosity that originally began with research led to more research and then eventually a reality.
"J.J. really fell in love with sustainable ground farming after doing research on farming and food," Megan said. "It really peaked his interest so he continued to do more."
That research was cemented when he traveled to a cattle conference last September, a few months after purchasing the farm. To the surprise of Megan, he ended up bringing home cows.
"I got to see it first hand, the people doing it," Hoover said. "I just thought, they're doing really cool stuff."
Until this past year, J.J. and Megan had little to no experience with raising animals and taking care of them. J.J. grew up in Pennsylvania and Megan grew up in Washington.
"My mom is a terrific gardener," J.J. said jokingly when talking about his lack of experience.
"I don't think I ever really knew how much work was going to be involved," Megan said.
The Hoovers own five cows, which are mostly breeding stock, and are working on adding their first beef cattle to the mix this summer. They also own donkeys and would like to add a third horse so that friends are able to join them on rides when visiting.
Also on their radar:
"J.J. really wants chickens," Megan said.
They also hope to expand their cow herd and are looking to purchase five steers so they can have meat readily available sooner rather than later.
While they are still in the process of building a barn, adding things to the farm and gathering more animals, Megan is anxious for additional help. Her days on the farm are tasking, and she hopes to be able to hire someone full time by the end of the year, once they have more cattle and chickens.
"My days are crazy right now. I would love to be able sit down and eat a few times a day," she mused.
With the Diamondbacks' season in full swing, the Hoovers may have their hands full with their new found pleasure, but they have a plan.
"J.J. wants to be able to help struggling families," Megan said. "We're both just very excited and motivated for the possibilities that the farm could be able to provide."