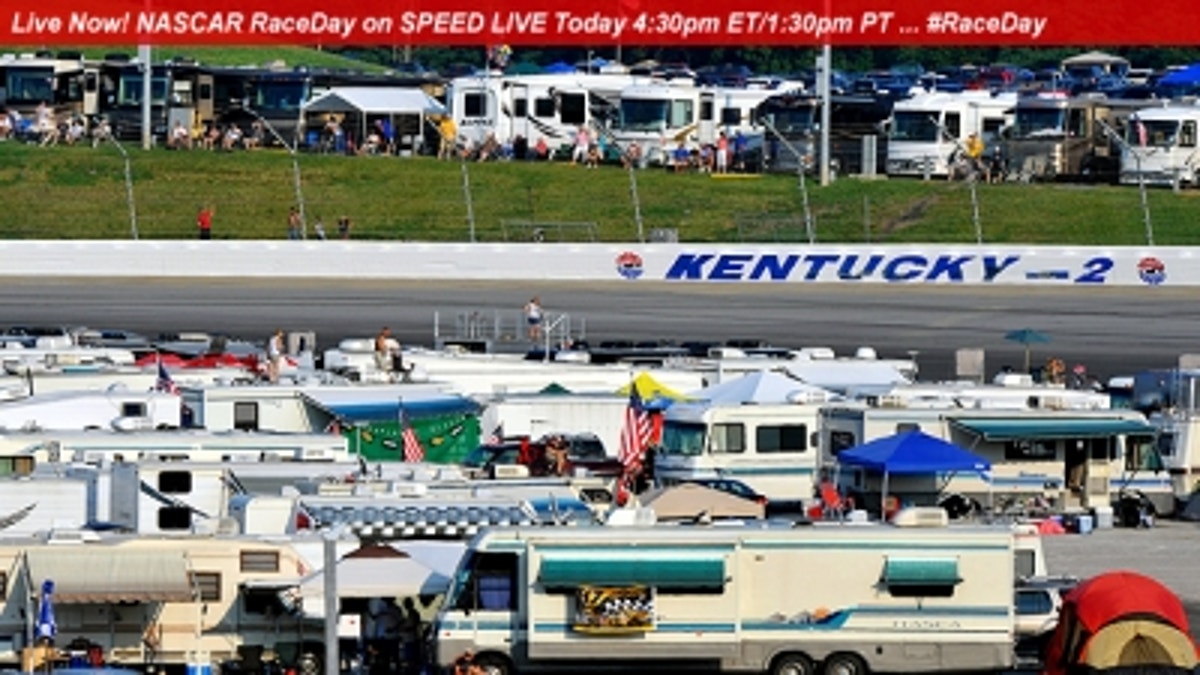 Simmering drivers in overheating cars, all vying for an open lane and struggling to get out of heavy traffic — and that was just the fans on the way to Kentucky Speedway a year ago.
Designed to be a showcase of big-time racing in the commonwealth, the NASCAR Sprint Cup Series race instead was a fiasco. Some may remember that Kyle Busch won. But almost everybody recalls the long lines of angry drivers who sat for hours in traffic, many eventually forced to turn around and go home.
Call it the Bluegrass black eye.
It was so bad that track general manager Mark Simendinger issued an apology to fans a day later.
"The plan looked great on a piece of paper," he said of the prerace preparations. "It just didn't work."
Now the stock cars have returned this weekend. Track officials have taken major steps to make sure most of the problems won't.
Last year's problems touched the drivers, too.
"It was almost like I was sitting in traffic like I was in Richmond years ago as a race fan driving in," said Denny Hamlin, who barely made the drivers' meeting on Saturday because of the congestion.
Five-time Cup driving champ Jimmie Johnson said it was a shame what happened and hoped that the problems had been remedied.
"I was at the race track in my motorhome and didn't have to face the problems a lot of people did," he said. "It was unfortunate to hear that everybody that bought a ticket wasn't able to get here and people were turned away. You never want that to happen. But, it did. I think we've got a chance to make it right -- well not `we', but whoever is in charge of what the issues were."
That means Simendinger and others who had thought they had anticipated everything a year ago but still watched everything turn sour.
"The story was, `Oh my God, the traffic was terrible!'" Simendinger said. "And for all of us who had worked so hard to do all the other things, to get it to that point and to have the takeaway be a negative story about traffic, was a bitter pill."
Speedway Motorsports Inc. owner Bruton Smith has dug deep into his own pockets. The commonwealth has made dramatic improvements at and near the raceway located midway between Cincinnati and Louisville.
Track and government officials built wider highway ramps and stretched the state highway leading to the track from five to seven lanes. A new infield tunnel road overpass was built, as was another tunnel linked to new parking. An additional 20,000 vehicles can be accommodated on or near the grounds this year.
Driver Brad Keselowski said the drivers shoulder a share of the burden of erasing last year's debacle.
"It'd be nice to see an aerial shot to really get an idea of all the differences (that have been made) but you know from our perspective, we just have to trust the track and the management group to do the best job they can," he said. "Then, we need to go out and do our job, which is to put on the best race possible."
There are other subplots that overshadow the trip to the track this year.
A lot of the eyes will be on series leader Matt Kenseth since announcing earlier this week he will leave Roush Fenway Racing after the season. Kenseth and his team have won 22 times over the last 15 years, including two Daytona 500s.
"It is a distraction," Kenseth said. "But it is something for next year, not this year, and we have a ton of racing to do this year. We will all give it 100 percent and try to finish the season on a strong note."