CUP: Wild-Card Race Gains Heat At Atlanta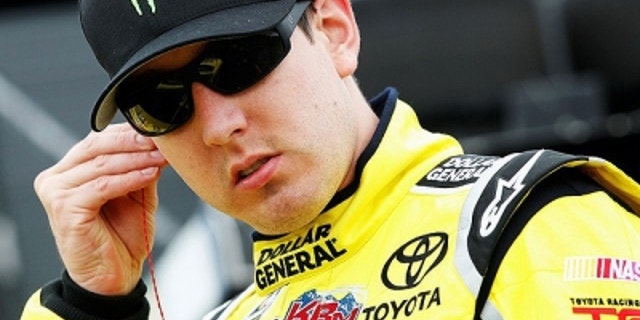 Article by Rea White, FOXSports.com
Kyle Busch has won more than 100 races in NASCAR's three major touring divisions.
He's won the Nationwide championship.
He's made the Chase for the Sprint Cup five times.
He drives for one of the powerhouse teams in the sport, bringing the pressure and expectations that carries.
He owns a full-time Truck series organization.
Yet now is when he feels true stress.
This was supposed to be another year when Joe Gibbs Racing stepped up to the plate. In a season when he has driven primarily in the Sprint Cup Series, instead of spreading his effort over three touring circuits, Busch was supposed to shine.
Some even thought this single-minded focus could pave his path to the title.
Instead, he finds himself battling just to get in the title-determining field. And he's not alone. Three of the series' preeminent programs — JGR, Hendrick Motorsports and Roush Fenway Racing — are locked in a battle to not only make the Chase, but do so through the wild-card spots awarded to the two drivers outside the top 10 but with the most wins (ties are broken by points position). Relative newcomer Stewart-Haas Racing (home of defending champ Tony Stewart) is also in the mix with Ryan Newman, who is 15th in the standings with one win.
A handful of other drivers are still in position to mount a challenge as well, especially if they win this weekend.
Suddenly, the wild-card battle is one of the most hotly contested ever. It's a development that has drivers expected to be contending for the championship in danger of missing out on the playoffs entirely. And three of them come from NASCAR's most prestigious, long-standing teams.
Busch, always fiery and capable of reeling off a string of wins, currently holds that second wild-card spot by virtue of having one win and being 13th in points.
Jeff Gordon, a four-time champ who has only missed the Chase field once since the format began in 2004, also has one win but trails Busch in the standings. (His Hendrick Motorsports teammate, Kasey Kahne, also sits outside of the field but is 11th in the standings and has two wins. Right now, he has a firm grip on the top wild-card spot — and is actually challenging to make the top 10.)
And Carl Edwards, last season's runner-up by virtue of a tiebreaker, sits in 12th, but is winless and therefore ineligible for a wild-card spot as of now.
This trio enters Sunday's Advocare 500 at Atlanta Motor Speedway intent on a win. Each faces a different scenario or series of scenarios in order to make the Chase. Each obviously also has next week's race at Richmond in which to snare a berth. But the clearest path to the Chase runs through Victory Lane.
So emotions are high among this trio.
Busch, who is just five points behind Edwards in the standings — and 16 ahead of Gordon — doesn't mince words when it comes to how he feels about his Chase shot.
"It's definitely stressful," said Busch, who starts third Sunday. "You don't work as hard as you do all year long to suffer along through a season and miss the Chase. Obviously, you know we miss the Chase and we're just going to be another race car out there on the racetrack running around in circles for the rest of the year. That's how I feel about it. That's what it feels like and we certainly didn't want to be in that position."
What he wants is to return to the Chase and challenge for a title.
Without that, he makes it clear that the rest of the season is merely a formality.
"We want to make the Chase and we want to go out there and have the opportunity to race for a championship and be making circles for a reason and be making circles for wins and what-have-you," said Busch, who will start third Sunday. "That's just what the year's kind of drawn out of me, I guess. It's just been a frustrating season, a tough one that's tried to bring us down and there really hasn't been too much to be excited about this year. Hopefully, we can make the Chase and try to turn our focus a little bit towards putting smiles on."
Edwards, meanwhile, appears to be taking a different approach.
Although he's still mathematically able to move into the top 10, Edwards says that he hasn't been paying attention to the points — even making light of that by pointing out that he ran out of fuel last week at Bristol when he was close to the top 10 instead of taking a more conservative approach.
Instead, he's focused solely on a win — and the wild-card spot it would have potentially netted him.
He is, however, starting to feel a sense of urgency.
"I haven't been paying too much attention to the numbers," said Edwards, who will start 12th Sunday. "I tell you what, I did look at the calendar today, I was sitting there with (public relations rep) Randy (Fuller) and we were going over the calendar and it was like nine or 10 days Richmond is gonna be done and we're either gonna be in or out. That made my heart rate go up just a little bit when we realized, 'Hey, we've got to do this. We've got to make it happen.'"
He says that he has a "better perspective" on the race to the Chase, but also admits that he hasn't taken time to think of a Chase without him.
"I haven't really started to think about how I would feel if we don't (make it)," he said. "I hope I can deal with it in a good manner, if I have to, but we feel like we can win this week. We feel like we can win next week. I feel like we're close enough in points that we could do it, and, if we don't for some reason, I know why. There are a bunch of points laying out there this season that we let go that luck got us on.
"That's probably about as deep as I've thought about it, and I just hope it works out."
And while he can name races where those points were lost, he's opting not to dwell on that either.
Perhaps most surprising in the group outside of the field is Gordon. He and his team have been improving in recent races, but have overall been plagued with inconsistency this season. Gordon was among the preseason championship favorites, but now is fighting for a chance to just get into the field.
What is the approach of the true veteran in the crowd?
"You just go out there and do your job," he said. "We want it bad. We go out every practice trying to get the most out of the car. You have ups and downs. It's how you handle those ups and downs and minimize them from being big peaks and valleys that allow you to stay focused."
Still, he's also trying to keep things in perspective.
After all, Gordon understands more than anyone in this wild-card battle just what it will take to make the Chase.
Now, it's just a matter of who can make it happen.
"I try not to go into races with too many expectations," said Gordon, who starts fifth Sunday. "I just go in trying to do the best job I can and support my team and give them the tools that they need to give me the car and what I can do to give them the ability to have that great pit stop, make that good adjustment so that we can be up front, bound for the win."