CUP: Wallace Still Hard Charging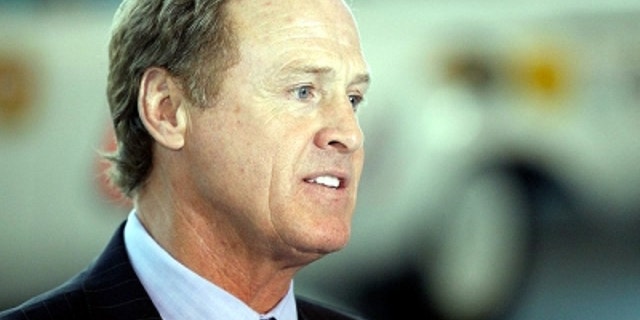 During a NASCAR Sprint Cup career that saw him win 55 races and a series championship in 1989, Rusty Wallace never held back, never gave anything less than a total effort.
"You didn't have to be a cheerleader for Rusty," his championship crew chief Barry Dodson said. "I never have seen a more determined guy. I knew I always had 100 percent in that seat."
And even today, Wallace's enthusiasm and passion for racing is clearly evident.
Friday night, Wallace will join Buck Baker, Herb Thomas, Cotton Owens and Leonard Wood as the newest members of the NASCAR Hall of Fame. Wallace was voted in to the Hall in his first year of eligibility.
"I was surprised, really surprised, because I thought some other drivers would go in first," Wallace said in an exclusive interview with SPEED.com. "No. 1, I thought who would go in before me was Benny Parsons. I thought Benny was a sure shot to go in right now. And guys like Fred Lorenzen, guys like that who had big names and helped start the sport.
"When I heard my name called, I was totally surprised but I was so happy it was unreal," said Wallace, who ranks ninth all-time in Sprint Cup race victories. "But then I went, 'You know what? They went by the accomplishments. If you just look at all the numbers, I had the numbers.' But then I always thought, 'Is that what it's about? Is it about that or is it about who supported the sport, who helped build the sport?' I'm honored, I'm humbled."
With his high energy level and high profile, Wallace has always been a big promoter of the sport, something that will only accelerate with his induction into the NASCAR Hall. "I'll do a good job for the Hall," Wallace said. "I'll work hard at being a great ambassador for them."
Wallace's son, Greg, will induct him Friday night, and the driver will have quite the entourage in attendance, including former crew members from Penske Racing and Blue Max Racing, team owner Roger Penske, drag racer Don "The Snake" Prudhomme and even Wallace's first car owner, John Childs. "I'm looking forward to seeing a lot of my friends in one spot at the same time," said Wallace.
Wallace was a constant threat to win in NASCAR, especially on short tracks, where he scored 25 of his 55 career Sprint Cup victories. "I'm really proud that they nicknamed me the short-track king, because I won about half of my races on the short tracks," said Wallace. "And I cut my teeth on the short tracks back in the Midwest and I understood the cars. And I loved those short tracks, and the short tracks came easier to me than the other stuff."
In addition to short tracks, Wallace was a skilled road racer, having won at Riverside, Watkins Glen and Sonoma during his career. Wallace is particularly fond of a t-shirt from the long-defunct Riverside road course.
"It lists all these names," Wallace said. "Parnelli Jones, A.J. Foyt, Fred Lorenzen — all these names — and the very end of it, it says 'Rusty Wallace, Rusty Wallace.' I won the last two races at Riverside. That was important to me."
Wallace's numbers certainly merit inclusion into the NASCAR Hall. Of the eight drivers to win more races than he did, six are already in the Hall (Richard Petty, David Pearson, Bobby Allison, Darrell Waltrip, Cale Yarborough and Dale Earnhardt), while Jeff Gordon and Jimmie Johnson are still active.
From 1986 to 2002, Wallace finished outside the top 10 in points just once and he also won races in 16 consecutive seasons. Truly, he has earned his spot.
"Rusty had so many memorable races with our team and he was a big part of our development with Penske Racing and how we were able to grow our NASCAR program," said Roger Penske, the 2012 championship team owner. "Not only was Rusty a great driver but he has continued to excel after his racing career with his work as a team owner, an announcer and in his development of Iowa Speedway. He has meant so much to this sport and we are very proud of all he has accomplished."
Tom Jensen is the Editor in Chief of SPEED.com, Senior NASCAR Editor at RACER and a contributing Editor for TruckSeries.com. You can follow him online at twitter.com/tomjensen100.
NASCARMedia.com contributed to this report.