CUP: Vickers Grateful For Another Chance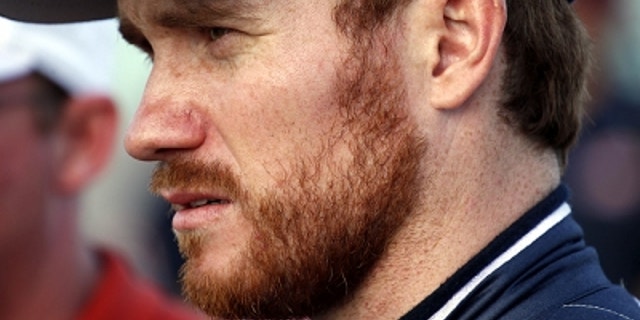 Garage area talk defines Sunday's Food City 500 as Brian Vickers' second chance. Vickers counts it as a third – at least.
Vickers is scheduled to drive the Michael Waltrip Racing No. 55 Toyota in six Sprint Cup races this season, beginning with Sunday's race. It's another shot at NASCAR's top level for the 28-year-old driver.
After moving on from a ride at Hendrick Motorsports to nab another with Red Bull Racing, Vickers got another chance to drive in Sprint Cup after wrestling in 2010 with serious health problems, including blood clots, that threatened his career.
"Some people have called this kind of my second chance in a good car," he said. "It's really my third and more. I just think about how thankful I am from all the experiences I've had in my life, from racing with a couple of good teams, with Red Bull winning and being in the Chase and then being in the hospital the next year and not knowing if I was ever going to race again.
"Being able to come through all that and being back out here again and how getting kind of a third chance at it – I'm very grateful for all that."
Vickers knew he was losing the Red Bull ride last season because the team had announced it would close at the end of the year. That problem became more pronounced in October at Martinsville when some questionable driving by Vickers caused several cautions and cast a big shadow over Matt Kenseth's day and his Chase chances.
Did the Martinsville mayhem impact Vickers' shot at returning to Cup?
"The people I spoke to, it wasn't a factor," he said. "Maybe it was. To me, that was 2011. It's 2012."
Kenseth said Friday he has moved on from the Vickers-Martinsville situation.
"I think things are fine," Kenseth said. "I don't foresee any trouble coming up. I've put that in the rear view mirror and moved on. Today is a new day."
Vickers said he doesn't see the need to prove himself Sunday or in any of the other races he'll drive for MWR this year.
"I just want to go race," he said. "Honestly, what's the worst that can happen? I don't have a job? I don't have one, anyway. To me, it's just to go out and have fun and enjoy the experience.
"I've done this a couple of times as far as not knowing if I'm going to race again. But you never know for sure. I'm just grateful for the opportunity."
Mike Hembree is NASCAR Editor for SPEED.com and has been covering motorsports for 30 years. He is a six-time winner of the National Motorsports Press Association Writer of the Year Award.