CUP: Toyota Vs. Ford Battle Shaping Up?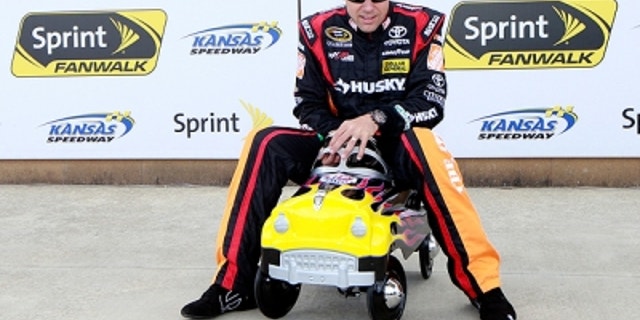 For most of the still-young NASCAR Sprint Cup season, Hendrick Motorsports and Joe Gibbs Racing have waged an epic Clash of the Titans, the two teams collectively winning six of the first seven races on the 2013 schedule.
But the balance of power seems to be shifting, at least this weekend at Kansas Speedway, site of Sunday's STP 400.
While the JGR Toyotas continue to be racy — Matt Kenseth is on the pole and the red-hot Kyle Busch will start fifth — so far this weekend, the four Hendrick Chevrolets have not shown much speed.
Jack Roush, who celebrated his 71st birthday on Friday, has stepped up to fill the void, as his Roush Fenway Racing Fords have been wicked fast.
So Sunday's race may end up being a JGR-Roush showdown for the victory, with Hendrick, Michael Waltrip Racing and maybe Richard Petty Motorsports in the second tier.
So far, the Roush Fenway Racing drivers have shown impressive pace, as Carl Edwards, Ricky Stenhouse Jr. and Greg Biffle qualified second, third and 11th, respectively.
In the three practice sessions, they were plenty speedy, too: Edwards was first, fifth and 20th; Stenhouse was second, second and eighth; and Biffle was sixth, fourth and 13th. That's impressive speed, no matter how you measure it.
By contrast, the four Hendrick Chevrolets have been unusually slow. In qualifying, Jimmie Johnson was the best of the four Hendrick drivers, way back in 21st. Dale Earnhardt Jr. was the fastest Hendrick pilot in the first practice, ending the session 15th. He improved to eighth in the second session Saturday morning. In Happy Hour, Johnson was 28th and Jeff Gordon 35th. Gordon will start 43rd after crashing on his qualifying lap.
RESULTS:
STP 400 Qualifying
Roush Fenway used one of its four organizational test sessions at Kansas Speedway earlier this year and it seems to have paid big dividends so far this weekend.
"This car is fast," said Edwards, a Missouri native who considers this his home track. "It's gonna be a great race on Sunday and I feel like our guys have done a really good job with our test here and what we've prepared for the race, so you never know. This is a cool track. To win here would be huge."
For Edwards, Stenhouse or Biffle to win, they'll have to knock off the JGR team, which is equally fast, or maybe even a touch faster.
Kenseth has just nine poles in 480 career Cup starts, but two of those have come here. And on top of that, he was fastest again during the final Happy Hour practice session.
"I really like the track," said Kenseth after his pole run on Friday. "It's one of those tracks when you first get on it and you come here with them first couple of runs, you have a hard time feeling where the edge is. Whenever you go to a new race track, you have to bring a relatively hard and durable tire just because the track has so much grip. Here and Michigan, it gets a little better every lap you run and the longer you're here, but they're difficult tracks to get the balance right."
Tom Jensen is the Editor in Chief of SPEED.com, Senior NASCAR Editor at RACER and a contributing Editor for TruckSeries.com. You can follow him online at twitter.com/tomjensen100.