CUP: Top 10 Stories – No. 10, 'Dinger Busted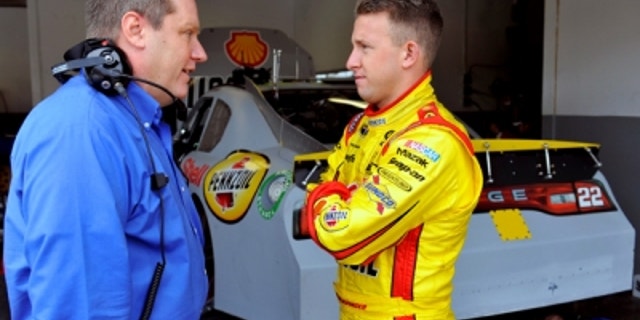 AJ Allmendinger's fall from grace in NASCAR was one that generated national headlines, and not in the way the popular Los Gatos, Calif., native had hoped for.
In his first season with Penske Racing, and with only a one-year contract, Allmendinger got off to a disappointing start and was 23rd in points, 10 positions behind teammate Brad Keselowski headed into the July 7 Coke Zero 400 at Daytona International Speedway.
But just hours before that race, NASCAR suspended Allmendinger for failing a random drug test administered June 29 at Kentucky Speedway.
Initially, Allmendinger and his people denied any knowledge of what happened or what he tested positive for, and said they would test a number of supplements in his motorhome to see what caused the positive result.
"He was a little dumbfounded and shell-shocked Saturday night (at Daytona), and yesterday, it just seemed a little surreal," Allmendinger's business manager Tara Ragan told The Associated Press after the positive test came back. "It's just so far from AJ's character, and he's trying to come to terms with what has just happened and figure out how this could have happened, and respect NASCAR's process."
"Obviously I would never do anything to jeopardize my opportunity here at Penske Racing or to my fellow drivers," Allmendinger said in a statement. "I am very conscious about my training and health and would never knowingly take a prohibited drug."
But after a second sample from the initial test — the so-called B-sample — turned up positive, Allmendinger eventually admitted he had taken Adderall, a banned substance on NASCAR's list. The driver said he was out with friends and was very tired, when one of his friends gave him a pill that turned out to be Adderall.
"I know people are going to sit here and watch and go, 'God, how stupid can you be as an athlete, to put something that you don't have in your own hands, and take that?'" Allmendinger told SPEED's Bob Dillner. "But at that point, I was just really tired. He said it was a workout supplement for energy, which I've taken in the past. It was just something that I really should have thought a lot more about, but I didn't. I just took it, and that was it."
The positive drug test cost Allmendinger his job with Penske, who released him Aug. 1.
"Penske Racing fully supports NASCAR's substance abuse policy, and we are disappointed with AJ's positive drug test results," said team owner Roger Penske in a statement released by the team. "AJ is a terrific driver, a good person and it is very unfortunate that we have to separate at this time. We have invested greatly in AJ, and we were confident in his success with our team. The decision to dismiss him is consistent with how we would treat any other Penske Racing team member under similar circumstances. As AJ begins NASCAR's 'Road to Recovery' program, we wish him the best and look forward to seeing him compete again in NASCAR."
The good news for Allmendinger is that he quickly completed the "Road to Recovery" program and ran four races late in the season with car owner James Finch and Phoenix Racing. The bad news is that he is currently without a ride for 2013 and likely will have a difficult, if not impossible, challenge ever getting a ride with a team of Penske's caliber again, if only because his past may already be toxic to major sponsors.
Tom Jensen is the Editor in Chief of SPEED.com, Senior NASCAR Editor at RACER and a contributing Editor for TruckSeries.com. You can follow him online at twitter.com/tomjensen100.