CUP: Patrick To Test Track Too Tough To Tame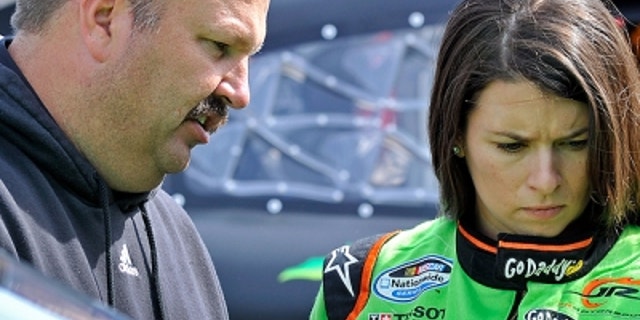 Fresh off her highly publicized dust up with Sam Hornish Jr. at Talladega Superspeedway, Danica Patrick is about to get her first competitive test at what may be the toughest track in all of NASCAR, Darlington Raceway.
Patrick, who is running a part-time schedule in the NASCAR Sprint Cup Series this year and a full-time one in the NASCAR Nationwide Series, will pull a doubleheader this week at Darlington, running the Nationwide race Friday night and the Cup event Saturday.
It doubtless will be a difficult test for Patrick in both series. She is 11th in points in the Nationwide Series, while in the Cup level Patrick has made just one start so far this season, getting caught in an early crash not of her own making at the Daytona 500.
Having never been to Darlington before, Patrick so far has had to rely on what she's heard from her teammates and colleagues at Stewart-Haas Racing (Cup) and JR Motorsports (Nationwide).
"I'm told it's not going to be so much about the track and getting comfortable and getting up to speed or feeling good, that it's going to be more about learning how to pass there and how that works because it's one lane and one groove," Patrick said.
Of course, at Darlington, car control and precision are of supreme importance, and Patrick will have to learn the correct racing lines in a narrow window. Overall, she'll have four hours and 45 minutes to practice in both series Friday.
"I believe it's high in (Turns) 1 and two and low in 3 and 4," Patrick said of the legendary Darlington configuration. "Just going to two-wide in 1 and 2 can cost you a second a lap, so it's a matter of being smart about when you're supposed to let off and give the position up for the sake of overall time. Getting used to that is going to be the hardest thing. Other than that, it's a new track for me, so feeling out the rhythm of the race is going to be another challenge."
Normally this time of year, Patrick would be at Indianapolis Motor Speedway for the opening of Indy 500 practice, but that is not in the cards this year. That said, Patrick hasn't given up her dream of racing in the 500 again.
"I'm sure it will be a little strange. I'm sure I'll be paying attention – I love Indy," Patrick said. "I'm confident it will work out in the future. But I loved the three weeks of Indy, so when they cut it down to two weeks, I was disappointed. I tried to talk everyone into going back to three weeks."
Still, the next few weeks will be plenty busy for Patrick.
"I have a feeling my plate's going to be full, and I'll be well-distracted with lots of NASCAR racing and flying all over the country during May and ending up in Charlotte for Memorial Day weekend," she said. "I'm excited to see how NASCAR does Memorial Day weekend. I know how it's done in IndyCar, how to honor the day and what it really means about people serving our country. So I'm excited to see how NASCAR does it."
Tom Jensen is the Editor in Chief of SPEED.com, Senior NASCAR Editor at RACER and a contributing Editor for TruckSeries.com. You can follow him online at twitter.com/tomjensen100.