CUP: Patrick Plays It Safe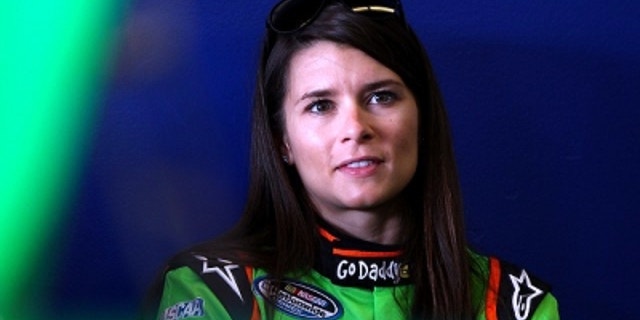 Her car led the field to green, then Danica Patrick never gave herself a chance to race for the win at Daytona.
She's saving that all-out push for the Daytona 500.
Patrick had an easy choice in her first race since winning the pole for "The Great American Race." She played it safe and stayed back Thursday, keeping her pole position for the Daytona 500.
All Patrick needed to do was keep her car intact to preserve the top spot for Sunday's Daytona 500. She started on the pole for the first 150-mile Budweiser Duel before she faded into the field and finished 17th out of 23 cars.
"I suppose there's a sense of relief" she kept the pole, Patrick said. "But at the same point in time, I'm a race car driver, and it's not fun to have to protect and be careful and be cautious and drop back at times."
Patrick was nowhere near the four-lap sprint to the finish that saw Kevin Harvick hold off Greg Biffle for the win.
Patrick became the first woman in history to win a pole in NASCAR's Sprint Cup series. Team owner Gene Haas even suggested -- perhaps, jokingly -- that Patrick start and park after two laps and save the car.
Not a chance.
"We really just wanted to run probably 10 or 15 laps and be in the pack, be in front," crew chief Tony Gibson said. "Once we got into a stalemate, we fell back, the inside line wasn't moving and it was just time to get out."
No driver has won the Daytona 500 from the pole since Dale Jarrett in 2000.
She can't rest easy yet, not with Cup practices Friday and Saturday, where any wreck could send her to the back of the field. But she passed the first major of Speedweeks since she thrust herself and NASCAR into the national spotlight with a history-making run at the pole.
"My nerves will be calmed down a little bit Saturday afternoon when practice is over and our car's in one piece," Gibson said.
Her debrief was, well, brief. Her No. 10 Chevrolet had a tachometer issue and she enjoyed taking the outside lane.
Other than those tidbits, Patrick had little analysis for her mundane performance.
"I hate coming to the end like that and just lagging back," she said. "That's not fun, but it's also really ignorant to go drive up into the pack and be part of an accident for absolutely no reason. You're really not going to learn much there."
Patrick knows all about how miserable it can be driving in the back of the field, with no serious chance for the checkered flag. Her average start was 36th and her average finish was 28th in her 10 Cup races last season. She got caught in a crash on just the second lap of her Daytona 500 debut last season and finished 38th.
Patrick has struggled in three NASCAR seasons and has never finished better than 17th. She made the fulltime jump to the top series this season.
Her change to show what she could do up racing up front from the star never got going.
"It's not fun racing like that, I know it's not a lot of fun for her," Gibson said. "Our car's in one piece for now."
Patrick is the fresh face of NASCAR heading into the series' season-opener. She signed autographs without slowing a step as she whisked through the fan zone on her way to the hauler. Patrick fans camped out on seats atop the garage and yelled, "Danica, we love you!" as she went to the hauler.
She's handled the pressure of the pole with the same ease she handled the No. 10. Patrick said Thursday's run was comparable to a test session.
If she lasts until Sunday, all she'll need to do is pick where she'll race.
"Do I have to start on the inside on Sunday? I'm not really sure," she said. "Where does the pole start? The outside looked pretty nice."